We receive free products and receive commissions through our links. See
disclosures page
.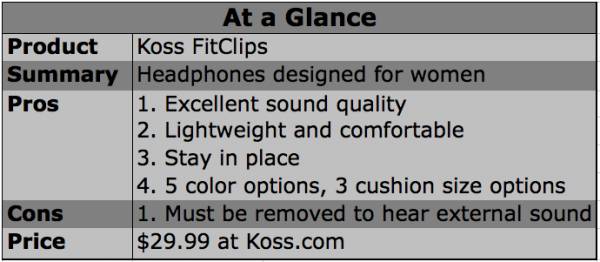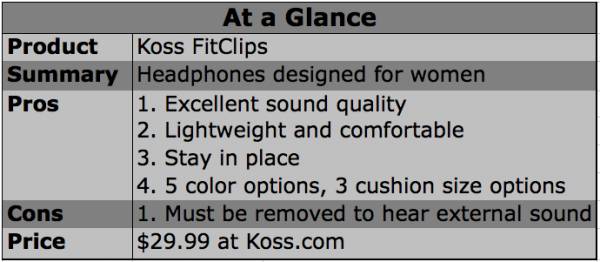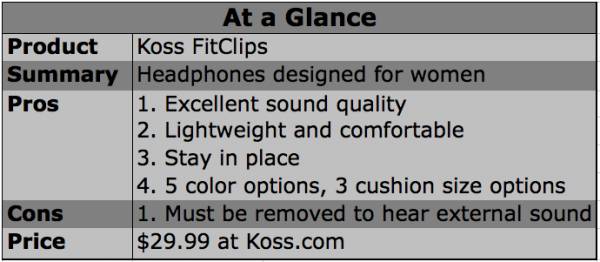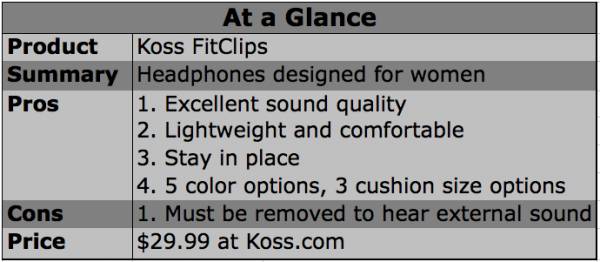 As it is with Brazilian jiu jitsu gear, the headphone industry has a history of primarily targeting the male population, but women are gaining ground in both areas.
Koss President and CEO Michael J. Koss said, "Every once in a while I would hear from women that their headphones didn't fit. For the most part, women are generally smaller than men and they have smaller ears.
We thought it would be a good idea to take a look at designing earbuds with that in mind." Moving forward with the project, the Koss website explains, "Koss' female designers teamed up with Dara Torres to help design the Fit Series.
Torres, who is one of the most accomplished Olympians of all time, also claims the titles of busy mom, bestselling author, model, and fitness enthusiast."
Specifications
Frequency Response: 15-20,000 Hz
Impedance: 16 Ohms
Sensitivity: 104 dB SPL
Cord: Straight, Dual Entry, 4ft w/ 3.5 mm plug
I wear earphones a lot when I do strength and conditioning for BJJ. So when I discovered a new line designed just for women, I had to try them.
I was sent both the Koss Fitclips and Fitbuds and since I prefer the sound quality of the Fitclips while I exercise, I will share my opinion of those.
Sound Quality
My first listening experience with the Fitclips was at my desk during my lunch break. I loaded Will-I-Am and Justin Bieber's Power and I was genuinely surprised at how amazing it sounded.
It was so intense, I felt as though I was at a movie theater watching trailers. Each instrument could be distinctly heard and I got that same dramatic feeling in my body as the bass pounded. I had a friend try them and he had the same experience.
The FitClips are noise cancelling. When I put them in, external sounds were muted the same way they are when I wear earplugs for sleeping.
The only downside to this is when I wanted to hear external sounds clearly I had to remove the Fitclips completely. Additionally, I found it a little tricky to put them on while also wearing glasses or sunglasses.
I wondered whether my listening experience would be the same during movement. So I tried wearing them while walking, running, and jumping on a trampoline. (Because what could test their ability to stay in more than a trampoline workout?) Not only was the sound quality still amazing, the FitClips stayed securely in place.
The only thing that bothered me about the marketing for this product line, which was designed for women by women, was the emphasis on the exclusion of the color pink.
Joanna Stern of ABC News even wrote an article about the new line entitled, Koss' FitClip Headphones for Women Aren't Pink or Patronizing. Really? Are we that oversensitive that pink offends us now? Pink is a pretty color, you guys. It never did anything to you. The logo I created for Titan's Women's Jiu Jitsu is pink and I love it.
Still, Koss has gone the extra mile and created Pinterest albums with outfit options for each of the five colors. Their Twitter and Facebook accounts are also frequently updated with great content and I love their motivational photos.
Experience the sound of Koss yourself with the playlist below to learn some fun workout moves for the mini trampoline. I initially thought bouncing on a trampoline was ridiculous, but it's really fun and a great workout for active recovery!
Mini Trampoline Playlist:
I Love It – Icono Pop
Live It Up – Jennifer Lopez ft Pitbull
22 – Taylor Swift
Blurred Lines – Robin Thicke ft T.I., Pharrell
#that Power – Will.I.Am ft Justin Beiber
Niggas in Paris – JayZ ft Kanye West
Da Dip – Freak Nasty
Heaven Nor Hell – Volbeat
Not Fair – Lily Allen
Feels So Good – Ma$e
Gentleman – PSY
Sexy and I Know it – LMFAO
It's Like That – Run DMC
Miami to Ibiza (Swedish House Mafia) – Tinie Tempah
Gangnam Style – PSY
Mama's Broken Heart – Miranda Lambert
Play Hard – David Guetta ft Ne-Yo, Akon
Scream and Shout – Will.I.Am ft Britney Spears
Koss FitClips are available for $29.99 at Koss.com.