We receive free products and receive commissions through our links. See
disclosures page
.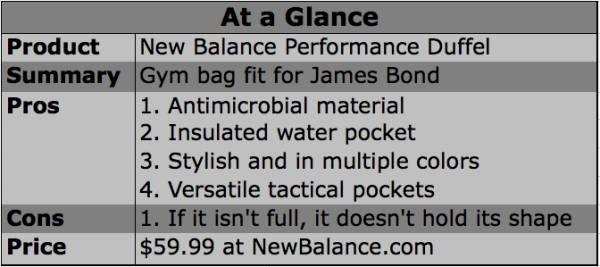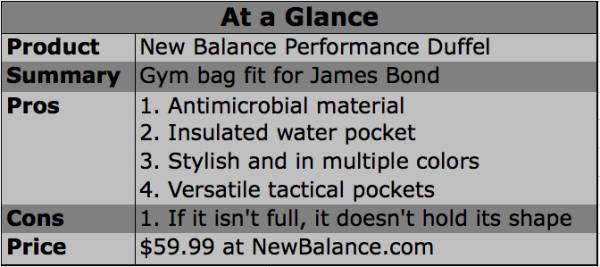 It's odd, given that I've made a career out of fitness, that I've never really bought into the idea of using a gym bag. Maybe that's a weird thing to evaluate, but when I received my first official gym bag it came from New Balance for this very review.
The New Balance Performance Duffel bag was everything a guy would want out of a gym bag. It is functional and stylish. Its versatility gives it a tactical feel that nerds like me can geek out on, too. My Performance Duffel came in black and grey with red accents. It also comes in plain black or navy. Considering the options, I think I really scored the most notable version aesthetically.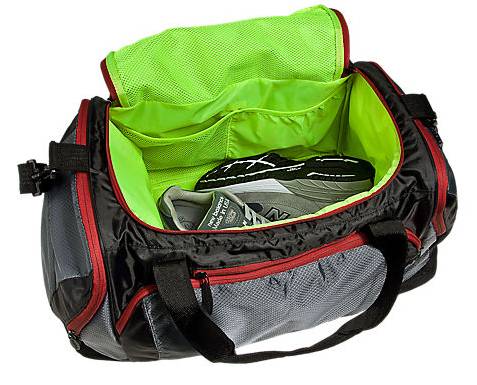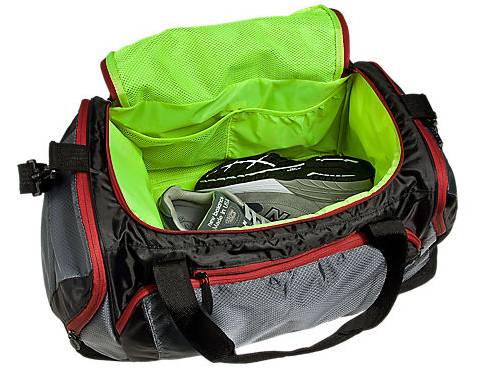 The owner of the Performance Duffek will peel away layers of versatility with the opening of each zipper. Lined with cool lime green on the inside, each compartment serves a unique purpose. The Performance Duffel features a shoe compartment for dirty or wet shoes to be stowed safely without soiling the bag's other contents. The front pocket of the duffel opens almost to the entire length of the bag to reveal various small item storage capabilities, including a hook for keys, three smaller pouches (one of which that has a Velcro strap to avoid dislodging of its contents), and a divider down the middle to separate the entire compartment into two organized sections.
Just above the front pocket is a smaller pocket lined with soft material that's perfect for housing sunglasses and other fragile pieces such as an iPod. One can do so with the peace of mind that these items won't get scratched.
Opposite of the shoe compartment features a zipper that outlines the end of the bag and opens to another larger compartment. This compartment could be used to house larger items and features a water bottle holster with an insulated pocket to keep your beverage icy-cold longer.
Finally the giant main compartment is more spacious than one would expect, especially considering the size of the utility pockets on the outside. It could easily hold a basketball, a big towel, and another change of clothes, for example. It features two hooks for key rings, two separate pockets that cover the inside of the bags back panel, and a mesh zipper pocket that captures the entire top panel of the bag.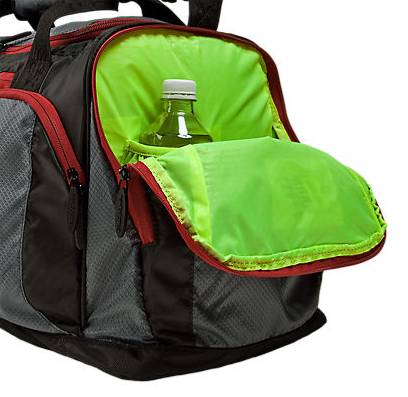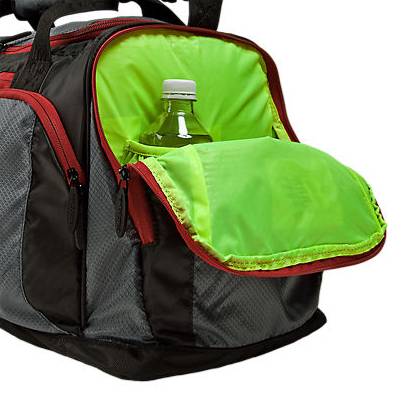 New Balance didn't just make a bag here. The designers clearly scoured every inch of your standard duffel bag and found ways to make every inch of it perform. It is worth noting, too, that inside of the duffel there are two (one mesh, one canvas) washable cinch-sacks. Therefore the consumer can play hard and protect the investment he/she made in the bag by throwing soiled shoes or training apparel in the washable sacks. This makes for a clean bag and an easy drop into the laundry.
Not only does this bag look good and cover all of your storage needs, it's built to perform in the conditions real athletes live in. The antimicrobial material will hold up against all the blood, sweat, and tears of training and competition without the consequences of tagalong germs. That's right, there's a high level of technology in the forging of the Performance Duffel. Down to the very material it's stitched with.
Clearly, I've missed the boat with regards to gym bags. New Balance raised the bar with this one. I'm a more organized athlete now, and to be honest I don't know how I managed all my gear and clothes without it. The New Balance Performance Duffel isn't all show and no go, either. This thing will hang with any athlete in any conditions, and it will look good doing so.
The Performance Duffel available at newbalance.com for $59.99