We receive free products and receive commissions through our links. See
disclosures page
.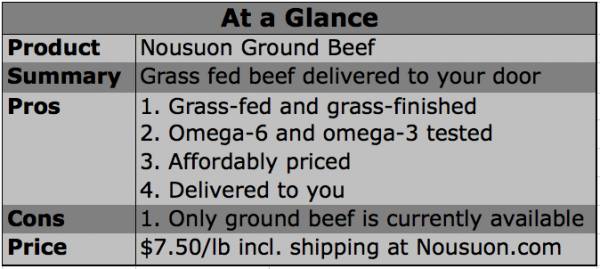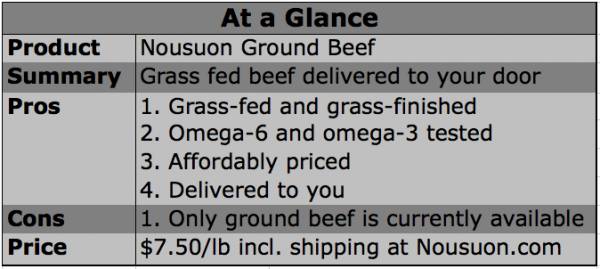 I think few people are as passionate about food as I am, so if you aren't over the moon about beef, for example, try to stay with me. This may get emotional.
Nousuon is a company I came across about four months ago. What intrigued me about the company was twofold. First, the product was of a quality I hadn't seen before, and second, it allowed me as a gym owner to retail beef to my students without owning a huge meat locker.

A little history check on the company will tell you it's a new brand that sources its beef from grass-fed, grass-finished cattle in Oregon. The name, Nousuon, is a palindrome of a Latin term, nous, that means, "deeper learning." I see the connection with the name to a deep-rooted understanding of quality. This beef is far from surface level.
And as for the ground beef, my experience is that it tastes incredible. When you order from Nousuon, you receive a cooler at your doorstep with twenty individually wrapped one-pound packages of America's finest ground beef. Now, I've sought out grass-fed beef for some time, and I'm not disillusioned to the concept of grain-finished meat, which often gets the "grass-fed" distinction on store shelves when in actuality the cows are bulked up on grains just before slaughter. Nousuon is grass finished, meaning the cow's entire life is spent grazing open grasslands.
Though they are rare, there are plenty of other grass-finished beef suppliers out there. Why would I choose Nousuon over any other grass-finished product? These guys are the first I've seen to go the extra mile to test omega-6 and omega-3 levels in their beef. As a person in the omega-3 business, I was blown away. Right there on the nutrition facts below the standard protein, carbohydrate, and fat breakdown, there are omega-6 and omega-3 facts. The beef I cooked up, for example, had 23mg of omega-6 and 34mg of omega-3.
These guys aren't dosing their cattle with fish oil, either (though, that could be good business for me). This is the omega-6 to omega-3 ratio that naturally occurs in these cows living in their natural habitat. As an omega-3 geek, I felt like I was looking inside omega-6 and omega-3 ratios in their purest sense, un-supplemented, and without modern intervention for the first time.
The second major reason for going with Nousuon, in my opinion, may not apply to everyone, but as a business owner Nousuon's distributor program allows me to retail beef to my students at 10 Essential Items To Outfit Your Home Gym without the hassle of storing beef and managing a perishable inventory. Signing up was quick and painless. We just have a link on our website so students can place their own orders to be shipped directly to their house.
For just $6.00 per pound, or $7.50 per pound once you factor delivery, this was quite a treat for me to add not only to my meals at home, but my business as well. Now, I just look forward to Nousuon to expand their lineup of cuts of meat.
Nousuon ground beef is available at nousuon.com for $6.00/lb.