We receive free products and receive commissions through our links. See
disclosures page
.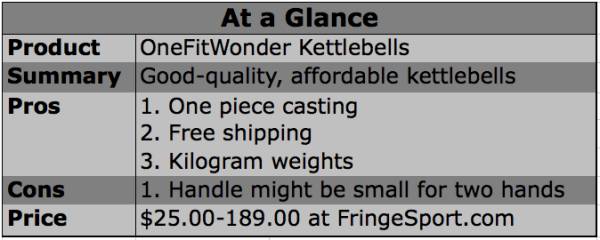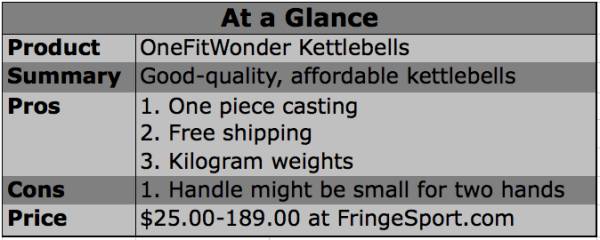 These days kettlebells are a little easier to come by than they were years ago, but finding the right size, best quality, and the proper weight can still be a challenge. The name brand kettlebells can be quite expensive and shopping for weight equipment online isn't typically an option given the inherent shipping costs. Fringe Sport is now offering an affordable, good-quality option for kettlebells with their own house brand, OneFit Wonder.
My fiance and I recently decided to expand our home gym and began the frustrating search for kettlebells. Most local places either overcharge or offer pink-coated ones weighted in pounds. I reached out to the people at Fringe Sport and was pleasantly surprised at what they had to offer. We ended up purchasing three kettlebells – one each of the 20kg, 24kg, and 32kg sizes.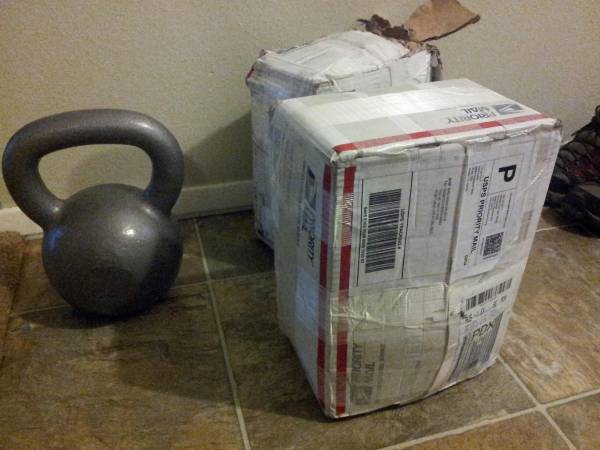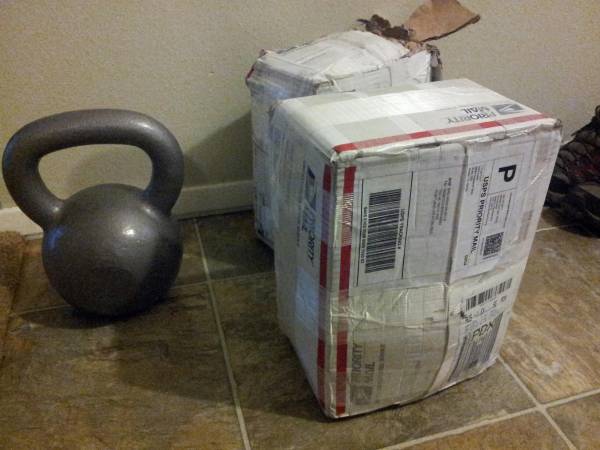 One of the ways that Fringe Sport makes purchasing through them worthwhile is their free shipping and returns. Often the shipping cost of kettlebells is what prevents people from shopping for them online. Not a problem with these kettlebells. In fact, I had to take a photograph when I received mine, because I was so amused that Fringe Sport had fit each kettlebell into a Priority Mail flat rate box. Clearly the U.S. Postal Service didn't predict this. The kettlebells arrived intact, although I'm not sure my mailman remained so after delivering them.
While the kettlebells may not be the fanciest ones out there, let's be real – it's basically a heavy weight with a handle and most of us aren't buying elite-level equipment for any of our other hobbies either. These kettlebells are good. Unlike some other cheaper brands I've tried in the past, I found absolutely nothing annoying about these bells. The handles are smooth enough to not rip your hands, but have enough texture to not be slippery. They are cast as one piece, so you don't have to worry about your handles breaking off and I find the handles to be a good thickness.
That being said, a few people have noted in the comments on the Fringe Sport site that the handles are narrow on these. Depending on your school of thought in regards to one-hand versus two-hand kettlebell training, these might not be the best kettlebells for you. Having medium-to-small sized hands myself, this did not pose a problem for me and my fiance, who is over six feet tall, has no trouble with the handles, either. So maybe only worry if you have truly giant hands, and even then, remember you get free returns with Fringe Sport.
OneFitWonder kettlebells come in the following kilogram sizes:
4, 6, 8, 10, 12, 14, 16, 18, 20, 24, 32, 48
OneFit Wonder kettlebells range in price from $25.00 to $189.00 and are available at FringeSport.com.