As both a licensed acupuncturist specializing in Orthopedics and Pain Management and a CrossFit coach, I see a lot of people on a daily basis who are sore, injured, or otherwise in pain. Having a solid arsenal of linements, patches, creams, and oils available is vital to both my job and my patients' speedy recovery.
One of the best products that I have at my disposal is the Pain Terminator Infrared Herbal Patch (also available in a cream) from Golden Sunshine Inc. Even though the name is a mouthful, the patch is a life-saver.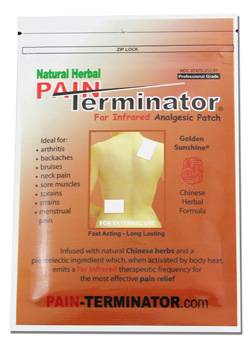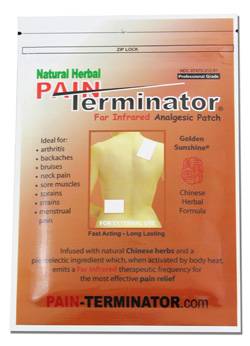 With ingredients such as frankincense and myrrh you know that this product is fit not only for the King of Kings, but for us lowly CrossFitters as well!
The five patches included in the package are roughly 4" by 3" and can easily be cut in half to fit onto a variety of ailing areas. I've used them everywhere from the soles of feet, to the backs of necks, and everywhere in between. The directions advise to keep each patch on for up to eight hours, however I have personally left them on for 24 hours without them beginning to peal off. The patches will even survive a trip through the shower.
The herbal ingredient list on the back gives us some insight into why this patch is so effective in relieving pain and healing injuries. The vast majority of the herbs fall into the Chinese Medicine category of "blood movers"- including the biblical ones listed above.
Chinese Medicine views the root of pain and injury to be due primarily to a "traffic jam" of blood and fluid. This pooling of stagnant blood is what gives us the purple appearance of bruises as well as swelling associated with strains and sprains. Relieving this traffic jam is the first step towards healing and returning a muscle or tendon to its proper, pain-free function.
Herbs contained in the Pain Terminator Patch such as Paeoniae Veitchi Radix, Angelica Sinensis Radix, Carthami Flos, and others increase circulation to the affected area, bringing in freshly oxygenated blood to the damaged tissues and muscle.
Herbs such as Drynariae Rhizoma are commonly prescribed both internally and externally to help heal damaged bones and ligaments. Ligustiei Rhizoma is commonly prescribed for any type of headache, also showing its powerful pain relieving properties.
Most of today's topical pain creams and patches do not contain any of the herbs listed above (nor any of the others used) therefore limiting their efficacy. I prescribe the vast majority of the herbs in the Pain Terminator Patch to patients to take internally for pain and injury and therefore was extremely pleased to find a product that also contained them in an easy use patch for external application.
The patches do have a slight medicinal and herbal smell, but nothing that is stronger than your typical topical analgesic such as Ben Gay.
Pain Terminator Patches sell online for $7.79 or in bulk , or they can be purchased from a licensed acupuncturist or health food store.