We receive free products and receive commissions through our links. See
disclosures page
.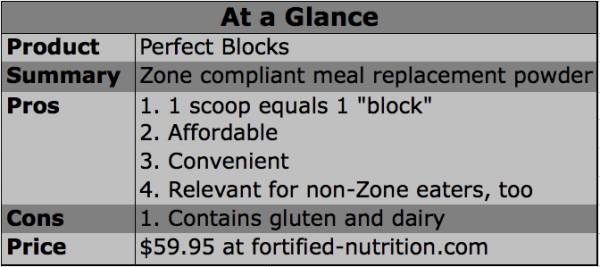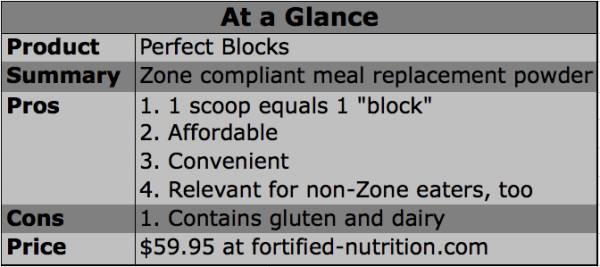 Reviewing supplement companies is often a bittersweet experience for me. I am huge advocate of real food, and I make a living coaching folks on how to eat. Opportunities like this one force me to dig deep inside products and brands I would often pay no attention. My negative connotation with supplement products is lightened when I come across a brand like Perfect Blocks.
Every so often a supplement company will come along with a product or two, and try to convince as many people as possible that it's for them. With that comes a great deal of compromise, grey area, and finagling to make the story fit. Perfect Blocks, on the contrary, knew exactly what they were setting out to do when they created their product and they knew exactly whom it was for. With that, I see a great deal of integrity in the development of this product.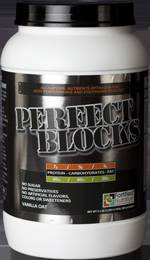 Perfect Blocks is a powdered meal replacement supplement specifically designed in compliance to the Zone Diet. The Zone Diet is rooted in a measuring system that utilizes "blocks" of macronutrients. For those who follow the Zone Diet, Perfect Blocks provides exactly one block per scoop. Each scoop has 7 grams of protein, 9 grams of carbohydrate, and 3 grams of fat. At 99 cents per block, not only is Perfect Blocks convenient, it's affordable.
It's worth noting that Perfect Blocks is free of sugar, artificial flavors, and preservatives. Perfect Blocks is not paleo, however, containing ingredients that include dairy, grain, and soy products. It is a simple powder mix and to prepare it, all you have to do is mix it with water. The flavor is vanilla and I enjoyed it, finding it not too chalky.
Do you have to follow the Zone Diet to enjoy Perfect Blocks? Of course not, but either way you can be rest assured that Perfect Blocks doesn't have a fleeting purpose or mission. Perfect Blocks, like the Zone Diet, is scalable. Though there are some Zone Diet followers who may find this product perfect for their religious compliance to the diet, everyone can benefit from balanced nutrition.
In my opinion, Perfect Blocks is a dietary tool that makes protein, carbohydrate, and fat available anywhere, anytime. I can't proclaim this is better than a balanced meal of fresh meats and green vegetables, but Perfect Blocks isn't making that claim either. They are an honest resource for quality calories to supplement your diet, in the truest sense of the word.
Perfect Blocks are available online at www.fortified-nutrition.com for $59.95.