We receive free products and receive commissions through our links. See
disclosures page
.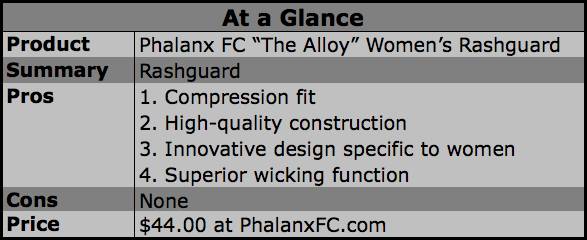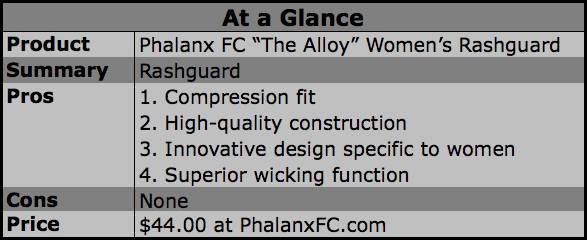 If you've seen the movie Troy with Brad Pitt, you've seen a phalanx formation. Phalanx Fight Company explains why it chose this name on the company website. "Many spear-armed warriors with overlapping shields historically fought in what was referred to as a Phalanx formation. The word has come into use in common English to describe 'a team of people standing, or moving forward closely together as one.'"
Like Achilles' Myrmidons, Phalanx Fight Company strives to stand as one with the fight community. They've worked hard at designing high-quality gear to enhance our training experience. In addition to gis, tees, and rashguards for men, Phalanx Fight Company has introduced two beautiful gear options for women. The Alloy and the Icon women's rashguards were designed in collaboration with female combat athletes. Recently I had a chance to try out the Alloy rashguard.
Features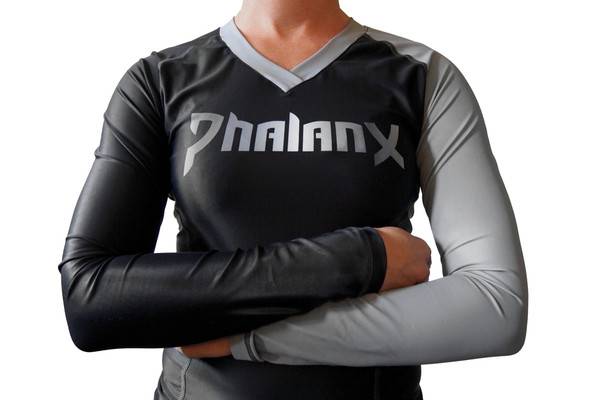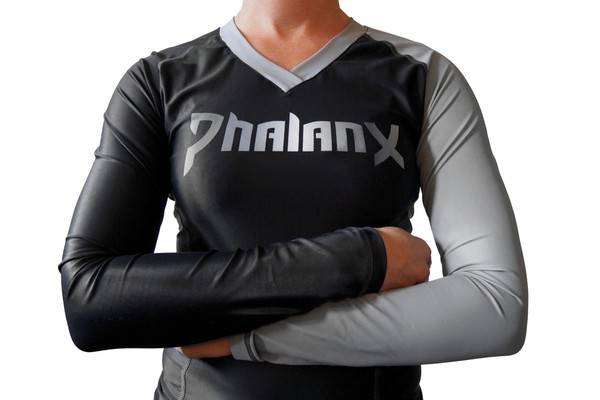 New, ultra smooth techno fabric by an Italian manufacturer incorporated with Xtra Life Lycra
Four-way stretch compression fit
Rubber elastic lining at the waist
Durable chafe-free flatlock seams
V-neck for comfort
Quality and Style
The Alloy's Italian fabric, called "shark skin" is, according to the company, "strong enough for a man but made for a girl who likes to choke boys." It reminds me of lululemon Luxtreme, only smoother and stronger. This rashguard is flawlessly constructed. The design is simple and elegant with sublimated graphics. Sublimation is a process by which the graphics become part of the fabric and will not crack, peel, or fade over time. Many grappling tops have elasticized waists, but the Alloy takes it a step further with a rubberized waistband to ensure a secure fit.
I've worn this rashguard for months and the only visible damage is due to washing it in the machine with my boyfriend's headgear. Always remember to seal any Velcro closures when washing it with other gear. Velcro is responsible for a lot of destruction in the washing machine.
Fit and Comfort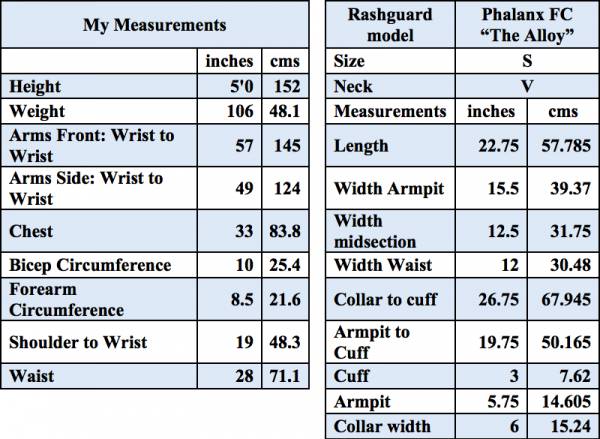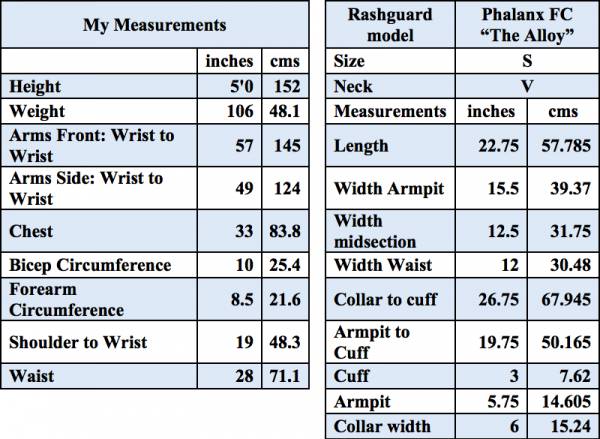 The Alloy is compression fit and I've found it a little harder to put on than looser rashguards, especially when I'm already sweaty. Once the tight spots even out, though, it fits like a glove. Because of the thicker fabric, compression fit, and rubberized waistband, I found it stayed in place much better than many other rashguards, especially in comparison to the Under Armour Heat Gear tops, which were always showing my stomach. I like the V-neck design as well. Some rashguards are a little too tight at the neck and this design eliminates the possibility of discomfort. I did not experience any chafing from the seams at any point either.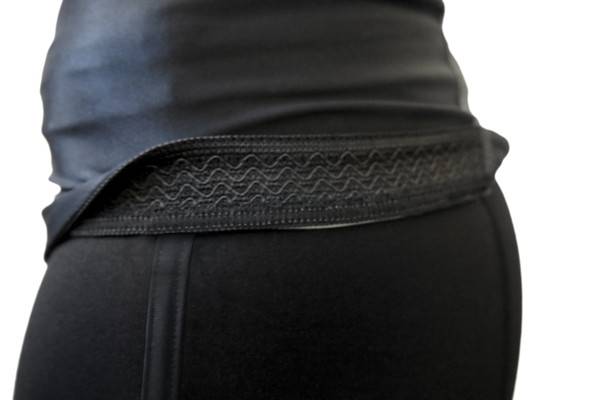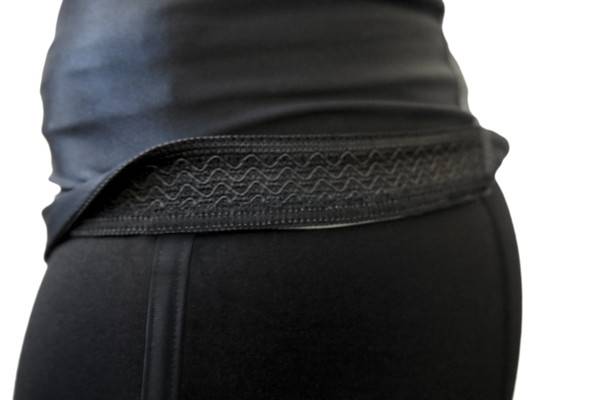 When I hear about innovative new fabrics I usually call bullshit, but I was pleasantly surprised to see how effectively the Alloy wicked moisture away from my skin during heavy sweating. It's almost as though the shirt is sweating, not your body, because the moisture is immediately transferred from your skin to the outside of the fabric.
When I spoke to Chris at Phalanx recently about what's next for the women's line he said, "We have a good cut for the gi pattern I finally finished as well. Not sure when that will come to life but all the upcoming female products were designed with absolute influence from female grapplers." This was exciting news. If the gi is anywhere near the quality of the Alloy, I predict it will be in high demand.
Follow Phalanx FC on Facebook and Twitter to get updates on the gi design and release date. I expect great things!
The Alloy rashguard is available for $44 at PhalanxFC.com.