We receive free products and receive commissions through our links. See
disclosures page
.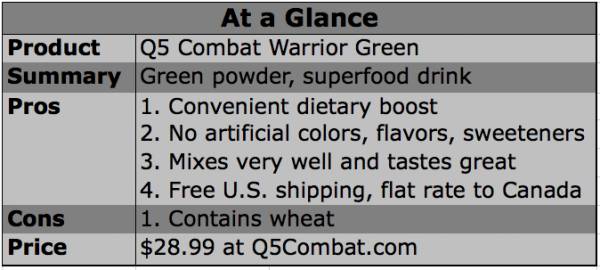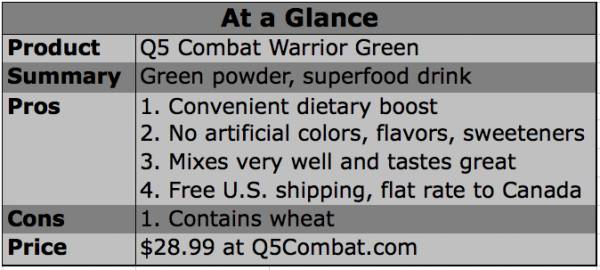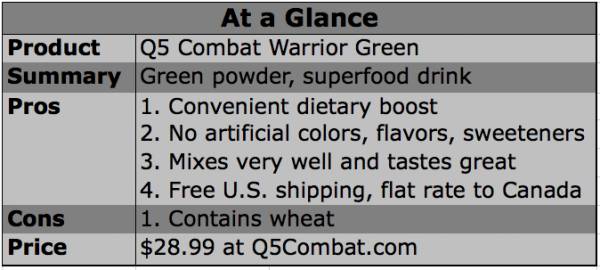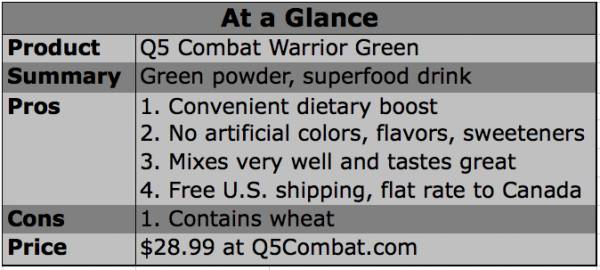 According to 27-time world champion Renato Laranja, if you want to be good at BJJ, you have to eat your fruits and vegetables. I work full-time as an auditor and when I'm on the road, it's hard to maintain a healthy diet. With Q5's Warrior Green, I can make up for the lack of nutrients I'm getting in about thirty seconds.
Even when I'm not on the road, I've always had a hard time digesting fruits and vegetables. I avoid eating things like apples, oranges, and broccoli unless I'm at home and can move around. Sweet potatoes and bananas are no problem, but when I'm in the office and sitting at my desk all day wearing restrictive clothing, my stomach gets puffy and sore about an hour after eating those foods. I sometimes wish elastic waistbands or maternity wear was fashionable so I could eat a salad at work.
Warrior Green is the perfect alternative to my lack of nutrients during the day. I've read in the past that people often feel that afternoon slump when working in an office environment because they have become dehydrated, so I usually drink the Warrior Green at around 3:00pm with 5-10ml of Q5 Combat vitamin D3 to perk me up and get me ready for jiu jitsu at 6:00pm.
Ingredients
Each serving of Warrior Green includes a 5,540mg proprietary superfood blend. This is made up of soy lecithin, spirulina, barley grass, carrot, chlorella cracked-cell, wheat grass, broccoli, alfalfa, beet juice, licorice root, flax seed meal, parsley juice, horsetail rush, oat beta glucon, rosemary leaf, eleutherococcus santicosus root, aloe vera leaf, and spinach leaf powders. It is also a source of soluble fiber, and contains a 1,200mg serving of a proprietary fruit blend made up of red raspberry powder, apple pectin, blueberry powder, cranberry juice powder, acerola berry juice, rose hips powder, and citrus bioflavonoids. Bromelaine and papain are added digestive aids as well as royal jelly, bee pollen, and green tea. The list goes on.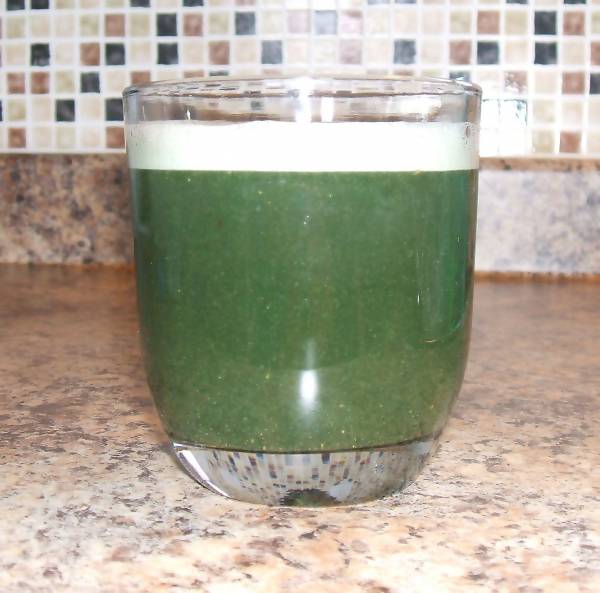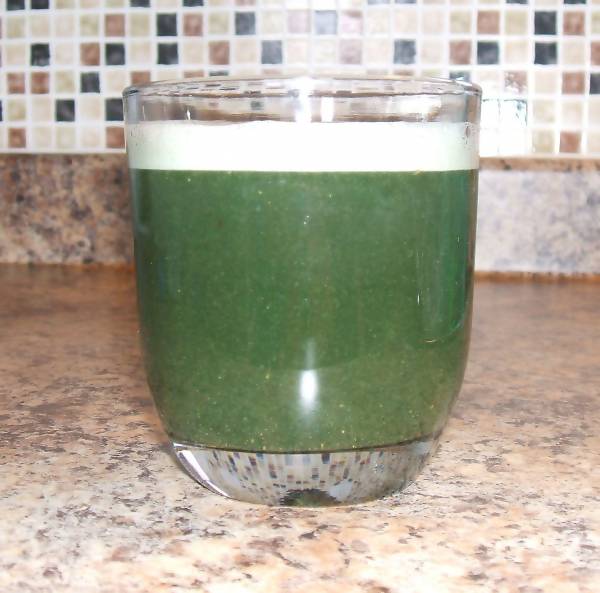 Taste
Q5 Combat does have some awful smelling products. The Joint Armour product description claims that taking it is like licking a "bait shack floor." The description is accurate. I've tried other greens products that smelled and tasted awful, but it turns out drinking Warrior Green is like having a treat. The taste is a mild, apple-cinnamon with a hint of fresh-mowed grass. It goes down smooth but I am still aware of the tiny particles of superfoods as I drink it and they are easily seen in the foamy residue.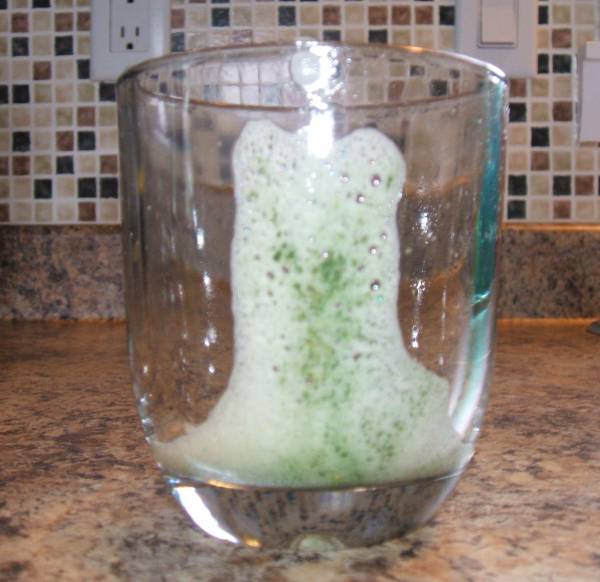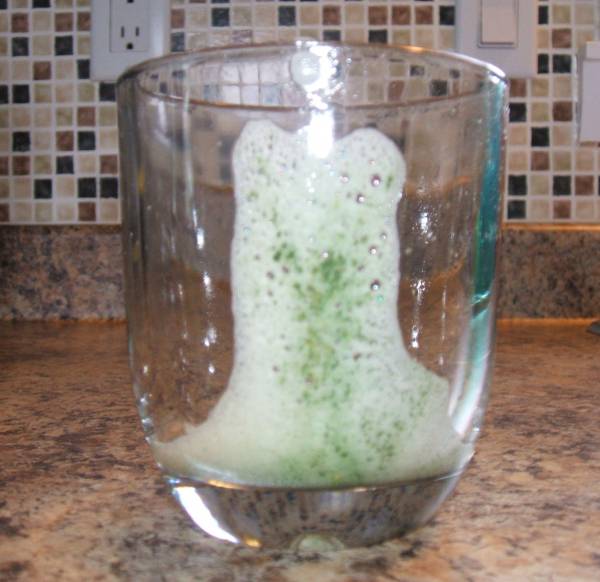 Price
Q5 Combat's online store allows shoppers to receive quantity discounts on two or more products. You can either buy two or more of the same product or build your own custom stack. The more products you buy, the bigger the discount. In addition, using the code "SALLY10" gives you an extra 10% off. Shipping is free in the United States, but for Canadian customers the flat rate is $30. Your best value as a Canadian is to order a few at a time or try some of Q5's other quality products. My frequently used products are Chocolate Amass Whey Protein, Joint Armour, Extra Round Energy, Warrior Green, and D3. Next on my list to try is the krill oil.
Customer Service
Bill Thomas at Q5 provides amazing customer service. Anytime I have a question or concern about any of the supplements I am taking, he is readily available with knowledgeable advice to help guide me in the right direction. In the past, I have mentioned my Q5 supplements on Facebook and Twitter and when people have responded with questions about what would work for them, Bill has volunteered his contact information to help them also. The company was founded to help older athletes, like me and Bill, to continue to train with younger athletes by providing clean, quality supplements.
Before working with Q5, I wasn't really loyal to any supplement brand and I was off and on with taking them. Since I began using the Q5 products regularly, I have a noticeable improvement in both my mood and energy level.
Warrior Green is available at Amazon.