We receive free products and receive commissions through our links. See
disclosures page
.


When I asked Marmac Athletics BJJ instructor Scott Nauss what his all-time favorite gi brand was, he told me it was a toss-up between the Kingz 420 Light V2 and the Redstar Stamp due to their fit. At 6'4, 190lbs, Scott has a very hard time finding a gi that suits his frame. They're either too short or too wide. Redstar is a Canadian manufacturer located in Toronto, Ontario that has designed its gis for the taller, slimmer athlete.
A common complaint in gi sizing is that it fits out of the bag but then shrinks too much once washed. As you will see in Scott's pre- and post-wash measurements, Redstar can confidently boast minimal-to-zero shrinkage with a cold-wash, hang-dry treatment.
Features
Jacket:
450-gram pearl weave jacket
Slim width, decreased overlap
Longer arms and skirt
Cotton, foam-filled lapel with midrange thickness
Vertical "REDSTAR" embroider with star logo at lapel
Embroidered stars with "REDSTAR" beneath them at each shoulder
Red contrast stitching, Redstar red skirt tape, cotton cuff lining
Reinforced in high-stress areas such as the skirt split and armpits
Inner label includes care and washing instructions
Pants:
12-oz ripstop cotton fabric.
Gi pants have four belt loops
Waistline is staggered
Rope drawstring
Reinforcement at the seam split at the waist
Double-layer fabric at the knee with vertical and horizontal reinforced stitching
Small patch on the right hip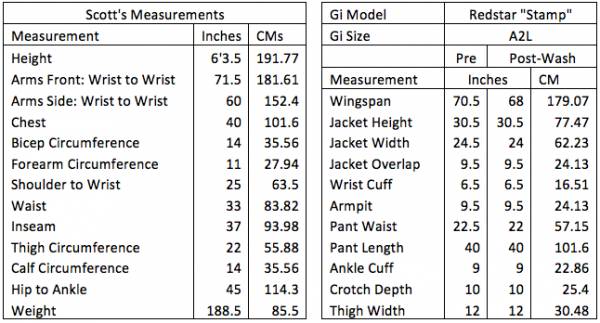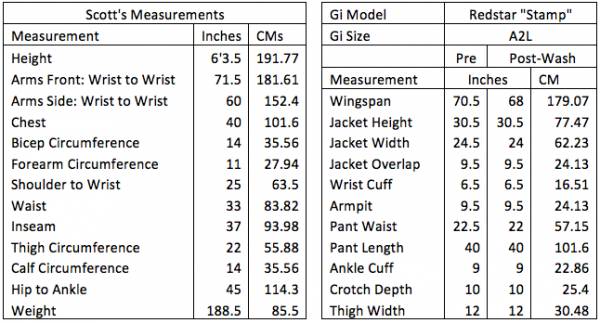 Fit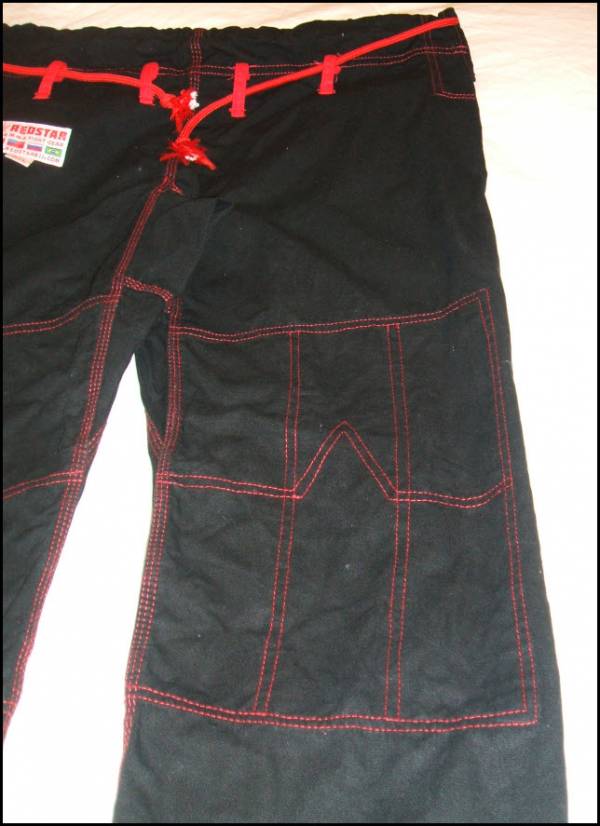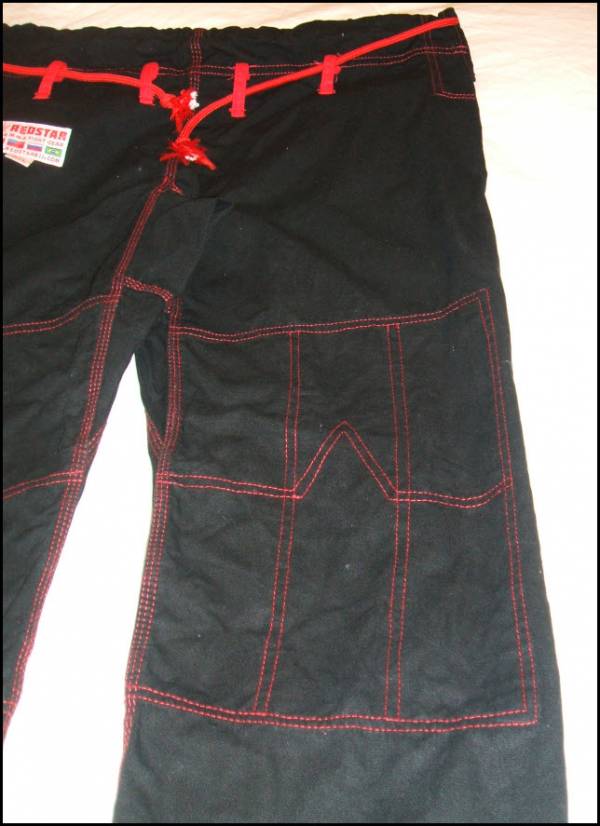 Regarding the fit of the gi, Scott said, "At 6'4, I've always wished that gis came with very long sleeves that could be hemmed as necessary. This is the first gi I've bought with sleeves long enough for my reach. They were even longer than the Shoyoroll A3 Slim and the 93 Brand A3 Long." As for the length, Scott prefers short skirts on his jackets. He explained, "I find that jackets designed for taller athletes come with excessively long skirts. These skirts can put athletes at a disadvantage because opponents can grab the excess material and attempt Brabo chokes more readily."
The pants are slim fit, but not too slim. They're comparable to the Shoyoroll A3 Slim or the 93 Brand A3 Long and the dimensions allow for comfortable movement. The drawstring is the rope-style string and unfortunately it is a little longer than necessary. As a result, the ends of the ropes became very frayed over time and had to be trimmed. I always rub the ends of the drawstrings on my electric stove burner to seal them shut. Scott does it with a match, which can be trickier and potentially light your drawstring on fire.
Comfort and Quality
Although the skirt is long, it doesn't hinder hip movement and the excess material does not make the jacket feel heavier. Scott said, "The material doesn't stretch out or loosen as it gets wet during training or competition and the sleeves don't come down over my hands. It fits well through the shoulders, chest, and waist and doesn't feel too snug at all with the slim fit. It feels as though it was specifically designed to suit my body type." In addition, Scott found no scratchy or stiff areas on the gi even with hang dries.
As far as competition and durability, Scott shared the following:
The pants are drill cotton but they don't feel heavy. They're not as light as ripstop but not as heavy as drill cotton. They feel as though they're a hybrid between the ripstop and cotton, and I get the impression that they will be very durable over time. I have two other Redstar gis, the competition models circa 2010. I've worn the black one in approximately a hundred tournament matches as well as in regular training, and neither the pants nor jacket have ripped at any point. I expect the same from the Stamp.
Scott used the color locking instructions from the inner jacket label and has not noticed significant fading on either the pants or jacket. Because of the durability of the color, as compared to the fast fading of the Kingz 420 Light V2 jacket, the Redstar came out on top as Scott's number one ranked gi.
While composing this review, I was so impressed by Scott's Redstar that I ordered the Márcio "Pé de Pano" Cruz Signature Limited Edition Grey Stamp when I saw it on sale for 50% off in Redstar's sale section on their website. It truly is the slimmest fitting gi I've ever seen and I will review it once I have had a chance to test it.
Customer Service


Scott told me he would rate the customer service at Redstar as average. Scott has ordered from them numerous times and has had mixed quality of service, ranging from exceptional to fair. An example of exceptional service would be the time Redstar replaced an ill-fitting gi free of charge. Scott had contacted the owner, Egor, before purchasing the gi and when Egor's recommendation fell short, it was quickly replaced with a more suitable size. Recently, though, questions sent by email received no response.
Scott has purchased both in-stock and pre-order gis and the shipping time was fairly quick because the company is located in Canada. Overall, Scott is satisfied with the service and will continue to order from Redstar.
The Redstar Black Stamp Gi is available for $120.00 at RedStarBJJ.com.
Competition photo provided by David Brown Photography.