We receive free products and receive commissions through our links. See
disclosures page
.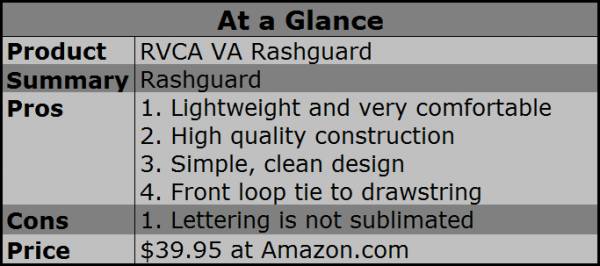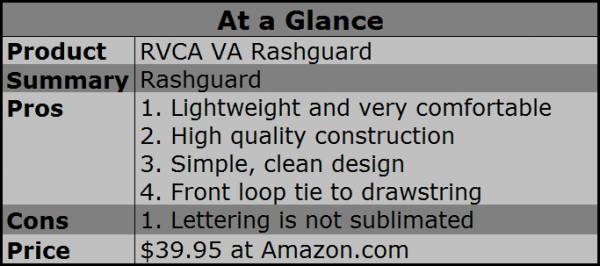 The RVCA (pronounced rue-ka) VA Sport Rashguard is one of my staple rashguards. I can wear it with anything. Now that I'm getting into wearing gear like the Fighter Girls Blue Camo or Pony Club Grappling Gear Jessicas (review coming soon) for bottoms, I love having a simple, clean-looking top like the VA Sport because it evens out the outfit.
I first heard about RVCA while I was training jiu jitsu one day. A local store owner came in with a bunch of shorts and these rashguards to see if anyone was interested in buying them. As soon as I tried it on I was sold. Every female and most of the males at that club have this rashguard now.
RVCA is the brainchild of company Founder and President PM Tenore. RVCA is a design-driven lifestyle brand, free from passing trends. The company is brought together by a group of like-minded individuals from various subcultures – a collaboration of sorts, and a lifestyle within itself.
PM Tenore's intention from the very beginning has been to create a platform for RVCA that combines art, music, fashion, and a modern lifestyle in an original way. At the forefront of this vision has been RVCA's Artist Network Program (ANP) – a venture established to showcase the talents of accomplished as well as unknown artists who inspire our generation and push the boundaries of creative excellence.
The ANP was established to promote the genuine integrity of RVCA's subcultures while simultaneously giving back to the community. RVCA in essence is redefining the way the market views art and fashion as represented through the balance of opposites and how they coexist: water and oil, air and land; destruction and industrialization, art and science, foreign and domestic, order and chaos, past and present. The RVCA brand is about today, tomorrow, and life as the big picture. It is about inspiring our generation, providing something of substance and culture and above all doing it with integrity and as a close-knit community.
Not only is RVCA an innovative and unique company, but they also make a solid product, as I found out when I first tried on the VA rashguard.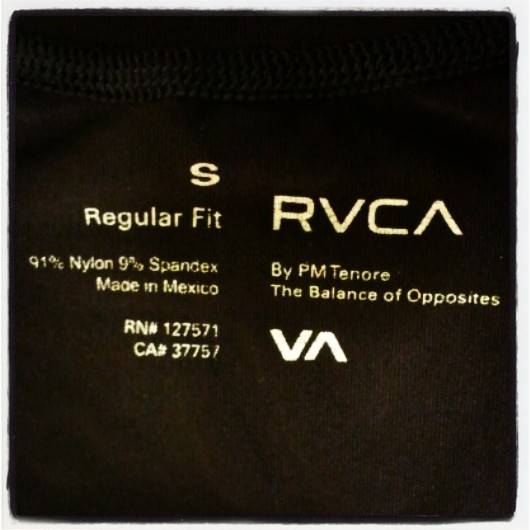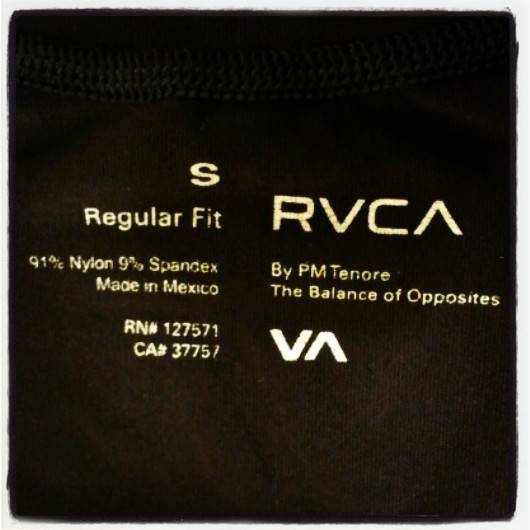 Features
Raglan style
Slight mock neck
Flat lock
Front loop at the front hem to tie to drawstring
Quality and Style
The RVCA Brand provides a platform for artists and each article of clothing has the artist's name inscribed on the label. The designer of the VA Sport is the founder, PM Tenore and the piece title is The Balance of Opposites. I know a lot of the BJJ and MMA gear has this feature but I never get tired of seeing the name of the person who designed the shirt I'm wearing and knowing the meaning behind the design. When I bought the shirt, I just saw the lettering as lettering but now that I've done some research, I love the idea of wearing something that symbolizes equality and balance.
The fabric is strong and hasn't pilled or pulled and the thick, flat seams have remained intact. The seams themselves have picked up a minimal amount of lint and debris and the hem of the shirt has shown a small amount of fraying because it was sewn without folding over the raw edge of the fabric.
One feature I wish was different is the white lettering on the front, back, arms, and label. The lettering is not sublimated and so the label has already begun to crack and peel. I'm afraid that in time, the external lettering will as well. Although the fabric is amazing and would be just as comfortable without it, I think the lettering is what makes this rashguard pop, especially now that I understand what it means.
Fit and Comfort
Usually a men's size small is too big for me, but the VA Sport fits very well. It's not a compression fit, but it hugs my torso and stays close to the skin while rolling, yet it has a lot of give. It feels silky smooth and although it does ride up when it's not tied to a drawstring by its front loop, it just as easily slips back down.


Customer Service
As I mentioned, I bought this top from a local retailer when they stopped by Marmac Athletics one afternoon, but I checked out the online store as well. When I last checked, the store was sold out of many sizes so Amazon is great alternative, although stock is dwindling there as well. You can follow RVCA on Facebook and Twitter.