We receive free products and receive commissions through our links. See
disclosures page
.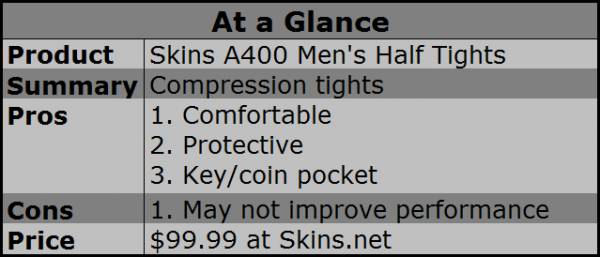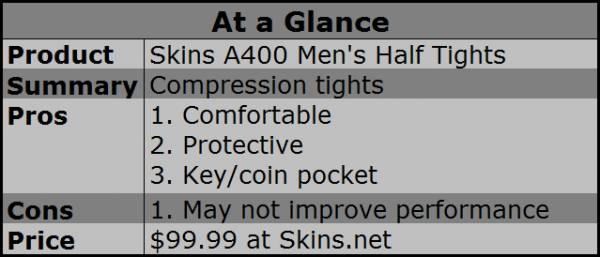 The idea that clothing (or lack thereof) can improve athletic performance is probably as old as athletics itself. However, compression garments are a relatively new addition. With the dawn of synthetic fibers, we have seen many changes to performance clothing like wicking, cooling, and now compression. Compression clothing was originally used by people with certain disorders to improve blood flow. Of course, improved blood flow is something that can benefit athletes as well.
Recently, I tried the Skins A400 Men's Half Tights. These tights are a microfiber and spandex blend, which gives them a tight, stretchy, and soft feel. True to their name, when I put these on for the first time, after a few minutes it felt like I had a new and less hairy space-aged layer of skin added to my legs.
There were two reasons I wanted to try these shorts. First, I wanted to use them for running. Compression gear is popular in many endurance sports, so I was excited to hit the road and see how they felt. Now I wear them for every long run, and most of the time when I go to the gym to do cardio. The second reason I wanted to use them was for jiu jitsu and wrestling practice. Let's face it, us guys don't always use cups in practice, so keeping everything tight is always a good idea.
Compression garments in general boast some athletic benefits, and Skins is a company that takes compression garments very seriously. The A400 that I used is shaped using 400 fitting points derived from nearly a million measurements. That's detail. Here are some of my impressions of Skins tights:
Comfort: The first thing I noticed while wearing Skins was the elimination of chafing while running. It's not as if I hadn't found tight underwear that helped with this in the past, but the glide of the Skins was a new level of comfort, which lets me focus on what's important – the running.
Freedom of Movement: I expected such a tight garment to be restrictive, especially since I was on the boundary of sizes and went with the smaller one. It was not restrictive at all. It moved with me even during the flexibility demands of wrestling.
Key Pocket: There's a key pocket, which is great.
Tightness Level: The tights kept the crotch area tight for every reason why that's good, but not too tight. Just the right level of tightness.
I wanted to separate out the next two points because they center around important athletic garment claims. Most compression garments that are worth their salt claim to have these qualities, so I was curious to see how my Skins would measure up.
Cooling/Wicking Effect: The Skins definitely felt cool, no doubt about it. However, this quality doesn't necessarily translate into an actual lower core temperature for improved performance.
Improved Blood Flow: As I mentioned earlier, compression garments were originally used more commonly to help assist blood flow in those with poor circulation, so it makes sense that athletes would use this enhancement for ergonomic benefits. But once again, the jury is still out on just how effective it is.
The bottom line, however, is that I do wear my Skins now for about half of my athletic endeavors. Working out pretty much every day means my one pair of Skins takes a beating, so my only complaint is that I don't have more. I didn't notice any major differences to my 5K times or become Hercules on the mat, but they are a pleasure to wear. Anyone looking for the best compression garments available would do well to check them out.
Skins A400 Half Tights are available for $99.99 at Skins.net.