We receive free products and receive commissions through our links. See
disclosures page
.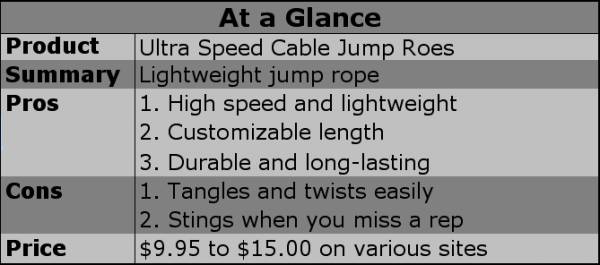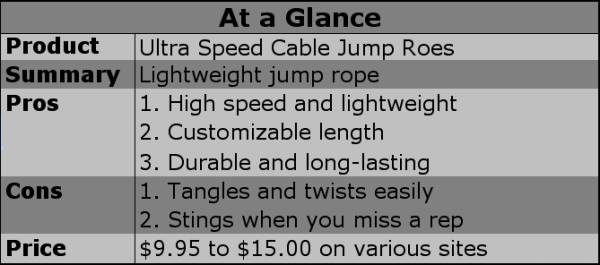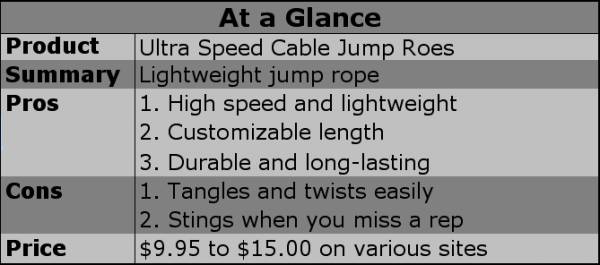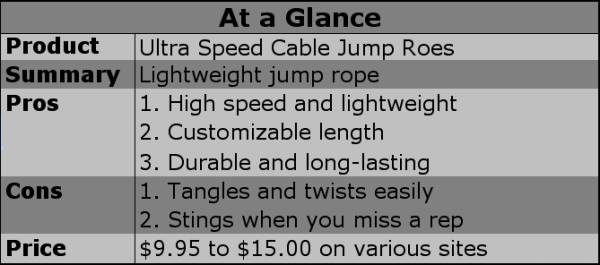 Over my six years of training in CrossFit I have tried out numerous types of jump ropes. I have used everything from old fashioned beaded plastic ropes, to the rubber "licorice" style to ropes, to high-tech customized competition ropes. Hands down, my favorite rope and the one I find most durable and useful for high speed workouts, is the Ultra Speed Cable Jump Rope.
Light Weight & High Speed
The first thing you will notice about this rope is its light weight. This rope has in fact been used to break the US National and World speed records. Due to its light weight and high speed, it is a perfect candidate for double and triple unders, as well as large numbers of single unders.
Easily Customizable
The Ultra Speed Cable Jump Rope is also customizable in length. Each rope comes with 9'6" of cable that can be adjusted and trimmed for the individual owner. My personal recommendation is that you set the rope to your ideal length and use it for a while before you trim the cable. You will need a jewelers screw driver and a wire cutter to adjust your rope.
Long Lasting
This jump rope is also one of the sturdiest of the high performance ropes I have used. I have been using mine for over a year without any obvious sign of wear and tear to the cable or damage to the handles. But, because of the customizable nature of the design, replacement of damaged cables is easy anyway. You can re-order just the cable at a much lower price and not have to replace your entire jump rope.
Some drawbacks to the rope:
When you miss a rep and whip yourself with the rope – the cable really stings!
Due to the light weight of the cable, it can be tangled and twisted during a workout.
In my opinion, the benefits of this rope far outweigh the drawbacks. In addition, the light weight and compact nature of the cable makes this an excellent rope to throw in your bag while traveling.
The Ultra Speed Cable Jump Rope is available for 15.00 at Rogue Fitness.