We receive free products and receive commissions through our links. See
disclosures page
.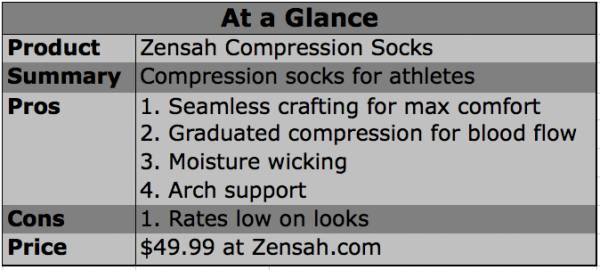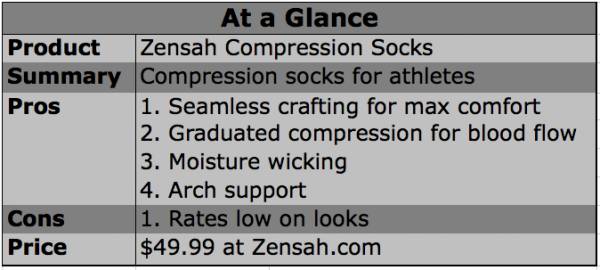 The Zensah company is deeply rooted in the idea of limitless performance. So much so actually that this concept is woven right into the company's own name. The name, Zensah, comes from the Italian word "senza," which means "without." To that point, the Zensah team has set out to help athletes perform without limits.
Zensah's mission to create limitless possibilities for athletes is manifested in their products. With a core business in compression gear, Zensah's product line includes men's and women's products from compression socks and arm sleeves to shorts and sports bras. With compression options of all kinds, consumers can find comfort in knowing Zensah has done their homework in the field. They've actually pioneered technology in the field of compression to increase performance and differentiate themselves from the competition.
How does Zensah fabric work? The compression socks I tried have much more going for them than just another pair of knee-high cotton socks. Starting at the base, Zensah has woven arch support right into the sock. It also features contours around the structure of the foot in a way that supports foot and ankle performance. I found myself wondering how we ever justified putting our feet in regular tube socks.
From bottom to top, the fabric is woven with their unique seamless technology, which adds comfort that simply soft material can't compete with. An important performance note about the compression socks that was new to me is the fact that they use graduated compression. The greatest compression, then, starts in the ankle and the compression decreases towards the knee. This allows for intentional increased oxygen flow and circulation.
In addition, Zensah's revolutionary technology is both anti-microbial and thermo-regulating, meaning athletes can enjoy a bacteria free performance and the luxury of some temperature regulation. Like most compression fabrics these socks are moisture wicking, as well.
Upon first glance, a consumer may be weighing all the science and technology they hear about and feel while wearing the product against what they see. The Zensah compression socks aren't the sexiest socks on the market. This particular product comes in white, black, argyle, and pink. Depending on your perspective this may be a good thing if you won't miss having a little extra flash. For me, I enjoyed "my little secret," in knowing the functionality and cutting edge technology around my feet and lower legs in what appears to be an average pair of socks.
You definitely get what you pay for in Zensah's compression gear. Technology isn't cheap, either. $49.99 per pair is towards the high end of the product range that reaches from $35-$60.
Zensah compression socks are available at zensah.com for $49.99