In the eighth grade I decided to make my friends plates of Christmas cookies. Being the overachiever I am, just one type of cookie would not do. Neither would two, or three. My list of Christmas cookies was at least twelve cookies long. My sister can probably tell you which cookies I made that year, as I wouldn't let her eat ANY of them. I've been trying to make it up to her ever since. Dessert on Christmas night with my family is a plethora of cookies – an extravaganza, if you will, of cookies.
This Christmas, however, represents a special challenge as I have given up both gluten and corn. You may think, "Corn? You're not making cornbread cookies are you?" No, but unless you are a careful label reader, you may not realize powdered sugar and baking powder both contain cornstarch, unless you intentionally seek out products that use tapioca or potato starch. Last year I began to infiltrate the family baking with corn-free products, giving my mother and sister corn-free powdered sugar and baking powder. Surely they would want to bake Tori-safe cookies right? Well, this year having given up gluten as well, that might be too much to ask for, at least until I have some proven recipes to share.
And so, my holiday baking experiment began:
Experiment #1: Chocolate Chip Cookies
I began with the old family recipe from Great Aunt Jane – perhaps the original tollhouse cookie recipe. I used Bob's Red Millgluten-free all-purpose flour mix the first time around with a little xanthan gum added. They looked like Great Aunt Jane's cookies, almost the same fluffy soft texture, but there was a slight bean taste to them. Not too surprising as Bob's flour mix has both fava and garbanzo bean flours as part of the mix.
Experiment #2: Polvorones
Might as well jump right into a challenge. Another family favorite, I knew the bean taste would not fly with a simple cookie that was essentially flour, butter, vanilla, and sugar. This time I gave Pamela's gluten-free baking flour mix a try. No bean flours in this mix and the almond flour in the mix would work well, as some variants of this cookie do contain nuts. Alas, the cookie is supposed to be a ball shaped and they did not retain their shape when baked. But, they tasted good. I baked the whole batch, dusted them with my corn-free powdered sugar and figured it was better than nothing.
Experiment #3: Chocolate Chip Cookies, Take 2
Since the Pamela's flour had a lighter taste, I decided to give the chocolate chip cookies a try again. This time it was a near total disaster, so flat and spread out, they even dripped through the cooling rack. I had to laugh. I now have cookie crumbs to sprinkle on my vanilla ice-cream. The rest of the batter I threw in a baking pan, to see if it could be rescued as a bar cookie. They taste pretty good, but probably too soft. A little freezing might be the answer there.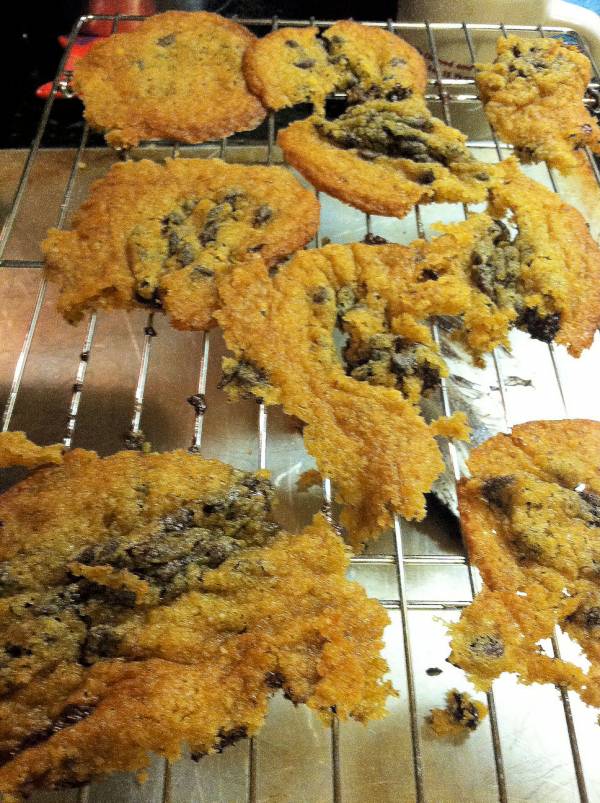 Experiment #4: Chocolate Chip Cookies, Take 3
It was time for a little research. Out came Cook's Best Recipe book, and while they don't cover gluten-free, they do cover the science behind the best recipes. It appears I needed to reduce the moisture in the cookie. I cut the water (the original tollhouse recipe calls for 3 tablespoons of water), and removed one egg white, and decided to try half Bob's flour and half Pamela's flour. A little better results, but still flat and crispy, but at least they retained their shape on the cooling rack. But I was onto something, and I realized I hadn't added any extra xanthan gum (Bob's mix doesn't contain any while Pamela's does). Xanthan gum is key to providing a little more structure to the cookie, to replace the missing gluten.
Experiment #5: Cranberry Orange Scones
With this knowledge gained, I decided to move onto scones. I used the two flour mixes, added a little xanthan gum, and followed the cardinal rule of scone making – DO NOT OVER MIX. I decided to bake three as a trial run, figuring if they spread out too thin I'd throw the dough in a tart pan and try to salvage it that way. I was prepared for another failure, or near miss. In they went to the hot oven. Halfway through the baking time I peered in. They seemed to be holding up. Could this really be? They smelled good and looked good. I began jumping up and down in the kitchen as time passed and they held their shape. Out of the oven they came, little piles of perfection. But will they taste good?
YES!!!!!
Only question, how will they hold up? How will they taste tomorrow? Will it be wrong if I eat them all myself? Too bad the Internet hasn't figured out scratch and sniff. Victory was mine! I had not been defeated! I've been making these scones for years, and they have been a part of my holiday season as both gifts and breakfast. I had to call my mother.
Experiment #6: Peanut Butter Chip Chocolate Cookies
Spirits lifted, and feeling like an invincible baking goddess, I decided to give cookies one more try. This time I wouldn't forget the xanthan gum. I stuck with leaving out one egg white and continued with a mixture of the two flour mixes. I mixed up a batch, tasted the batter, and put the first batch in. In the end? They looked like normal cookies! Tasted pretty good too! Next time I'll probably leave the second egg white in and see what happens. I'll keep working at the chocolate chip cookies too.
And so, based on my experiments, I share with you my two successful holiday cookie recipes. Through this process, I feel like the keys to gluten-free baking have been handed to me. Now I only need to decide where to drive to next!
Holiday Scones
1 teaspoon ground cinnamon
¼ cup plus 1 tablespoon sugar
1 cup of Pamela's gluten-free baking and pancake mix
½ cup of Bob's Red Mill gluten-free all purpose flour
½ teaspoon xanthan gum
1 ½ teaspoons baking powder
½ teaspoon salt
½ cup butter
½ cup dried cranberries, chopped
¼ cup sour cream
¼ cup orange juice
2 teaspoons grated orange peel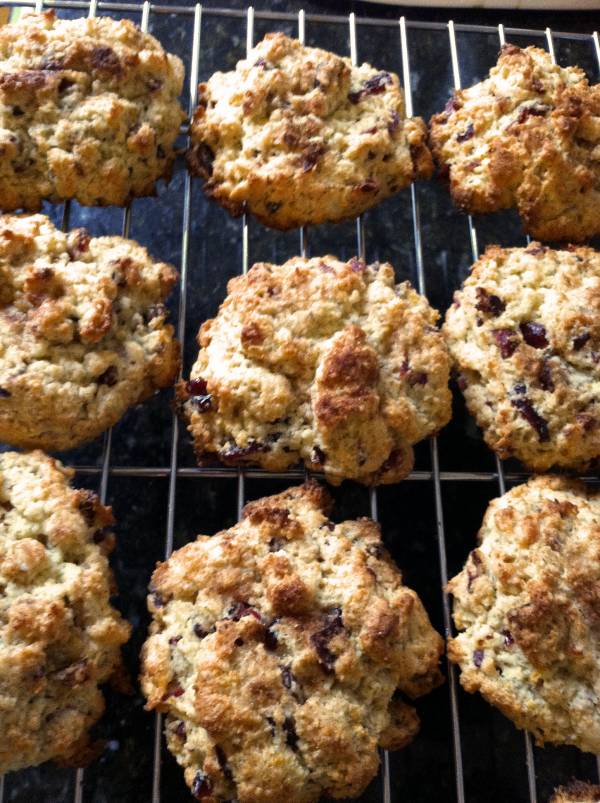 Preheat oven to 400 degrees F. Grease large cookie sheet. Mix cinnamon and 1 tablespoon sugar in a small bowl and set aside.
In a medium bowl, mix flour, xanthan gum, baking powder, salt, and ¼ cup sugar. With pastry blender or two knives, cut in butter until mixture resembles coarse crumbs. Stir in dried cranberries, sour cream, orange juice, and orange peel just until ingredients are blended.
Drop onto cookie sheet and slightly flatten. Or roll out and cut into shapes (half inch thickness). Sprinkle with cinnamon sugar mixture.
Bake scones 10-12 minutes until golden. Serve warm or cool on wire rack. Makes about 1 dozen.
Peanut Butter Chip Chocolate Cookies
1 cup butter
1 cup sugar
½ cup brown sugar
1 egg plus one egg yolk
2 teaspoons vanilla
1 cup Pamela's gluten-free baking and pancake mix
1 cup Bob's Red Mill gluten-free all purpose flour mix
¼ teaspoon xanthan gum
⅔ cup cocoa powder (Hershey's or Ghiradellas)
¾ teaspoon baking soda
½ teaspoon salt
2 cups peanut butter chips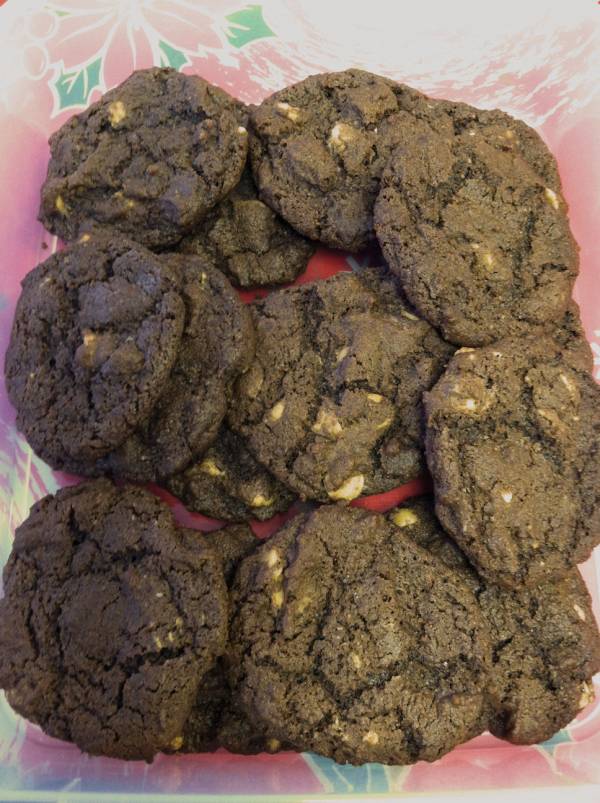 Preheat oven to 350 degrees F. Cream together butter, sugar, eggs and vanilla until light and fluffy.
Combine flour, xanthan gum, cocoa, baking soda, and salt in a bowl. Add to creamed mixture and combine. Stir in Peanut Butter Chips.
Drop by teaspoonsful onto ungreased cookie sheet. Bake for 8 – 10 minutes. Cool 1 minute before removing from cookie sheet to wire cooling rack.
Makes about 5 dozen 2 ½-inch cookies.