In the biblical account of the Transfiguration, Jesus takes a few of his disciples up a mountain, where he is suddenly clothed with light, and joined by the ancient prophets, Moses and Elijah. The Apostle Peter (my namesake) surveys the situation, is suitably impressed and proposes that they put up some tents and stay awhile. Peter's experience on the mountain top was so superlative that he understood in an instant that the only thing that mattered was to remain as long as possible in the presence of his transfigured rabbi and his reanimated companions.
The mountain top experience is a theme that occurs again and again in the Bible and other literature. It's the place you to go escape, to commune with God, or to meditate. Mountain tops are the natural habitat of gurus, and untold thousands have risked life and limb to reach the top of the world's tallest and most challenging peaks, just to have the fleeting experience that can only be gained by being there.
There are no mountains in Iowa. Though it isn't anything like as flat as it appears when you fly over it (as most people do), the highest elevation in the state is a mere 1,670ft. But that detail didn't stop me from having my own mountain top experience there, on my bicycle, as one of more than 15,000 cyclists in the 45th edition of the (Des Moines) Register's Annual Great Bicycle Ride Across Iowa (RAGBRAI).
Falling Out of Love
By the end of 2014, riding my bike had started to feel a lot like work. I had spent the year thrashing my mountain bike, racing everything from local sprint and endurance races to the Lumberjack 100 and Iceman Cometh. That was supplemented by a little road racing and touring, a gravel grinder, and even a couple (awful) attempts at cyclocross.
It was all a ton of fun, and I have great memories from that season. But I staggered into the winter with a pile of broken bike parts, tired legs, and no real desire to go do it all again the next year. I decided to shift my focus for 2015 to get better at other things I sucked at (running and CrossFit), and volunteered as the race director for my local mountain bike series, instead of racing it.
I spent most of 2016 on the road for work, but the few rides I did get in helped me remember what it was like to ride with no real objective in mind, other than to have fun. That was part of a greater shift in my fitness philosophy toward intentionally creating positive experiences for myself as often as possible. The cyclist I was in 2014 never saw the point in riding any slower than the fastest I could go, but as I checked off more and more of my "capital-G" Goals, I realized that if I intended to keep doing this stuff, I was going to have to learn to spend more time having fun and less time suffering.
Still, by the beginning of this year, my miles on my bikes had dwindled to the point where they almost felt foreign to ride. Without a huge, scary race out in front of me to train toward, I was much more likely to hit the track for some speed work or head to the gym to work on my (hysterically bad) weightlifting.
Then a friend asked me to do RAGBRAI. I didn't know it, but that would change everything.
Woodstock for Bikes
RAGBRAI is a 7-day, non-competitive* bike tour that holds the distinction of being the largest, longest, and oldest touring bicycle ride in the world. Each year, it takes cyclists from Iowa's western border (as demarcated by the Missouri and Big Sioux Rivers), to the state's eastern edge at the Mississippi. The route changes every year, as much for the sake of variety as to spread the considerable financial impact of this rolling circus across the state. A 2008 study approximated that impact at some $25 million over just one week.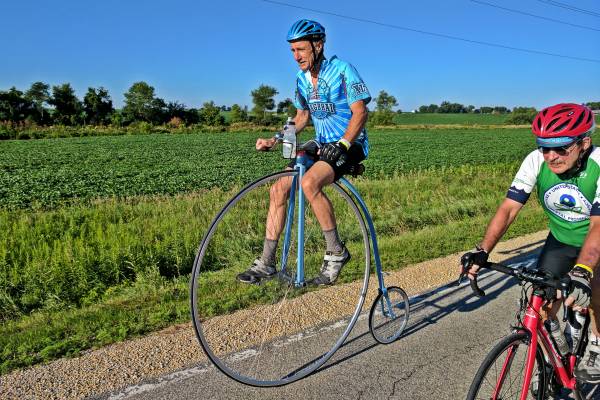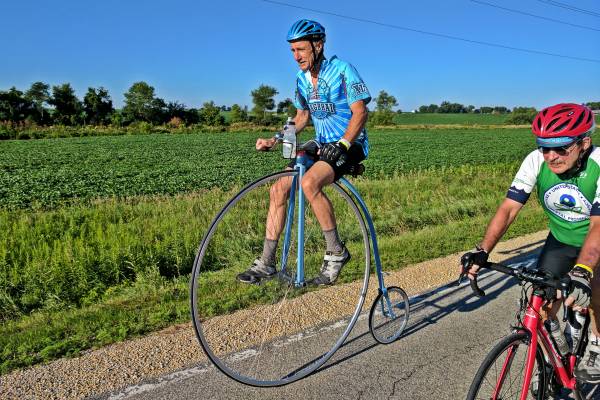 The daily mileage at RAGBRAI is notable, but not crushing. There are hills, but nothing outside the abilities of most enthusiastic recreational cyclists. There are pacelines that can move quite fast, but they don't stay together for long, since most days, the roads are nearly covered edge-to-edge with bikes.
The towns themselves turn out to put on a show at each point along the route, with every conceivable type of food, live music, entertainment, car shows, and more attractions than you could possibly take the time to see before the sun goes down. In every town and at dozens of points in between, there are roadside stops for coffee, ice cream, pork chops, and an impressive array of craft beers. Even for this Midwestern kid, the level of hospitality at every point of the ride was almost surreal. I asked myself more than once if I had stumbled onto a movie set.
Riders show up for a day or the whole week, or most often, make it up as they go along. They take to the course on all manner of contraptions: from $100 department store bikes to $10,000 carbon fiber masterpieces; penny farthings to electronically assisted mountain bikes, elliptical bikes (yes, they're a thing), unicycles, fat bikes, recumbents, and trikes. There's even the occasional adult-sized big wheel and more than one person on rollerblades. There are parents pulling kids, riders in costumes, and riders with a variety of disabilities and impairments, from paralyzed or missing limbs to blindness (that last group is found mostly on the backs of tandems).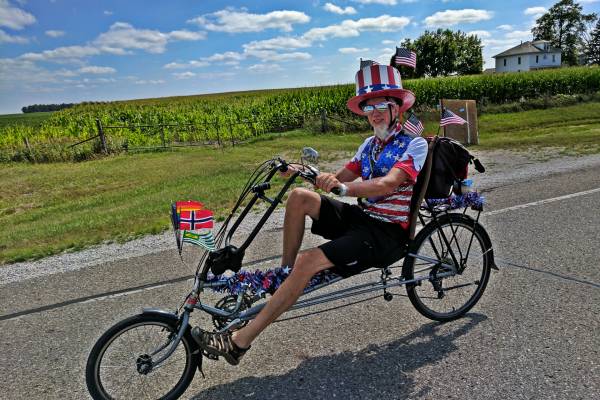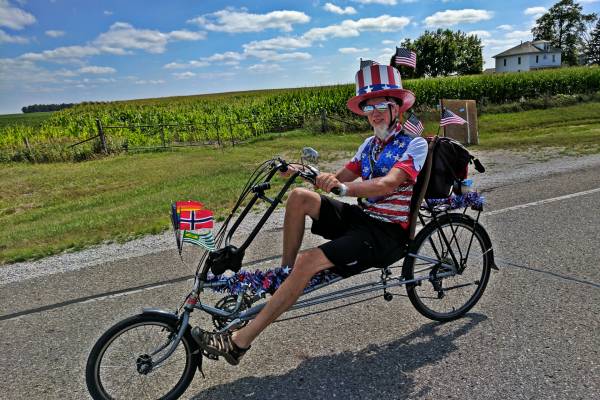 It's Woodstock for bikes, only with more diversity. It's like summer camp when you were a kid, but with more (or better?) beer. It's a raucous, nonsensical, hysterical procession through the summer heat, across a state famous only for its corn fields, with no real point other than to go ride your bike every day.
In short, it's like nothing I have ever experienced on two wheels or off of them. And it was exactly what I needed to fall madly in love with my bikes again.
Lessons in Letting Go
All the chaos of RAGBRAI flew directly in the face of how I approached most rides leading up to this year. I'm the kind of rider who maps out his route, how long it should take, and how much food and nutrition he should consume along the way. I typically had a training outcome in mind, a race I was preparing for, or a hill I wanted to attack.
But to get ready for RAGBRAI, all I really needed to do was go ride my bike. Any bike. For any amount of time, over any terrain, as fast or as slow as I felt like. I just needed some seat time to get my legs (and butt) ready for seven days and 500ish miles.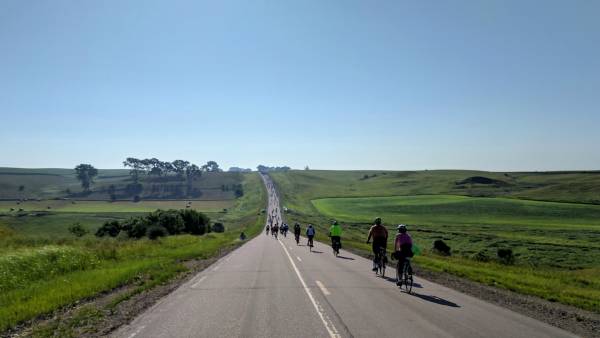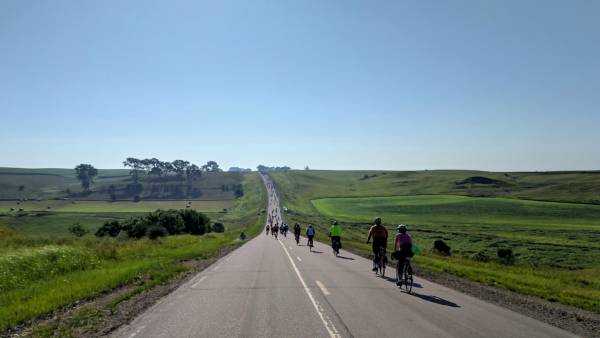 RAGBRAI gave me a totally different reason to ride, and produced three profound effects on this unsuspecting rider.
The first is that I had to let go. Let go of needing perfect sleep, perfect nutrition, and perfect recovery for my rides; of obsessing over an immaculate, squeak-free bike; of worrying about how my legs felt when the ride started, and whether they'd have enough to carry me to the finish. I learned that I could roll out of a stuffy tent at five in the morning, pack up, hit the road, stop for a beer (or three) and a pork chop, and still ride surprisingly well.
The second effect was that I got just about as strong as I've ever been on the bike, without really trying. It's almost like having fun (and getting in sufficient volume) is a perfectly legitimate way to accomplish some very effective training. With this relaxed approach to getting more miles, I became a better person to ride with as well, as my wife (the most wonderful woman in the world) will attest.
The last and most profound effect was that mountain top feeling. All week long, the Apostle Peter's words to Jesus rang in my head: It is good for us to be here. We should stay. It's good to ride with your friends, to ride as slow or as fast as you feel like in that moment, and to stop and admire the countryside and take a few photos. It's good to ride with joy in your heart, even if your legs are tired and achy. My experience at RAGBRAI taught me that it's more important to celebrate what my body can do, than worry about what it can't, and spend all my time flogging it to be better.
How long have you been in the grind of your training? When's the last time you went out and played in your chosen avenue for fitness, without a periodized plan, or a timer beeping at you, or any real goal whatsoever? If you've fallen out of love with your sport, maybe it's time to find your own mountain top experience. While we can never remain there for long, it can give us the reset we need, physically and psychologically, to get hungry again.
If anybody needs me, I'll be out playing on my bike.
*Actually, to call it noncompetitive is a drastic understatement. The only way to lose RAGBRAI, it is said, is to be the first person into camp at the end of the day's ride.