We receive free products and receive commissions through our links. See
disclosures page
.




Recently I tried out the protein bar offering from Rise Bar. Rise Bar is a California-based company dedicated to making a variety of food bars. While I only tried the protein bars, they offer many other varieties as well.
With so many protein bars to choose from, it can be hard to know which to pick.
If you're like me and you don't want a host of ingredients you can barely pronounce, you can eliminate about ninety percent of all protein bars. Once you do that, the question comes down to taste, texture, and protein content.
Rise Bars offers four different kinds of protein bars, each as delicious as the last.
Almond Honey
The Almond Honey flavor has just three ingredients: almonds, honey, and whey protein isolate. That fact alone was pretty awesome to me. The ingredients are combined into the perfect proportions to create a soft, not too chewy bar with a great texture.
It tastes exactly the way you would think – like almond butter, which I personally love, sweetened by honey, which I also love. This one is a big hit for me, and has the highest protein of the bars I tried at twenty grams for a sixty-gram bar.
Crunchy Carob Chip
With almonds as a base, and sweetened this time by agave, this bar also contains carob, crisp rice, and whey protein isolate. There are no actual carob chips, so the crunch comes from the rice, but the flavor is out of this world.
You have to like carob, of course, because the bar is very carob-y. If you're not familiar with carob, it has a flavor similar to chocolate. This bar boasts the second highest protein at seventeen grams, and also the highest fiber at five grams.
Lemon Cashew
This bar has a base of cashews instead of almonds and is sweetened by coconut nectar. The protein in this one is pea protein and the bar is suitable for vegans. The flavor is finished off by lemon extract, which you get a waft of as soon as you open the package.
This was the softest of the bars, and it pretty much just melts in your mouth. Although I love cashews, I wasn't sure how I'd like them with the lemon in a bar, but it worked delightfully.
Sunflower Cinnamon
For a change of pace, the base of this bar is sunflower seed butter, sweetened again with coconut nectar. The protein is pea protein, and suitable for vegans just like the Lemon Cashew.
The rest of the flavors come from both cinnamon and vanilla. I found the vanilla extract to be a bit strong, but it does complement the cinnamon and sunflower flavors nicely.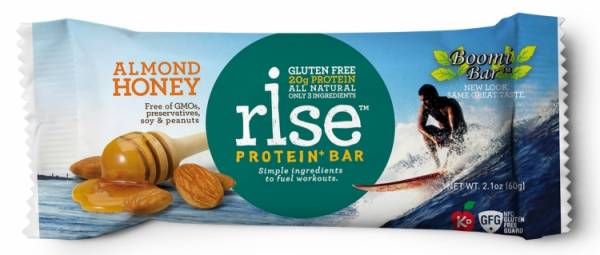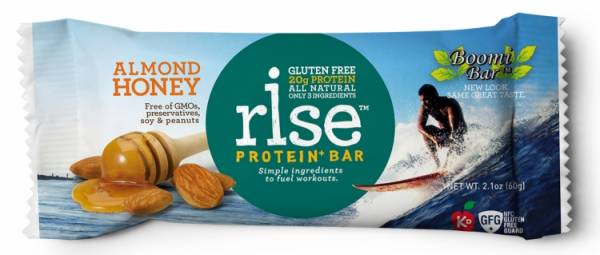 Texture and Flavor
The texture and flavor of each bar was consistent and always pleasing. Having been in the supplement and fitness industries for over a decade and a half, I've tried more bars, powders, and pills than I could possibly count.
Rise Bars are definitely top rung when it comes to flavor, quality, and consistency. Bottom line, you won't find a better tasting bar.
The only real issue I have with Rise Bars is the sugar content. It isn't extreme, and it comes from organic sources where possible, but it is still sugar.
The sugar content of each bar is between twelve and thirteen grams. Again, not terrible, but save it for post-workout or a snack if your sweet tooth is getting to you.
If you like protein bars for their convenience and flavor, do yourself a favor and get a box of the Rise Bars. You'll see that they are a cut above the rest.
Rise Bars are available for $27.99 – $28.99 at Store.RiseBar.com.