We receive free products and receive commissions through our links. See
disclosures page
.
Are you bored with the same kettlebell routine and seeing little to no results? The Rock Solid Kettlebell Program from Lauren Brooks brings the challenge, the fun, and the results. Rock Solid focuses on the lower body but provides a full body approach to fitness. Workouts include sumo deadlifts, swings, squats, lunges, and glute bridges that will define and develop your posterior in just six weeks. The Rock Solid Program includes four follow along workouts, a warm up and cool down section, and a written guide with a six week workout calendar.
We Put Rock Solid to the Test
We tested this program for six weeks and followed Lauren's calendar for programming but added a few extra days per week for yoga and mobility work. This program was hands down one of the most effective lower body programs we have tested. We noted tangible results in just six weeks, including an improvement in sumo deadlift weights, increase in numbers of renegade rows per side, and a stronger farmer's carry after six weeks, increasing from 16kgs per arm to 20kgs per arm. Small yet noticeable changes also included a tighter, more defined lower body, specifically in the areas of the glutes and abs. These potent workout combinations paired with excellent hands on instruction, demonstrations, and cues make this a highly recommended workout program.
We performed the training program using a 28kg kettlebell for sumo deadlifts, two 16kg kettlebells for swings, squats, suitcase deadlifts, and farmers carries, one 12kg kettlebell for presses and rows, and a band. These weights made for a challenging combination, however you could have just two kettlebells and make a few modifications to still get a strong workout. The warm up/cool down routine is a simple seven minute full body rundown that will compliment the beginning or end of any workout. This is a great rest day routine to move the body in under 10 minutes. This program is sold separately as a stand alone program but also available as a monthly streaming purchase in Lauren's Playground.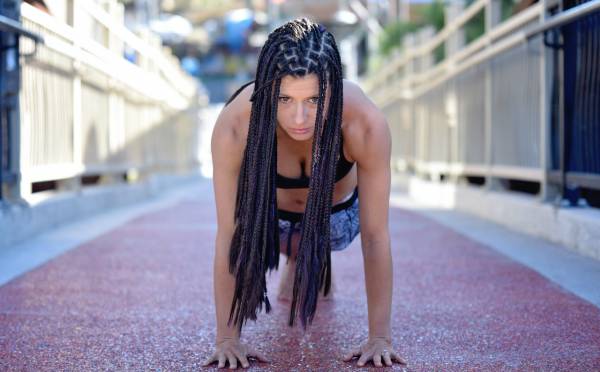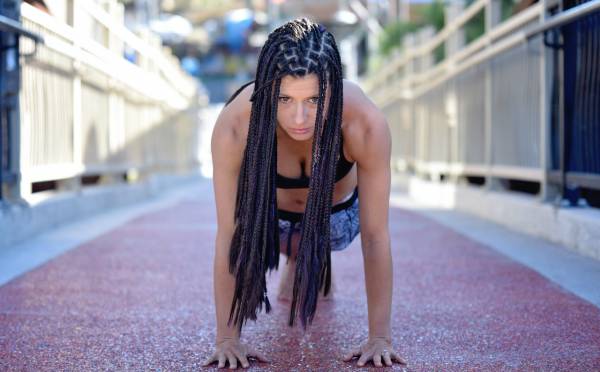 Rock Solid Is For Everyone
The videos in this program are taught to beginner level through an intermediate audience, yet this program is effective for all levels of fitness. Lauren expertly guides you through each movement in a follow-along style workout with full of modifications available to easily take the level up or down a notch.
Rock Solid is the perfect program to do if you're a looking to fine tune and practice your basic kettlebell skills or if you want to take the challenge and go heavier to see real strength gains and lean muscle building.
Movements:
Sumo Deadlift
Swing Variations
Thoracic Mobility Plank
Suitcase Deadlifts
Farmers Carry
Reverse Flys
High Pull Catch Squat
Push Ups
Goblet Squats
Figure 3 Stretch
High Pulls
Suspension Rows
Janda Sit Ups
Skateboard Roll Outs
Chest Opener
Bottoms Up Press
Prone Cobra
Back Lunges
Single Leg Deadlift
Bird Dogs
Rows
Recommended Equipment:
Set of kettlebells in varying weights for upper and lower body movements
Suspension trainer
Band
Skateboard
Program Includes:
Warm Up and Cool Down – 7 minutes
Rock Solid Workout – 33 minutes
Beach Body Workout – 38 minutes
Rotation and Rear Workout – 37 minutes
Backside Conditioning Workout – 22 minutes
Rock Solid Kettlebell Program – 6 week printable guide and worksheets


Another at-home kettlebell training option from Lauren's Playground: