I had never rowed in my life until I started CrossFit, and to my surprise I wasn't all that bad – at least as times are concerned. I consistently mastered most workouts where rowing was included, with fairly decent splits, and seemed to be able to hang with the best of them. But up until recently my rowing was limited to sitting on a Concept 2 ergometer and just going. The only thing I really thought about was to guess an appropriate damper setting and try to row at a pace I could maintain for the whole time I was supposed to row (very tempting as a sprinter to get off the gates all out). I didn't really commit any cardinal sins of rowing, but there was apparently a lot I was oblivious about.
Then earlier this month I found myself accidentally located at the same facility as the Polish national rowing team, and among them I met the humble and friendly Magdalena (Magda) Fularczyk. Let me tell you a little about Magda. She has been rowing since at least 2000 and has been a top rower in Poland for a number of years. Among many titles, she earned the title of world champion in 2009 and a bronze medal at the London Olympics in 2012 in the women's double sculls. Somehow I convinced Magda to accompany me to the ergometer and take me through some of the basics.
Damper Setting
My first question to Magda was ,"Where do I set the damper?" (You know, the big blue dial on the right of the fan.) To which I got, "That all depends." Fortunately she decided to expand. "The damper setting really depends on the rower (person) and the ergometer. There is a function on each machine that allows you to determine where you may row with the least resistance, called the drag coefficient."
To calculate my best setting, Magda asked me to sit on the rower and start rowing as if I was going to do a 2000m. We started with the damper at a "1" setting and she would progressively increase it while keeping an eye on the number displayed on the screen for the drag coefficient. Another athlete, Augustin Maillefer, an Olympic rower from Switzerland, attempted to explain to me how the use the drag coefficient to decide where to row. "For a strong powerful rower we look for a drag coefficient of about 132-135," he said. "We use that damper setting for longer rows that require pacing. If it's an all out short row (100-500m) then the damper setting doesn't become so important."
Pacing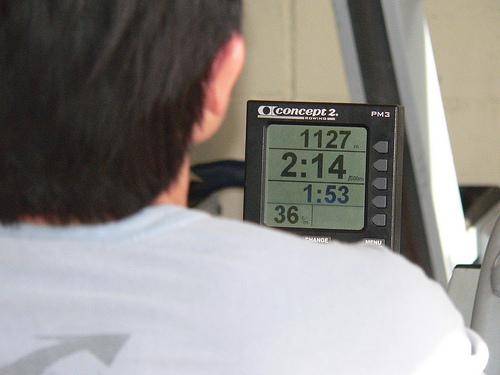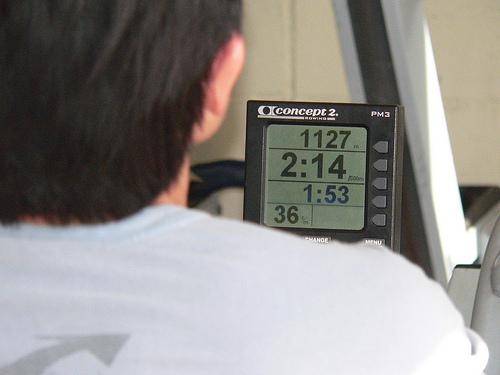 One of the things that became immediately apparent was that I had a really strong pull and would have issues keeping my initial stroke rate for a longer row. According to Magda finding the right stroke rate that one can keep through a long period of time is key and varies from person to person. When I polled the whole Polish women's rowing team at the camp, their stroke rates varied between 26 and 32 strokes per minutes (spm), but all agreed it was fairly important to keep that stroke rate throughout the whole row, regardless of how long.
I think at this point I must have looked pretty puzzled, to which Magda reacted with the suggestion to work on learning to maintain a steady stroke rate/pace. First she said, "Set the units to watts." I set the computer display, but in my mind I was wondering about that setting, as I always thought was useless because it wasn't meters or calories and I had never seen watts being called for in a workout. What came next was something that didn't sound too appealing to me. Magda said, "Now for an exercise, you row 45 minutes trying to maintain the same watts for the whole time, and that should also help figure out the ideal stroke rate."
Using Your Legs to Row
This actually is an issue I was aware of from seeing a lot of athletes pull without reaching leg extension. Our legs are so powerful that a lot of energy is wasted if we don't make the most of it in the rower. Magda suggested two exercises to gain awareness of the legs, but also of the back before employing the pull.
In the first exercise Magda rows without a pull and with her back upright, making use exclusively of the legs, making sure to reach full extension:
Video: Rowing Technique - Rowing w/Legs Only with Olympic Medalist Magda Fularczyk
In the second exercise Magda adds movement of the back, but still no pull, making sure the legs are driving the stroke with full leg extension:
Video: Rowing Technique - Rowing w/ Legs and Back with Olympic Medalist Magda Fularczyk
Now Magda shows her complete rowing technique at slow speed, where you can see her perform the final pull after leg extension:
Rowing Technique - Full Stroke, Slow Speed with Olympic Medalist Magda Fularczyk
Finally, at full speed you can see Magda taking advantage of the full amplitude of each stroke, (accompanied by some minor forward movement of the ergometer):
Video: Rowing Technique - Rowing Full Speed with Olympic Medalist Magda Fularczyk
While these tips aren't a magical fix to everyone's rowing problems, they certainly increase awareness of certain aspects that with practice (beyond your rowing portions during workouts) could make you a more efficient and faster rower. While since then I haven't necessarily been able to improve my 2000m row time of 7:07, I have been able to row it with more consistent splits and stroke rates – and it has only been two weeks since I made my changes. I feel that in time, and with maintaining this newfound consistency, my rowing "game" will significantly improve.