We receive free products and receive commissions through our links. See
disclosures page
.

I was first introduced to Concept2 rowers while at CrossFit Boston, where we had several rowers lining the walls. I remember rowing my first 2km, fumbling to loosen the straps on my feet, and flopping my legs off of the machine. Then I just sat there, wondering what sort of cardio train had just hit me. A week later, I was shopping around for the classic model because I loved how it looked – all wood with repurposed bicycle rims. I was hooked. It's no wonder using ergonomic rowers like the Concept2 has quickly become a favorite activity for people desiring a higher level of conditioning.
The Row Keeper app is a simple way to track your rowing workouts. You simply enter the distance rowed and time spent rowing to calculate your splits and provide reporting on your progress. You can add a new workout by tapping the plus sign in the upper right hand corner. The interface is simple. You just enter the number of minutes and seconds of rowing duration, along with the distance rowed.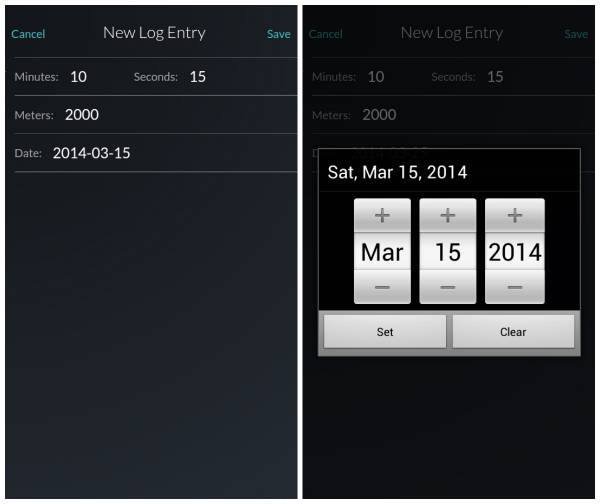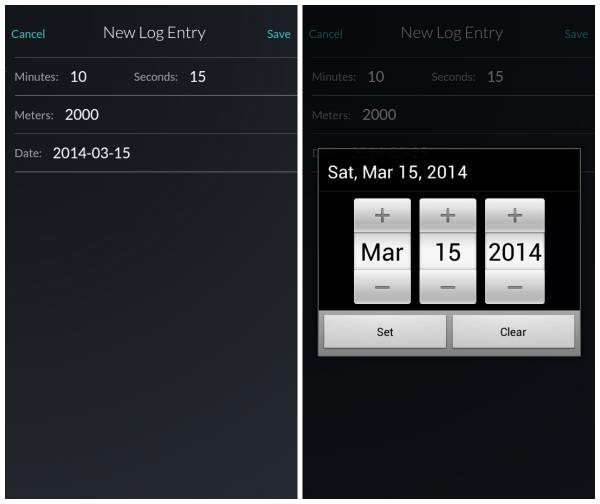 Left: New Entry Screen; Right: Date Select Screen
I found the entry for the time and distance was little awkward, as the zeroes that are present on the screen don't clear when you click in. For me, this made some extra work. The date select was fairly standard though, and the Android version reminded me of my days using an iOS interface.
Once the workout is entered, you are directed back to an overview list of workouts titled "Rowing Logs." A few reporting options are possible for the data you've entered. A calendar allows you to look at distance, time length, or your split per workout per day. Easy top left and right controls allow you to move from month to month in the calendar view. Additionally, a "Graph" screen allows me to look at my distance, time, and split over the last thirty days. There's also a "Summary" screen that shows a lifetime or thirty-day summary of the total workouts, time spent rowing, meters rowed, and average split.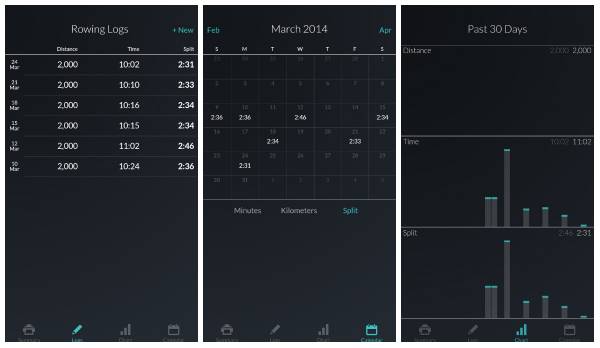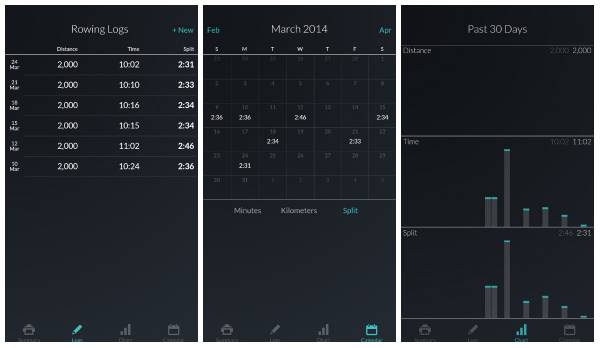 (Left: Rowing Log Screen; Center: Calendar Split Screen; Right: Graph Screen)
I enjoyed the clean design and navigation of this app. It's obvious that it was created by someone who knows rowing, and I feel it captures what it needs to without a lot of messy extras. I wish the time and distance entry was a little less complex, possibly with a pop-up menu like the date screen, and that the graphics were higher contrast for entering and viewing workouts in sunlight. I enjoy the color combination, but it was hard to see when inputting data on a bright day while dealing with screen glare.
Going forward, I'd also like to see options for exporting the log to Excel to run other graph and reporting options. But at this time, anything else would be ruining what makes this app great, which is its straightforward simplicity.
The Row Keeper app is available for $1.99 at Row-Keeper.com.