Kevin Kearns knows what it means to train like a fighter – he has trained UFC fighters like Kenny Florian, Stephan Bonnar, and Marcus Davis for a living for many years. Now you can get a chance at these hardcore workouts, that also happen to be a lot of fun.
To learn more about Kevin, read our feature interview:
Featured Coach: Kevin Kearns, Part 1 – Blowing Up With the UFC
Featured Coach: Kevin Kearns, Part 2 – Everybody Has a Good Fight
Workout 2: "Road Warrior Fitness"
Here's another workout that can be done any place and anytime. I use this often when I travel or when clients travel since all you need is a resistance band. We call it road warrior fitness.
I was introduced to resistance bands fifteen years ago and back then I thought they were for little old ladies. Then I saw one of my mentors, Douglas Brooks, burying a high level athlete with them. So I decided to see for myself. With the different levels of resistances, you can accomplish the same if not better workout than lifting weights. Especially on the road – dumbbells don't travel well, now do they?
Several companies make excellent bands. The two best are Lifeline USA and Jump Sport. You want to make sure you buy one with a door anchor already on it. This will be invaluable on the road. The other reason I like band work so much is by standing up you activate your core more. We all know how Dr. Evil likes the core.
All exercises will be performed for 1 to 3 sets for 20 reps. Make sure you do not over stretch the band to double its length. When they break it friggin' hurts when it hits you.
1. Squat with a band row – This is all about adding more muscle to burn more calories. Squat down and as you come up pull the band to rib cage.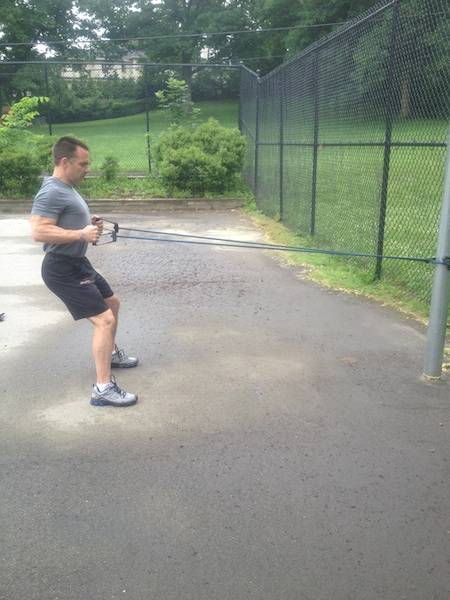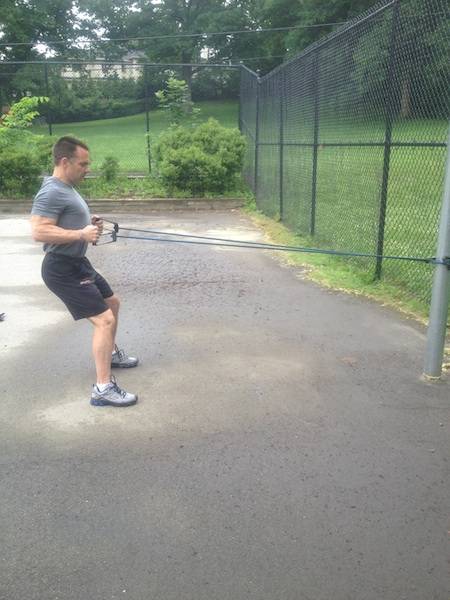 2. Lunge and row with palms down – Hanging the angle will activate more muscles in the back. Make sure you pull back as you lunge back .
3. Smack downs – By now your lats will be on fire especially after this one. In a parallel stance pull the bands up and then squat down as you pull them through.
4. Rotational smack downs – Same as the other exercise except rotating from side to side. You want to make sure one foot rotates.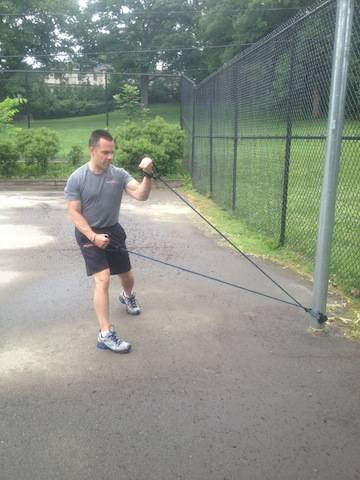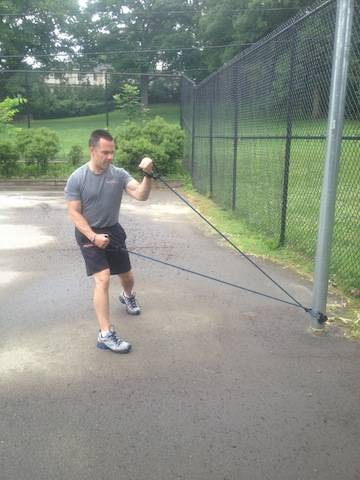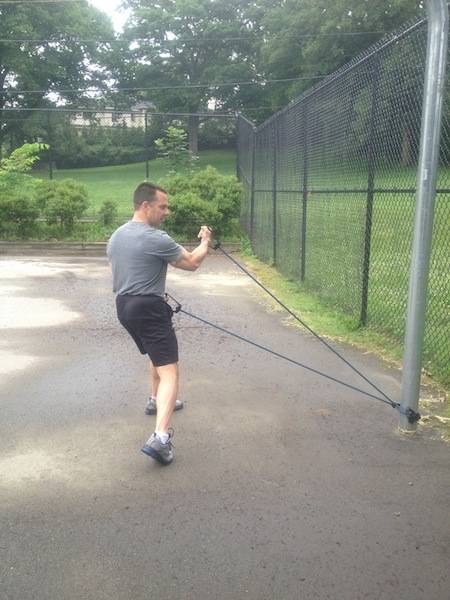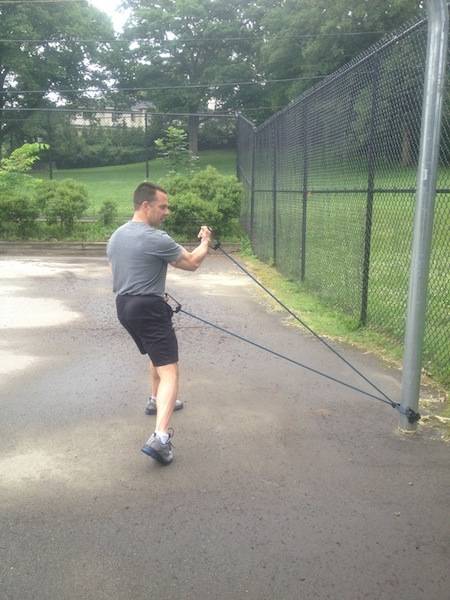 5. Lunge and press – Let's hit the anterior parts of the body while activating the legs. Lunge forward and press forward at the same time.
6. Punches in bunches – Stand in a fighting stance or on one leg and alternate your punches while maintaining resistance.
7. Chest fly and lunge – Yes, I like lunges because you're not going to squat out of the way of moving car. Plus, they work the entire leg. Lunge forward and bring the bands together in front of you.
8. Upper cuts – Stand with both feet on top of the band and then punch up from side to side.
9. Band twists – This is great for the waistline because it activates the core so well. Make sure you do both sides.
10. High to low chops – Secure the band at a high point and stand sideways to the band. You will rotate down from shoulder to your hip. Make sure to bend your legs and not your back.
Okay, have fun with that one on the road and let me know how it goes!