This past Friday night, I attended Submission Series 902, Canada's first submission-only Brazilian jiu jitsu event. It took place at Glasgow Square in New Glasgow, Nova Scotia, which is about 160 kilometers outside of our capital city, Halifax.
As a member of the media, I was set up on stage so I could have a clear view for my play-by-play. When the athletes lined up in front of me, the tension and excitement were contagious. And the crowd? So supportive, energetic, and respectful. It was one of the best experiences I have ever had as a spectator of combat sports.
RELATED: Submission Series 902: BJJ Athletes With Bright Futures
I'm a bit of a party pooper and will usually opt to watch a stream rather than attend a live event, especially if I have to drive any distance. Looking back, I know if I hadn't gone to Submission Series 902, I would have regretted it.
Gavin Tucker vs Kent Peters SUBMISSION SERIES 902
One of my favorite matches: Gavin Tucker vs Kent Peters
The Venue
While I had initially worried that not many people would show up to watch jiu jitsu, the venue seemed to be busting at the seams with spectators. Cat Clarke and Jaret MacIntosh did an amazing job organizing and promoting this event, and the martial arts community really came through.
"When the athletes lined up in front of me, the tension and excitement were contagious. And the crowd? So supportive, energetic, and respectful."
Glasgow Square is a small theatre and while the atmosphere was cozy, sometimes it felt a little too crowded. The warm-up area in the back was tight quarters and the media table was tricky to access when I had to get up for any reason. Still, it was a nice venue and it served its purpose. The stage was easy to see and the mats left plenty of room for the competition.
RELATED: Behind the BJJ Scenes: What It Takes to Run a Tournament
I've heard a rumor the promoters are looking at other venues for the next event. If these rumors turn out to be accurate, event number two will be epic.
The Production Team
I loved that almost everyone involved in the production of this event trained jiu jitsu. The announcer, Craig Ferguson, is a brown belt at Titans. The co-commentator, Dan Vanderlans, is a brown belt at Marmac Athletics. The techies at the media table were blue and purple belts out of Clinch Martial Arts. The promotors, blue belt Cat Clarke and black belt Jaret MacIntosh, train at Titans Jiu Jitsu Academy in New Glasgow. And the list goes on. What can't the jiu jitsu community do?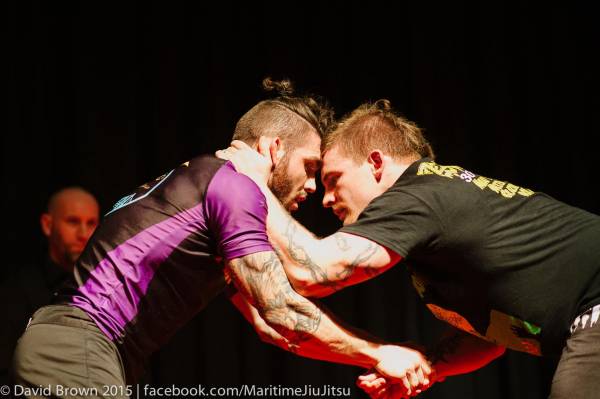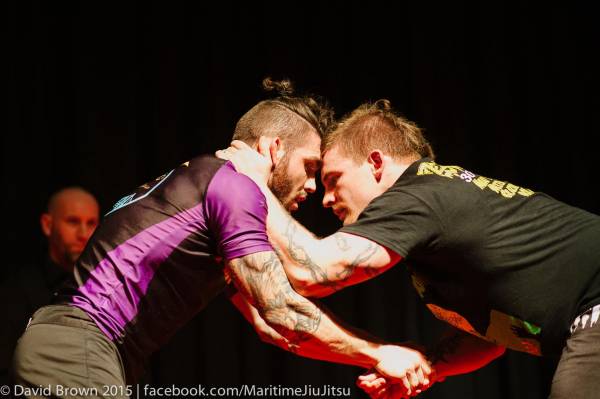 The Crowd
What I noticed about the audience at this event was the education and the respect. It brought to mind stories I'd heard about Japanese crowds at MMA events. No one was yelling, "Smash him!" or "Get out of there!" or other useless suggestions. They clapped at appropriate moments and they treated our guests with respect. They generally remained quiet throughout the matches.
"I was impressed at how gracious all three of the victors were and the respect they showed my teammates. It was an honor to have such amazing athletes make the journey to compete in our event."
I remember noting to the guy beside me that when athletes Kyle Sandord and Jonathan Satava were on the stage stretching out and getting ready before the curtains opened, the crowd was hushed in anticipation. Had I closed my eyes, it would have been easy to believe I was in a church. It was refreshing in comparison to live MMA events where there are always drunken experts (sometimes including me) trying to ensure their instructions are heard over the crowd.
RELATED: What We've Learned From Ultimate Fighting
The Matches
Grappling events like Polaris and Metamoris can be exciting, but they can also have you nodding off at certain points. Sometimes elite-level jiu jitsu matches can be a battle of inches. While very technical and educational, this isn't very entertaining. Bouts between the lower-ranked athletes can be much more dynamic, but still technical.
In contrast, at Submission Series 902, only one out of eight matches ended in a draw. Nate O'Brien and Colin MacMichael kept me on the edge of my seat for the full fifteen minutes. What a ride!
Nate O'Brien vs Colinho Mac SUBMISSION SERIES 902
Nate O'Brien vs Colin MacMichael
Other matches had athletes trying to settle scores from tournaments in the past, injuries led to some last minute partner changes, and the main event was an old school versus new school battle. Drum music was played during the matches and added an element of urgency.
Each match has been loaded on YouTube so view them at your leisure. I enjoyed all of them, but my favorites were O'Brien versus MacMichael and Tucker versus Peters.
Watching My Teammates
Unfortunately, the matches that involved my teammates did not go the way we wanted. Michael Tremblay defeated Joel Jacquard with a cross choke from mount, Mansher Singh Khera defeated Josh Presley with a gi choke from the back, and Jonathan Satava defeated Kyle Sandford with a kneebar one second before the bell rang. I was impressed at how gracious all three of the victors were and the respect they showed my teammates. It was an honor to have such amazing athletes make the journey to Nova Scotia to compete in our event.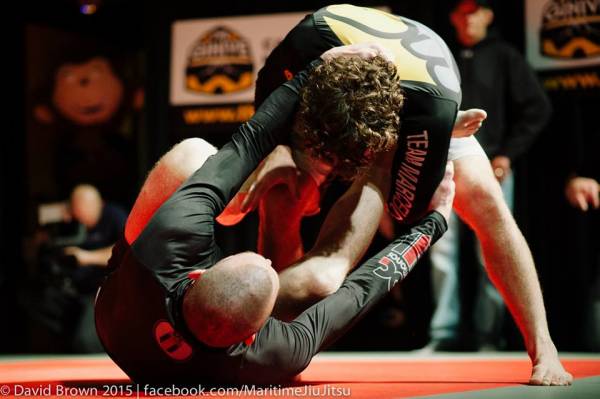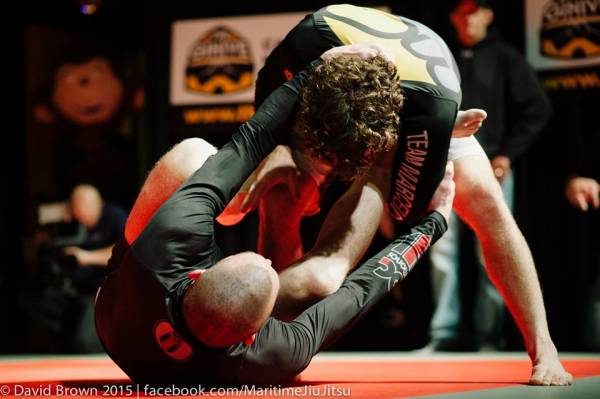 Being involved in this event and seeing how hard everyone around me worked to bring it together has made me incredibly proud to be a part of the Taylor Gang at Titans Fitness Academy. We may not have won every match, but I feel the team as a whole will grow because of Submission Series 902.
RELATED: When Losing Is Actually Winning
I know when I get back on the mats on Monday, our coach, Kevin Taylor, will have all of us learning solutions to the problems presented on the stage Friday night. I am also grateful to Michael Tremblay, Mansher Singh Khera, and Jonathan Satava for sharing their jiu jitsu and challenging our homegrown athletes.
Where to Watch It
If you would like to watch a full replay of the event, it is available on the Global Combat Network and my play-by-play is available on my blog.
Submission Series 902 has committed to two more events this year and many of the matches for the next event have already been confirmed. Stay tuned for updates on scheduling. I hope to be on card number three myself, so wish me luck!
Photos courtesy of David Brown Photography.