We receive free products and receive commissions through our links. See
disclosures page
.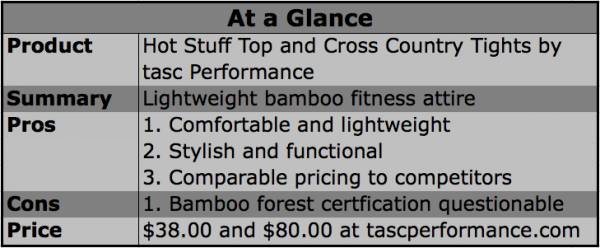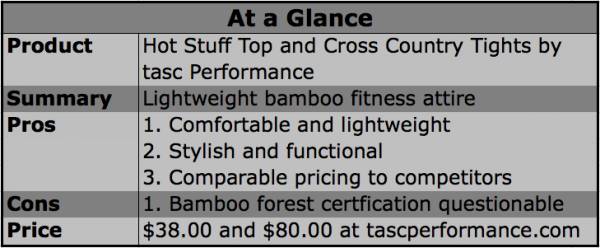 About tasc Performance
One of the main things that differentiates tasc and their products is what they call Bamboo Performance Technology. According to them, this process results in fabrics that are anti-odor, moisture wicking, stretchy, lightweight, and UPF 50+.
The bamboo tasc uses to make it garments comes from the Sichuan Province of China. The bamboo forest is certified organic and also certified by the Forest Stewardship Council (FSC). From what I can tell, the validity of the certification from the FSC is somewhat debatable, so I will leave that to you as to whether it's a valuable feature of these items.
On the plus side, tasc creates their fabrics without leaving chemical residue and without excessively harsh chemical processes. Some other companies have claimed to use bamboo fabrics, when in reality they were creating rayon through the use of chemical additives.
As tasc explained on their website:
The soft inner pith is removed from the hard bamboo trunk. The resulting raw bamboo pulp is mixed with a caustic soda solution, which extracts cellulose from the pulp. The solution is regenerated into viscose from bamboo. The closed loop system used guarantees that 99% of the solution is recovered and reused. No chemical residue is left on our clothing and it's certified Oeko Tex 100.
tasc then combines the bamboo product with cotton, wool, and/or elastane to create the different fabrics they use to construct their clothing. Their product line includes base layers, hoodies, underwear, socks, and more for both men and women. I was given my pick of products and chose the Hot Stuff Tank and Cross Country Tight to test out.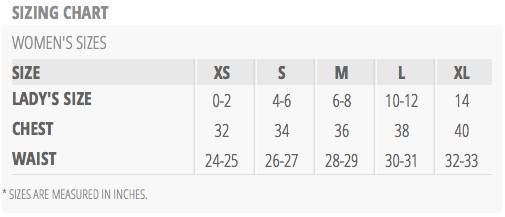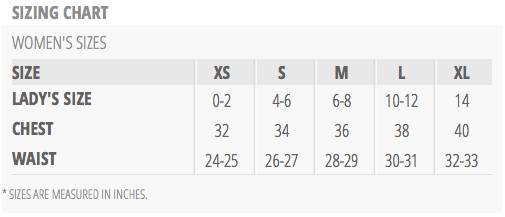 This top is highly versatile – good for a variety of activities and a variety of body types. In fact, I love this top so much sometimes I just wear it around as non-workout wear.
Personally, I can't stand exercising in any top with any sort of sleeves. But sometimes when lifting or doing yoga, wearing a tank top is a bit distracting and potentially immodest. This top offers a great in-between. Your arms are free and uncovered, but the armholes are cut so that you don't have to worry about anything peeking out. Your back is also covered so you don't stick to the floor or have unflattering back cleavage.
Overall, this top is cute and stylish, without being too much or too frilly. Be aware this is a lightweight shirt in construction, though. I can't imagine anyone wearing it without also wearing a sports bra underneath since it's basically just a shell.
This tank is available in sizes XS through XL and comes in the colors Storm, Mojito, and Watermelon (also known as grey, green, and pink).
The Hot Stuff Tank is made of:
55% organic cotton
40% viscose from bamboo
5% elastane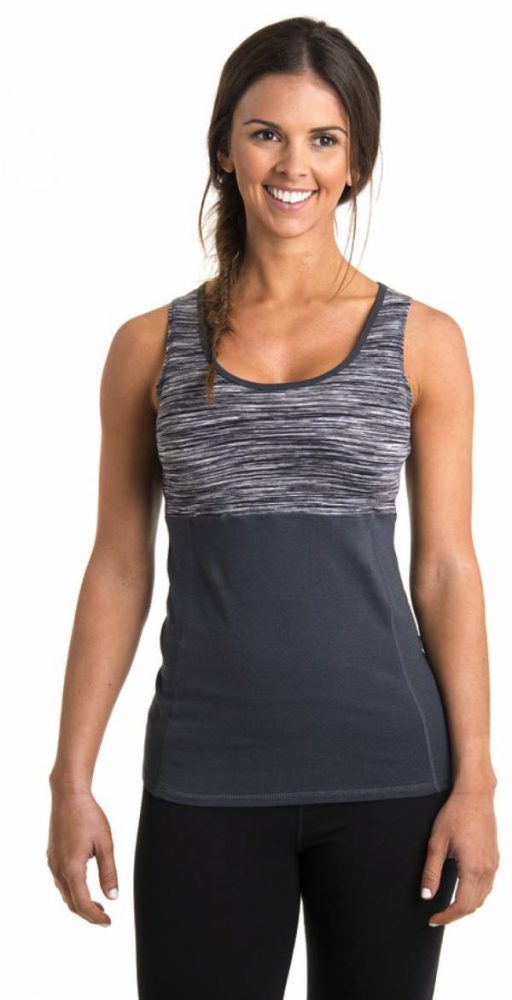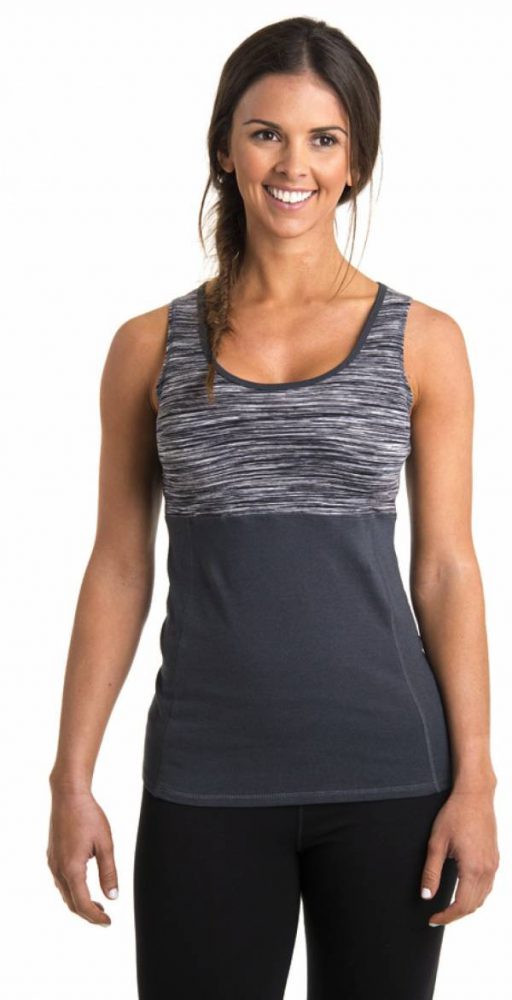 I love these tights. Unlike the Hot Stuff Tank, they won't pass as regular daywear, but they are fantastic to wear during exercise.
The elastic waistband is thick and very flat, for a comfortable and non-binding fit. The waistband stays in place during activity without a problem. The pants also feature mesh panels that allow for ventilation and add some style, as well.
If you run in the dark, these pants do have some small reflective details. They aren't enough to suffice on their own, in my opinion, so I'd still pair them with a brightly colored shirt, jacket, or shoes.
I think any exercise pants that don't come with a zippered pocket are just wrong, so I was pleased to see tasc included a nicely sized back pocket on these pants. It sits a little low for my taste, but if you're only sliding a key in there, it's not a problem. If you put your whole keychain and fob in there, you might feel it slide down your booty a bit and you'll be more aware of your cargo during your run.
These tights are available in sizes XS through XL and only come in black.
The Cross Country Tights are made of:
55% organic cotton
35% viscose from bamboo
10% elastane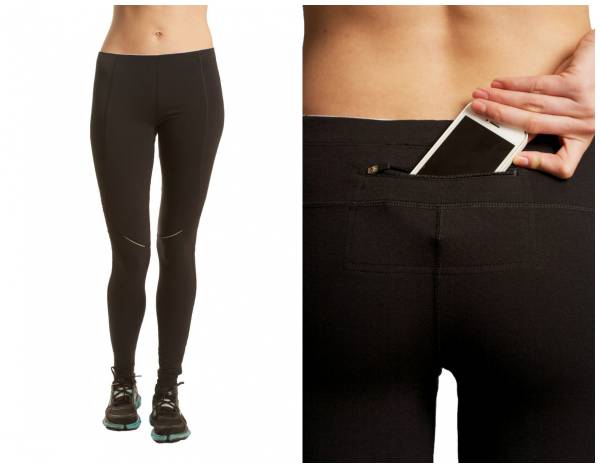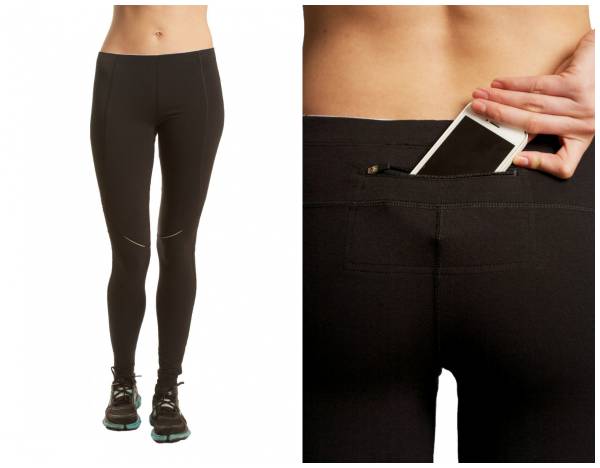 How They Held Up in Training
I wore both these pieces in a variety of scenarios. Being that in live in the Pacific Northwest, rain is a common feature of my workouts. I wore the top and pants on a half-hour run in what turned out to be a torrential downpour. On the flip side, the week before this torrential downpour it was 100 degrees and I wore the same outfit to run, minus an additional top layer. In both training sessions, both pieces were completely comfortable. At no point did I experience any binding, chafing, or change in fit – even when soaked with either sweat or rain.
I have also washed both pieces multiple times now with no damage or change in fit occurring. I washed them on cold and dried them on low.
Purchasing, Shipping, and Returns
tasc ships through FedEx and all orders totaling over $100 receive free shipping. tasc does ship internationally, using a service called Bongo.
tasc also offers a no-hassle return policy, shipping each order with a pre-paid return label. According to their site, in the event you return your item within sixty days of purchase, they will refund the cost of the order and all shipping.
tasc products are available online and also in retail stores. You can search for retail stores through their website.
My Conclusion
I could see myself wearing both of these whether I'm lifting, training kettlebells, or out on a run. The pricing seems reasonable and comparable to other items I've purchased from competing companies.
Whether the process behind making the fabric and the environmental impact makes a difference to you is going to be up to each individual. I would recommend doing further research on the certifying bodies before deciding how much weight to put on that aspect.
But when it comes to training, these are perfectly good products, and I enjoy both these tights and the tank top very much.
The Hot Stuff Tank is available for $38.00 at tascPerformance.com.
The Cross Country Tights are available for $80.00 at tascPerformance.com.