We receive free products and receive commissions through our links. See
disclosures page
.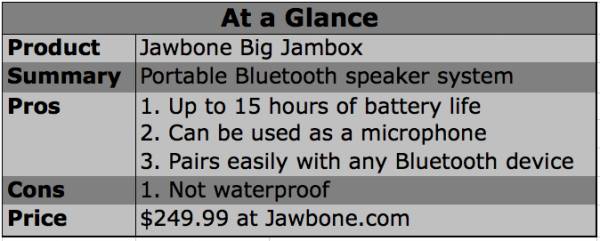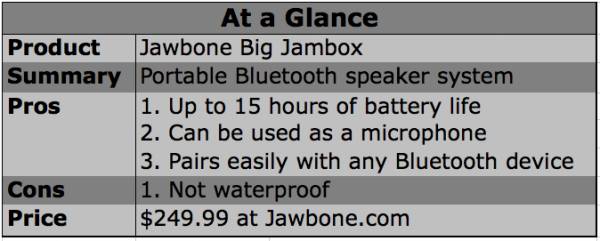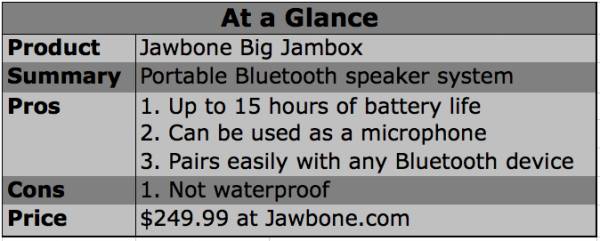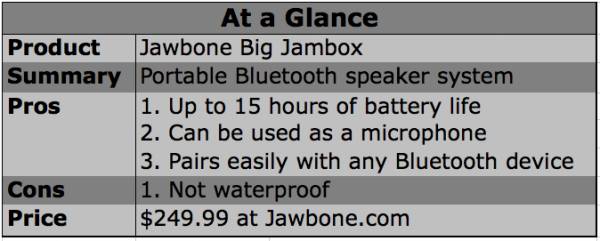 First up for review is for the Jawbone Big Jambox. As an overview, this is a portable Bluetooth speaker system that can also be used for conference calls thanks to a built-in microphone. At a size of 10×3.1×3.6 inches, and weighing in at 2.6lbs, this speaker is portable and multi-use.
As a fitness studio owner with classes both at my studio and outside, I was shopping around for a solid audio solution that would meet my needs. A fellow professional purchased the smaller version of the Jambox, and had great success with it, so based on that I purchased the larger version to use for my business.
The Good
With up to a fifteen-hour battery life, this speaker can be used away from a power source without issue during a workshop or other long event. It pairs easily with any Bluetooth device and comes with a direct audio cable in case of use with a non-Bluetooth device. It has customizable drivers that can be downloaded from Jawbone to change the sound profile and actions voice.
The ability to use the Jambox for a conference call or as a larger speaker system for remote training is a nice plus. The Jambox can be paired to a laptop or iPad and used for Skype or Google Hangout sessions, which provides a huge improvement over the typical laptop microphone.
A newly released Jawbone Companion App can link to your phone and provide reminders of Jambox battery life, upcoming appointments, and updates on time. I use my Jambox with my Galaxy SIII and have no issues with pairing or keeping signal within reasonable range.
The Meh
A risk with any speaker system in a gym or outdoors is water. The Jambox is not waterproof, but does have a waterproof case available. While it can handle a light rain or drizzle, the perforated outside does make water an issue.
While signal range is not an issue, as with most Bluetooth devices, any sort of item in the way, such as a tree, a wall, or a person can cause reception issues. This is not as much of a problem during an indoor class, but in an outdoor class when a phone doubles as a timer and time keeping device it can present some challenges.
And finally, for audiophiles, this is an all-in-one speaker system with little in the way of serious bass support. Don't get me wrong, for the size and weight of the system, it provides a well rounded sound, but there is only so much that a software driver can do for the discerning ear.
Final Thoughts
For the price (recently lowered from 299.99 to 249.99) this is a great sound solution if you are using it for various scenarios, such as a studio, outdoors, and an office. If you don't have a need for multiple solutions, your typical iPod dock system or indoor stereo system will do the trick.
The Jawbone Big Jambox is available at Amazon.com.