We receive free products and receive commissions through our links. See
disclosures page
.
I never knew compression socks could make a difference until I began running half marathons. I'd plod away in my regular socks, not thinking twice about recovery or lower leg care. That was until I got an injury in my right calf. I actually heard the tissue separate as I was running, and it is definitely not a feeling I would like to have again. My leg was swollen for about six weeks until I saw a massage therapist who was able to help the muscles relax and begin to heal.
I don't know if compression socks would have helped me with my injury, but what I do know is that, as a runner, I needed to spend some thought and time on lower leg and foot care. The amount of pressure and stress our lower legs take on a daily basis is incredible. Think about the role your lower legs have as you do your box jumps, squat, run, cycle, and swim.
ATN Compression Gear
ATN knee high compression socks are designed with comfort in mind and can be worn by anyone who is on their feet for long periods of time, athletes, and those with lower leg circulation troubles. ATN offers a professional style of sock and a style suitable for athletic wear, among other products.
ATN claim some of the features of their compression socks as being:
Men's and women's sizing available
Increases the drainage of substances
Reduces inflammation
Sustains repairing processes
Improves movement of tendons and joints
For reference, Breaking Muscle has looked at the research on compression garments and their benefits in the past. Our experiences have been consistent with the research:
Before considering purchase of compression garments, think first about your individual needs. If you find them comfortable or useful for your sport, there are real potential short-term benefits that have more to do with motivation than performance. If recovery, or poor blood flow are concerns of yours, these garments might be just what you need.
These compression socks are made of a 75% nylon and 25% Spandex blend, so they stretch proplerly to allow ease of actually putting on the socks while offering compression features. I know I've grappled on the floor with less user friendly compression socks in the past. When choosing a size, ATN recommends that you measure your ankle and calf to ensure that you get the size that will provide the best compression.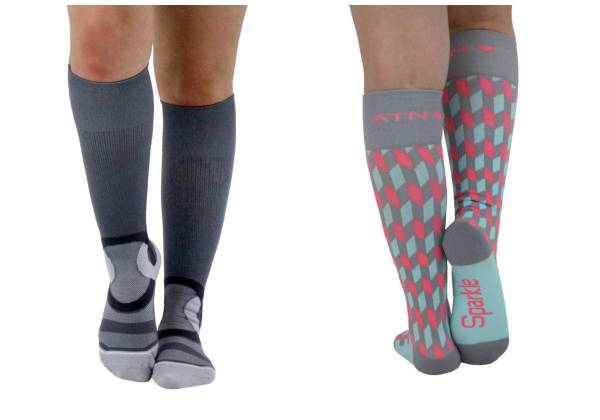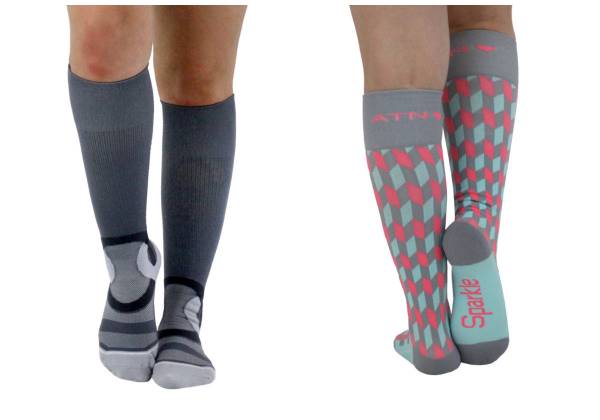 Left: Sportsedge/Right: Professional
Quality Compression Socks to Save Your Legs
I really liked these ATN compression socks. The quality and craftsmanship are outstanding. The socks can be machine washed in cold water with a liquid detergent for delicate items or hand-washed, if desired. ATN recommends replacing the socks every six months in order to get the best compression possible. If you aren't wearing them on a daily basis, then that timeframe could probably be extended.
If you intend to use them for athletic purposes, I would definitely recommend getting the Sportsedge design. The toe area has seamless construction for additional comfort. ATN also offers calf sleeves, basically socks with no foot area, in the Sportsedge style.
For the price point of around $38, depending on the type chosen, a pair is worth a try. The price seems steep as compared to regular socks, but is in the ballpark of price point when it comes to compression socks. ATN offers excellent customer service and can assist with sizing via phone to make sure you get the right fit. When I was working with them on what size I needed, they assisted me in the process of measuring. When I got the socks, they were an excellent fit.
When you are shopping next for compression socks, I highly recommend trying a pair of ATN socks. You won't be disappointed.
ATN Compression Socks At a Glance
Features
Designed to reduce inflammation

Professional and performance designs available

Sizing guide and customer service assistance

Spandex/nylon blend to provide gentle, firm compression

Machine washable

Full sock or calf only option

Men's and women's styles and sizing available

Price
Around $38 depending in style chosen