We receive free products and receive commissions through our links. See
disclosures page
.
Breaking Muscle receives no compensation in exchange for reviews. We received this product for free and did not experience typical customer service. The opinions expressed belong solely to the writer.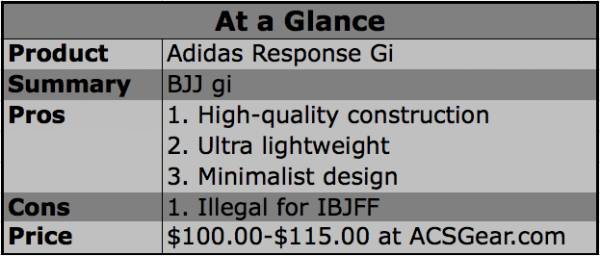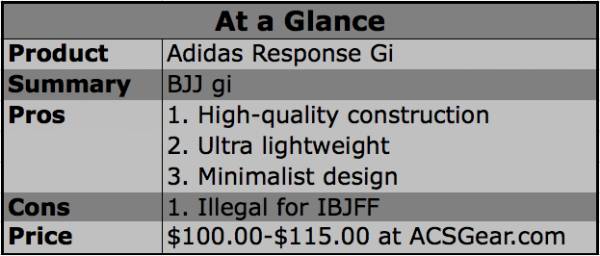 All day I dream about…submissions! Wow! Does Adidas have the best brand name ever for BJJ or what? This sporting goods giant has plunged into the combat sports market with a number of new gi models.
The Adidas Response Gi
My teammate, Renzo Gracie blue belt and MMA fighter Akitoshi Horiba, and I each received the Adidas Response gi to review. The Response ripstop gi is their most economical option at $100.00 for the white adult sizes. Adidas has also introduced the Quest, Contest, and Champion kimonos for those who prefer the more substantial BJJ gi weaves.
Clark Gracie is also all in for Adidas. Check him out training in the Adidas Quest kimono in the video below.
Clark is all in - adidas BJJ
Features
Ultra lightweight, 100% ripstop cotton
Pre-shrunk, reducing by 97% the shrinkage of the gi
Synthetic heat-resistant lapel insert, a single piece of vulcanized rubber
Triple-reinforced stitching across all stress points
High stitch count embroidered Adidas logo on shoulder and pant leg
8oz ripstop pants
Double-reinforced knee padding, triple stitched
Available in adult and kids sizes
Quick-dry and fully breathable
Comes with a free Adidas satin carry bag
Style
The Adidas Response gi has a minimalist design that will suit any taste. The logo on the shoulder has a bit of an odd placement, but the embroidery is flawless. I liked the white contrast stitching design on the knees. It isn't flashy, but it added a little pop to the pants. A second Adidas logo is located on the front lower shin.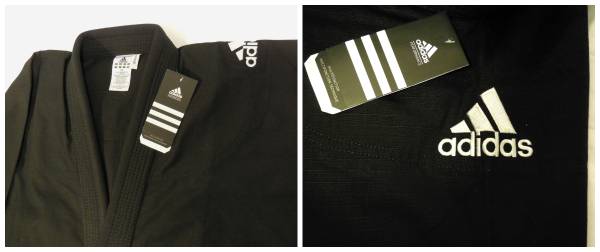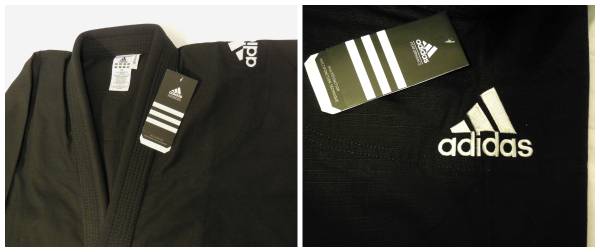 High stitch count embroidery on shoulder and pant leg
Fit
The children's size M3 fit me well lengthwise. The jacket and pants were an ideal length, but the sleeves did come up a little short when I stretched out my arms. I also found the jacket was a bit wider than most, yet the pant waist was more narrow. This cut would allow people with larger torsos to wear the gi more comfortably. Since the material is so light, the extra room did not feel excessive.
"I found this gi comfortable to roll in and I love wearing it. It is definitely the lightest gi I own, yet the ripstop material is very durable."
Please note that I am 5'0 and probably 110lb right now and am wearing size M3. The size chart for this gi indicates that I should actually be wearing a size M4. So if you generally purchase gis and shrink to fit, you can't do that with Adidas gis.
Akitoshi is 5'7 and 162lb and he found it fit well, also. He is near the top of the size chart for size A2, which tops out at 5'8. He machine-washed and dried the gi but did not notice any shrinkage at all. I noticed a small amount of shrinkage in my gi with the same washing method, but nothing significant, as you can see in the measurements.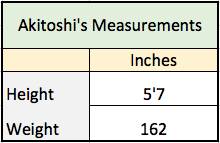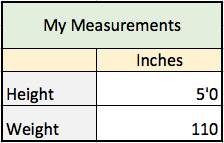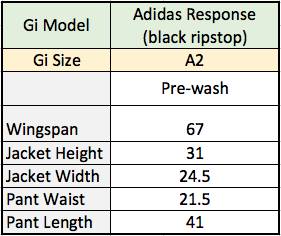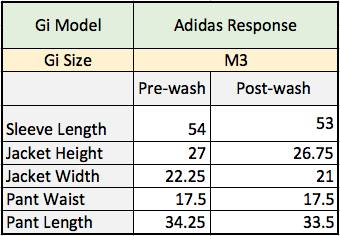 Performance
I found this gi comfortable to roll in and I love wearing it. It is definitely the lightest gi I own, yet the ripstop material is very durable. Akitoshi was a fan of the Response gi's lightness as well. He said, "I really like this lightweight, thin cloth. It's winter now, but in the summer time it will be really comfortable to wear this gi." However, the fabric is so thin, Akitoshi said sometimes he felt bad about wearing it while training. "It's very slippery. I know most people might not care, but sometimes I felt bad when I could break their grip so easily."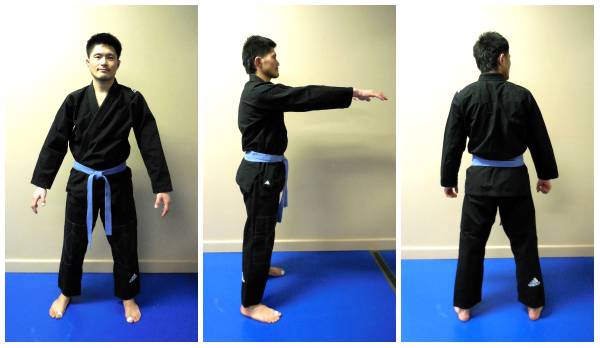 The Response gi didn't give me as much of an advantage as it did Akitoshi. In fact, today I was armbarred, kimura'd, almost collar choked by someone in my half guard, and dominated in a number of other ways. Lately the guys have been enjoying wrapping my arms up in my gi, and I feel this gi is possibly a nicer rope for them to choke me with.
"I love the Response gi and it will be my first choice to take with me on the road because it is so light."
Regardless, I guess it's not the gi's fault. The collar is sturdy and thick in contrast to the thin fabric and is comparable to the collars on your typical 450-550gsm weight gi. I found after drying my gi in the dryer regularly, the collar developed a bit of a wave, but it's not so excessive as to be noticeable once the gi is tied with the belt.
My Recommendation
If you're looking for a new gi, the new Adidas line has several attractive, high-quality options. I love the Response gi and it will be my first choice to take with me on the road because it is so light. Akitoshi told me when he took his bike to the gym, he would generally choose the Response gi because it was so light to carry in his backpack.
I've heard rumors that a new women's gi is in development, and I can't wait to see what Adidas comes out with next. Follow Adidas Combat Sports on Facebook, Twitter, and Instagram to stay informed of their latest developments.
The Adidas Response Kimono is available for $100.00-$115.00 at ACSgear.com.
You'll like these related articles:
What's New on Breaking Muscle Today