At first glance, the sport of triathlon seems intimidating. You don't have just one discipline to master, you have three: swimming, cycling, and running, each with its own techniques, training protocols, gear, lingo, and challenges. But the beauty of triathlon lies in working hard to learn new skills and put them all together. This multifaceted challenge is what attracts so many people to the sport, and keeps them coming back for more. And if you're looking for an excellent way to build well-rounded fitness, you'd have a hard time topping the tri.
If you're considering giving the sport a shot, great! It may seem daunting to get started, but today I'm going to lay out your go-to guide for your first few steps into the sport. I'll help you understand how to best spend your time (and money), and what you can expect. Feel free to read it all, or use the links to click ahead to the sections you find most relevant.
Why Triathlon Should Be Your New Sport
Physically, triathlon is an excellent way to develop total fitness, especially if you are diligent about including strength work in your training. Practicing three sports will help you stay injury-free, or help you to stay active despite injury.
If body composition is important to you (read: how you look naked), then triathlon is an excellent choice. It will help you reach a balanced body composition, and won't leave you looking hyper-skinny like many competitive runners and cyclists, or too bulky like some strength-only athletes.
Mentally, triathlon can do a world of good for you, too. My own progression from sprint distance to Ironman (in a year) did nothing but fortify my mental strength, and prove to me that just about anything is possible with the right attitude and consistent, hard work.
While many people think of Ironman events when you say triathlon, the sport is not just about big distances. I remember how I felt after my very first tri: happy to be alive after the swim (seriously, I needed so much more work), and totally awesome for having completed the whole distance. A sprint triathlon felt so hard at that point in my career that and conquering it felt incredible!
The people that fill the sport are probably the best part. The tri crowd is such a fun and encouraging group, with a very accepting attitude that makes it easy for anyone to get into the sport. This is the biggest reason I keep coming back for more, year after year. Making friends and tackling big challenges with them creates an incredibly strong bond and provides the accountability you will need to push through on days when you do not feel like training.
Getting Connected
In fact, I think the social aspect of the sport is so important that I suggest your very first step should be finding others to join you. Tri clubs abound in just about every city, and are a great starting point. USA Triathlon and Trifind both have great tools to help you find and contact a club near you.
If you like having a place to log your workouts and want a Facebook-like community to share in your success, make sure you check out Strava. They also have clubs you can join.
Another great option is to simply reach out to your friends and family to let them know what you are doing. Inevitably, there will be someone near you that would love to help you get started.
If you need help finding a good place to swim or people to swim with, the US Master's Swimming website can help.
The Gear
Once you've found yourself some training buddies, it's time to gear up and get out there! Three sports-worth of gear to figure out can feel pretty overwhelming at first, but the truth is you don't have to go crazy just to give the sport a try. That's why I've broken the gear portion of this guide into two categories: essentials, and non-essentials. This should give you an idea of what you need to just get started, and what you may want to add as you spend more time in the sport.
The Gear: Essentials
To get started, you just need the bare minimum. There really is no need to chase any of the fancy toys if you're just dipping your toes in the water.
Swimsuit: Any will do, no need for anything fancy.
Goggles: I have seen people race without them, but it is far better with them.
Swim cap
Active wear for the bike and run: I would recommend wicking fabrics over cotton. Padded bike shorts can be a life-saver!
Socks: Go with athletic socks to avoid blisters.
A bicycle: Any bike will do; lots of folks ride a cheap mountain bike their first time around.
A helmet
Sunglasses
Shoes: Any athletic shoe will do to start/
Hat or visor for the run
The Gear: Non-Essentials
These items can improve your experience, and are more specific to the sport.
General Items:
A coach
Heart rate monitor
GPS watch
Training log: I highly recommend TrainingPeaks or Strava.
Transition bag for all your gear
Nutrition products
Hydration Systems for your bike or for running
Number Belts
Triathlon-specific shorts and top, or a tri suit if you're cool with onesies.
For the Swim:
Swimming tools: pull buoy, kick boards, paddles, fins.
Swim-specific suit: Go with proper swim attire, guys especially. Baggy shorts are just going to make you work harder! Get some swim jammers so you can glide through the water.
Several kinds of goggles, so you can adjust for different sun conditions.
A wetsuit: Sleeveless is fine for warmer climates.
Swim shorts: These are like a wetsuit, but just from your waist to your knees.
For the Bike:
A road or triathlon-specific bicycle. They are lighter, more aerodynamic, and have less rolling resistance, which means it take less effort to go faster.
Flat kit bag secured to your bike, with an extra tube, a pump, and tire levers.
Cycling shoes: These allow you to apply power through the whole pedal stroke, which helps you pedal more efficiently and go faster. Triathlon specific shoes are a nice touch, too.
A helmet, perhaps an aero helmet, as it does help significantly in an aero position.
Power meter
An indoor trainer or rollers
For the Run:
Quality running shoes. It's a great idea to have several pairs of good running shoes, so you can rotate them.
Lock laces so you can transition quickly.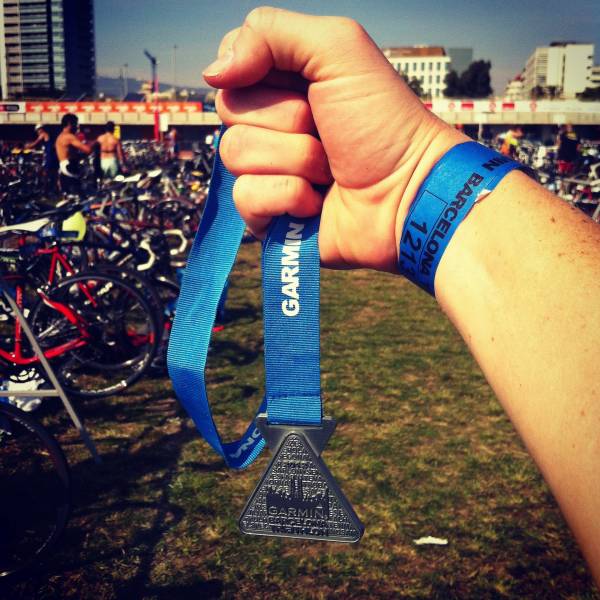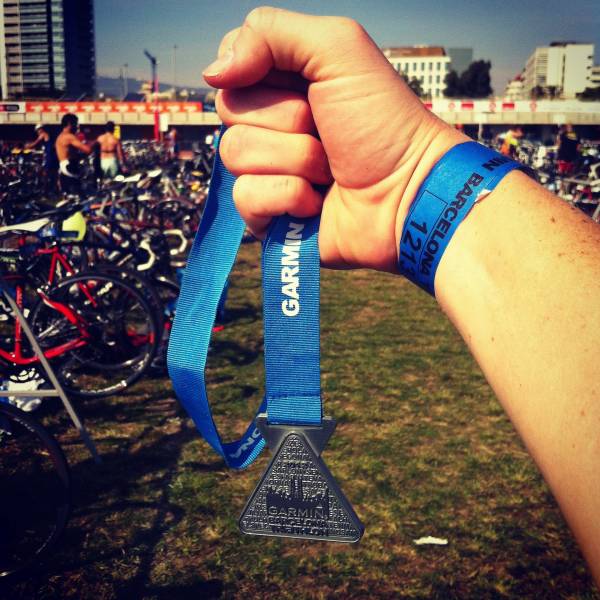 You might want to get a rack for all the medals you're going to earn, too.
The Three Pathways
In my time racing and coaching, I have noticed that there tend to be three paths that almost everyone follows when coming into the sport. These pathways form a spectrum, from the total beginner to the fairly experienced with endurance sports. These pathways will serve as the foundation for the rest of this guide.
Couch to Triathlete
This is a very common inroad to triathlon. Typically, this bunch comes to the sport because of some other primary motivation, such as weight loss or improving their health. Performance is not really the fire in their bellies.
Most of the time, these folks will either see an ad for a mini triathlon, or find out about one through a friend, and decide to dust of the ol' bike, running shoes, and swim shorts and give it a go. Perhaps they may even take it on as a bet (like I did)! To them, the idea of finishing a race with three different legs is very challenging, but doable. It is a concrete goal that is representative of their desire for a better body or overall wellness.
Your First Race: Shorter is better here. Aim for a Mini or Super-Sprint (400m swim, 6.2mi bike, 1.6mi run) or Sprint (750m swim, 12.4mi bike, 3.1mi run) distance race to get your feet wet. The shorter distances will provide plenty of challenge, but still allow you ample room for the learning curve.
How to Set Goals: At this stage, how you set goals really matters, but probably not in the sense that you are thinking. For beginners, overreaching with goals and falling short can do more harm than good. That's why it's better to set very attainable goals. Doing this upfront takes unnecessary pressure out of the equation so you can enjoy the whole process as much as possible.
Your number one goal in this group is to have fun. If you don't have fun, you won't keep doing it, so make sure to look for ways to enjoy what you are doing. Developing a love for the sport will carry you a long way toward achieving your goals as they become more complex.
Outside of having fun, the most important thing to focus on as a beginner is consistency. You don't need big, hard miles at this stage; you just need to be out doing work more days of the week than not. Set a goal to work out 4-5 days a week, and aim to work on each sport 1-2 times each week.
Past that, finishing your race is a great goal as a beginner. Get your first race under your belt before you entertain any serious thoughts of setting a time goal.
Weeks to Train: 16-24 depending on initial fitness.
Training per Week: 4-6 hours
Initial Swim Training: 300-400m, broken up into smaller chunks of 25-50. 400m longest continuous swim.
Initial Bike Training: 3-4mi, build up to 12-15mi rides.
Initial Run Training: 0.5-1mi, alternating between running and walking if necessary. Try starting with 2min running and 3 min walking, at first. Build up to running 2-3 miles continuously.
How to Start Training:
I'd suggest laying a good foundation on the things you already love. Make sure you are getting enough time in each week for the sport(s) you enjoy.
From there, take an honest look at what you don't enjoy and your weak areas (oftentimes swimming), and plan to spend extra time there. For your weak sport, you probably want to spend an extra session on it each week to get it up to speed.
On that note, allow yourself some time to learn if something is very new. I made this mistake with swimming and it made it miserable on race day. Leave time for the process. If you're lucky and your training buddy is strong in your weak sport, have him or her give you some honest feedback.
Also, start slow and keep it short. There is no need to try and go fast or long as you ease into triathlon. Build a little each week, and plan to make every fourth week a lighter and easier recovery week. This will allow your body to adapt for more work.
What to Pay Attention To: Don't try to build your fitness too quickly. You need to take a very gradual approach, especially as it pertains to running. The impact involved in running requires time for your bones and ligaments to adjust. It's much like building a house brick by brick. Take your time, and don't increase the duration of your longest efforts more than 10% week to week.
The Past Athlete
This is another common thread amongst triathletes. Almost every multisport athlete you talk to will tell you a story that involves one sport morphing into all three over time. It nearly always involves some element of searching for a new or different hobby as they move through adulthood. It's common to hear something like: "I used to play [insert team sport here] in high school and college, but didn't know what to do after I graduated and got a job. I started running for fun, then biking, and before I knew it, triathlon seemed like something worth trying."
These folks are often ambitious and competitive, but sometimes you will also find the more laid-back individual just looking for something new to try. About half of the people in this crowd are in it just to finish, while the other half want to figure out how to do it as well as possible.
Your First Race: Having an athletic background opens up more race options for the Past Athlete. Most often the Sprint (750m swim, 12.4mi bike, 3.1mi run), and Olympic (1500m swim, 25mi bike, 6.2mi run) distance races are a great choice, as they tend to be easily doable with several blocks of training and don't require any specialized equipment. If you're aerobically strong and want a big challenge, a Half Ironman (1.2mi swim, 56mi bike, 13.1mi run) could be on your radar, too.
How to Set Goals: Since you have an athletic foundation, it should be fairly easy for you to get a feel for what you can do in each sport. This will allow you to set initial goals beyond just finishing, if you want to (although finishing is still a great goal as you get started). I still highly recommend you keep fun at the forefront as a goal before setting specific performance goals. The more you love this, the better you will do when you hit rough patches in training.
If you do want to set more concrete goals for yourself, I suggest including some fitness tests in your plan at various intervals. This will allow you to dial in to what your body is capable of. If you are fit, do them up front. If not, give yourself 2-4 weeks of consistent training before testing. Either way, continue to test each discipline every 4-6 weeks, so you can get a good feel for how your training is progressing.
What kind of tests should you do? For swimming, take a look at the CSS test to help you determine your pacing. For running and cycling, aim to do a 20 minute threshold test, using whatever measuring equipment you have (heart rate monitor, power meter, etc.). You can also look into the MAF test to get a feel for your aerobic abilities. From here, you can use these results to find training zones and predicted race efforts.
Weeks to Train: 16-18 depending on initial fitness.
Training per Week: 6-8 hours for Sprint/Olympic distances, 8-15 hours for Half Ironman.
Initial Swim Training: 500-1000m, broken up into smaller chunks. 1600-2000m longest continuous swim.
Initial Bike Training: 5-10mi, build up to 20-25mi rides. For Half Ironman, start at 20-25mi rides and build to 50-60mi.
Initial Run Training: 1-2mi for your shorter runs, and 3-4mi for your long runs. Build up to 5-7mi for the shorter races, and at least 12-13mi for Half Ironman.
How to Start Training:
Up front, it is important to do two things: figure out which discipline(s) you are weakest in, and hatch a plan for addressing it. As a past athlete, it can be easy to stay in your comfort zone and not work on your weaker skills. Making a plan, even if it is not hyper-specific, helps.
To lay out your training week, the best place to start is with a balanced approach that you tweak to your weakness. Aim for six workouts spread over 5-6 days each week. If you are fairly balanced, try for two workouts per sport each week. If you need work in an area, bump it up to three workouts for that discipline, and drop a workout in an area where you are stronger. For example, if you need to build up your running and are a strong cyclist, do three days of shorter runs until you have more miles under your belt, and drop a ride each week.
Once you get a consistent training habit going after 2-3 weeks, try throwing in some two-a-days (morning and evening sessions) and doing 2-3 workouts per sport each week.
While you acclimate to training for three sports, I recommend keeping your workouts at a fairly low intensity. Once you get 3-4 weeks under your belt, start mixing in some higher intensity workouts if you feel comfortable (no more than two per week).
If you want a ready-made plan to follow that goes deeper into all the aspects of what triathlon looks life amidst a normal, busy life, check out my program, TriStrong. It is perfect for the Sprint and Olympic distances, and will give you all the tools you need to self-coach your way to great success.
What to Pay Attention To: There are two areas where the past athlete may struggle. With their previous experience, they may assume that they are more ready for triathlon than they really are. All too often, I hear stories like this one:
Me: "So, do you know how to swim?"
Athlete: "Oh yeah! I know how to swim. I took lessons as a kid. This should be no problem!"
Then we get in the pool, and suddenly swimming more than two or three lengths seems next to impossible.
An honest assessment up front will help the past athlete avoid painful learning experiences like the one above. Whether you work with a trusted friend or a coach, take some time to dig into your abilities before planning out your training.
The other common thread I see from past athletes is that of the over-zealous individual who takes on too much training too quickly and ends up injured. Even if you are reasonably fit, or used to be in outstanding shape, it's still wise to pay attention to how quickly you progress. You probably want to start with fairly conservative distances with each of your workouts, and add about 10% a week to the distance of your longest efforts. Your body will thank you!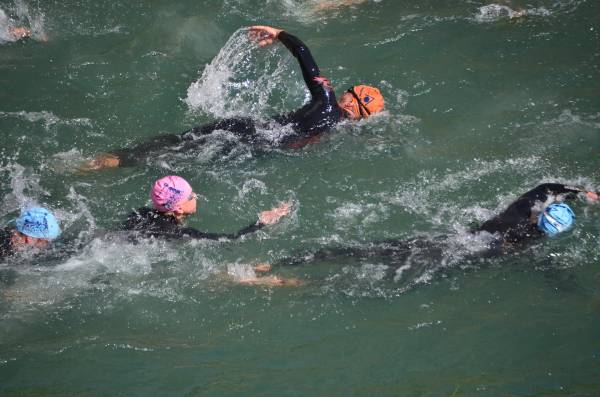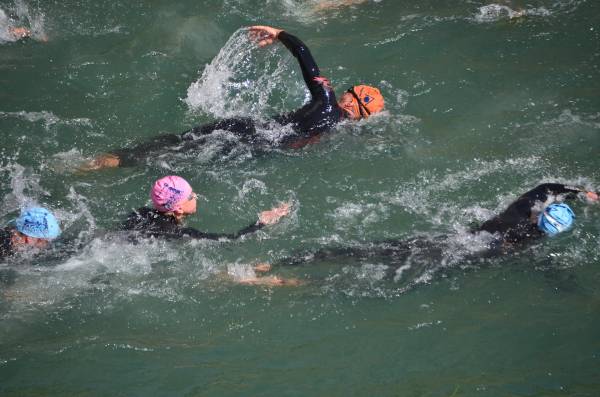 Horsing around with the kids in the local pool isn't quite the same thing as swimming in a tri.
The Endurance Junkie
These are the vagabonds of the endurance world. They have been there and done that in some form of endurance sport, and aren't afraid to change gears in the name of whetting their appetite for completing audacious challenges. You may hear them say something like: "I started as runner, did a few marathons, then tried cycling for a bit to help with recovery, and loved it. At some point, I decided I'd learn how to swim, and give triathlon a go."
The endurance junkie is almost guaranteed to be on ambitious side of the spectrum, even if they have a laid-back air about them. This bunch thrives on a challenge, and for them the idea of putting together three sports over a longer distance (like an Ironman) is enthralling. To them, finishing is just one of several goals. They will almost certainly have specific performance goals in mind that go far past finishing.
Your First Race: The options are pretty much all on the table for the endurance junkie. Their experience in the endurance world will make the transition over to triathlon fairly easy, and doing a lot of structured training for a big goal will be nothing new for them. For the Endurance Junkie, it is still probably a good idea to get in a shorter race or two before tackling a big goal like Ironman (2.4mi swim, 112mi bike, 26.2mi run) or Half Ironman (1.2mi swim, 56mi bike, 13.1mi run). Olympic distance races (1500m swim, 25mi bike, 6.2mi run) are great for this, and will help you to not only get a feel for the sport, but also work on details like your transitions, and figuring out nutrition.
How to Set Goals: Since you are coming from another endurance sport to triathlon, you will almost certainly want to figure out what you specifically want to accomplish within each discipline, and overall. Thankfully, all you have to do is take your familiarity with endurance sports and translate it over to the new sports you are adding to the mix.
The recipe for setting your goals should not be terribly new to you. Just as with the Past Athlete, I'd suggest starting with performance tests and continuing them at various intervals (roughly every 4-6 weeks) so you have an idea of what you're capable of. Tests you can do include:
Swimming:
CSS test
1000m time trial
Running or cycling:
20min threshold or functional threshold power (FTP) test
Ramp test
MAF Test
Once you have some results from these tests, you can plug them into a race calculator to give you a feel for some reasonable race times. QT2 Systems has a great one that I'd recommend.
I'd also encourage you to set multiple goals for yourself, and prioritize them according to how meaningful they are to you (e.g. just finish, finish in 10 hours, break an hour in the swim, etc.). But don't be too serious! Try to keep things light and enjoyable to avoid burning out.
Weeks to Train: 16-18 depending on initial fitness.
Training per Week: 6-8 hours for Olympic distances, 8-15 hours for Half Ironman, 10-20 hours for Ironman.
Initial Swim Training: 800-1500m, broken up into smaller chunks. 1600-2000m longest continuous swim for Half Ironman and under. Up to 4000m for Ironman.
Initial Bike Training: 10-15mi, build up to 20-25mi rides. For Half Ironman, start at 20-25mi rides and build to 50-60mi. For Ironman, start with 20-30mi rides and build up to at least several 100mi rides.
Initial Run Training: 2-3mi for your shorter runs and 3-4mi for your long runs. Build up to 5-7mil for the shorter races, and at least 12-13mi for Half Ironman. For Ironman, build up to 18-20mi.
How to Start Training: A decent starting point for the Endurance Junkie is to take your current training volume (total hours of training per week) and keep it the same, but split it up between the sports. For example, let's say you are a cyclist who rides 10 hours a week over six workouts. Plan to ride more like 3-5 hours a week, run 2-3 hours, and swim 2-3 hours. Timewise it won't work out perfectly, because swimming takes the least time and cycling the most.
The number of workouts per sport each week will divide up more evenly. Start with two workouts for each sport each week with one rest day. Do this until you feel good about your skill level in all three disciplines. Once you feel confident, try moving into two-a-day workouts, where you can aim for closer to three workouts in each sport per week.
You are also probably no stranger to higher intensity workouts. As you start, keep it to only 1-2 intense (speed or power-focused) workouts per week. Further into your training, you can push it up to 2-3 workouts, as long as you're recovering well.
If you want an easy route to setting up a plan for your first Sprint or Olympic race that will help you make the most of your performance, be sure to check out my program, TriStrong. It is perfect for those who want to self-coach and make the most of their abilities, even with a challenging schedule. It will set you up with a flexible plan, all the tools and instructions you need to tweak the plan and self-coach successfully, and a guide for including the right kind of strength work to prepare you for the longer distance races in your future.
What to Pay Attention To: This bunch tends to be pretty driven, so resting and recovering appropriately can be a struggle. Give yourself 7.5-9 hours or sleep a night as often as possible, and make sure to take a complete rest day every 7-10 days.
Two-a-days may be a new challenge for you as well. Be sure to pay attention to your body and how well it is recovering from a morning session. Don't be afraid to modify an evening workout when your body is giving you appropriate feedback to do so. Need help with that? Find a quality coach, so you can have an experienced outside opinion.
Coach Shawn Gerber is the creator of
TriStrong – A 16 Week On-Ramp To Triathlon
. You won't find a better place to start your journey in triathlon. There are three key components that make TriStrong stand out: it's built for fun, it is made to work with real lives (you know, like the ones with crying babies, demanding jobs and all that stuff that gets in the way of training sometimes), and it focuses on total fitness, not just endurance.