We receive free products and receive commissions through our links. See
disclosures page
.
About a year and a half ago, I decided to upgrade my cheap squat stand to a sturdier and more versatile squat rack. After weeks of research trying to find the best squat rack, I finally found one that met all of my requirements: the Titan Fitness X-3 Series Power Rack.
I frequently alternate between different training styles, including traditional strength training and CrossFit. As such, I knew I needed something that could accommodate various exercises. Among other things, I also wanted my new squat rack to be reasonably priced, stable without having to be bolted to the floor, and able to survive in a non-temperature-controlled garage.
I'm happy to say that this power rack has handled everything I've thrown at it. In this Titan X-3 Power Rack review, I'll discuss the construction quality, durability, compatible attachments, and other features of this high-quality yet reasonably-priced power rack.
Key Takeaways
Starting at just under $700, the Titan X-3 Power Rack is available in an 82-inch or 91-inch height. You can also choose between a flat-foot or a bolt-down design.
This power rack consists of 11-gauge, 3×3 steel uprights and boasts an impressive 1,650-pound rackable weight capacity.
Titan offers a one-year warranty on the X-3 (and all of their products) for defects in materials or craftsmanship.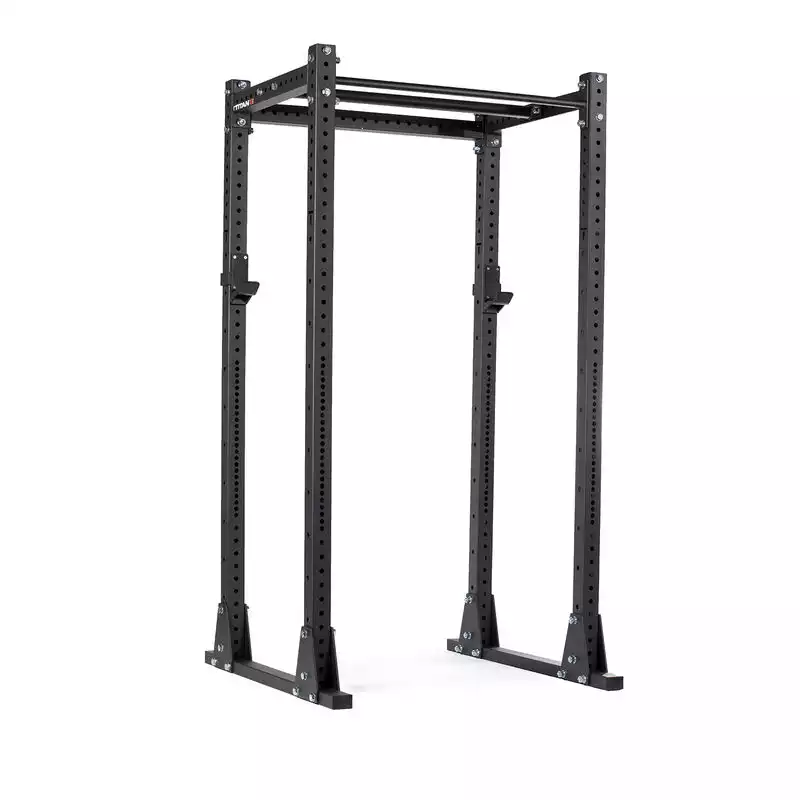 Titan X-3 Power Rack Pros
The Titan X-3 flat-foot power rack doesn't have to be bolted to the floor and is still plenty stable. Note, though, that a bolt-down option is available if you want extra peace of mind.
The X-3 is cheaper than similar power racks on the market, such as Rogue Fitness's R-3 Power Rack.
Titan X-3 Power Rack Cons
There are no laser-cut numbers on the uprights. Aligning the J-hooks on each side can be annoying.
The powder-coat finish isn't the best for grip when hanging from the pull-up bar. You'll want to make sure you have chalk or gymnastics grips close by for when your hands start to sweat.
Titan X-3 Power Rack Specs
| | |
| --- | --- |
| Price | Starts at $699.99 |
| Footprint | 50″ x 40″ |
| Inside depth | 30″ |
| Material | 3×3, 11-gauge steel |
| Finish | Powder coat |
| Weight capacity | 1,650 pounds |
| Hole spacing | Westside (one-inch spacing in the bench and rack pull zones; two inches above and below) |
| Included accessories | Two J-hooks lined with UHMW plastic; one 1.25-inch diameter pull-up bar; one two-inch diameter pull-up bar |
Titan X-3 Power Rack Rating
The Breaking Muscle staff includes powerlifters, powerlifting coaches, certified personal trainers, and strength and conditioning coaches. It's no surprise that we have decades of experience with power racks. We also have a testing facility in Springfield, MO, where we put dozens of squat racks and power racks through the ringer. After testing them for several weeks (and months, in some cases), we rank them on a scale of one to five in various categories. Here's how the Titan X-3 power rack stacked up.
| | |
| --- | --- |
| Factor | Rating (out of 5) |
| Delivery and assembly | 2 |
| Materials and construction | 4 |
| Weight capacity | 5 |
| Footprint | 3.5 |
| Hole spacing | 5 |
| Durability | 4.5 |
| Versatility | 4.5 |
| Attachments and accessories | 3.5 |
| Stability | 5 |
| Value | 4.5 |
| Warranty | 3 |
Titan X-3 Power Rack Overview
The Titan Fitness X-3 Power Rack is a commercial-quality rack made with 11-gauge, 3×3 steel tubing. While it's not cheap, it can still be a budget-friendly option for lifters who want a reliable, durable power rack without spending thousands of dollars. It's rated at a 1,650-pound capacity and features a powder-coat finish to help reduce corrosion and rust.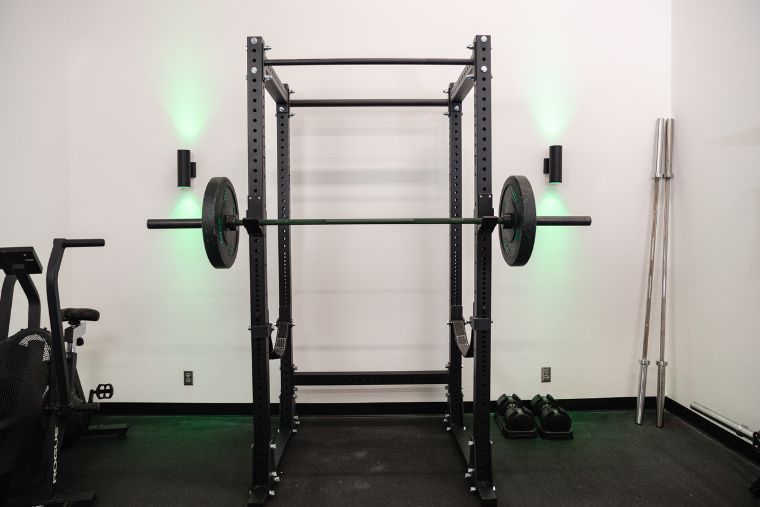 Two height options are available — 82 or 91 inches — and you can also choose a flat-foot or bolt-down design. Either way, the rack will remain stable and won't wobble, even if you perform kipping movements.
Who Should Buy the Titan X-3 Power Rack
Individuals who train alone will likely feel safer squatting and bench pressing in a power rack like the X-3. This is especially true if you buy pin pipe safeties or safety straps.
We think home gym owners with low ceilings will appreciate that the X-3 is available in an 82-inch height. It should fit in most basements, as building codes in most areas require basement ceilings to be at least seven feet (84 inches) high.
Due to its excellent stability, this power rack should work well for CrossFitters or functional fitness athletes who do a lot of kipping movements.
Who Should Not Buy the Titan X-3 Power Rack
Buyers who prefer American-made products will want to look elsewhere. The X-3 Series Power Rack is made in China.
Those who don't have large gym spaces may want to consider a more space-efficient option, like a foldable or wall-mounted squat rack.
Individuals who move frequently should look at a more portable option like independent squat stands.
Titan X-3 Power Rack In-Depth Review
Having owned the Titan X-3 Series Power Rack for about 18 months, I've become vastly familiar with every aspect of it. I've used it for powerlifting-style training, general strength training, and CrossFit Workouts of the Day (WODs). The review below reflects my honest assessment of how it ranks in multiple categories, including delivery, the assembly process, its functionality, and its overall value.
Delivery and Assembly
It's hard for me to give anything higher than 2 out of 5 stars for the delivery and assembly process. The rack arrived in multiple boxes, which is to be expected of something that has multiple heavy pieces. I didn't appreciate that most of the boxes were damaged, however. Fortunately, the base, uprights, and pull-up bars were still in good shape. Still, the poor packaging meant that I couldn't give the rack high marks for delivery.
Another reason I scored the Titan X-3 lower in this category is that the assembly process was long and challenging. This is also something I expected, given that the rack weighs nearly 300 pounds. But you need to set aside at least a couple of hours to put this unit together. I also recommend getting another person to help you. The uprights can be cumbersome to manage by yourself, and it's helpful to have assistance when installing the pull-up bars. It took my husband and me close to three hours to fully assemble the rack.
Titan provides all the bolts, screws, and washers you need for assembly, but you need to have a socket wrench. Also, the instructions can be confusing if you're not handy. That said, as long as you have a basic idea of what a power rack should look like (which you probably do if you're considering buying one), you should be able to follow along pretty easily.
Materials and Construction
The Titan X-3 is made with 3×3, 11-gauge steel, which is typical of what you'd find in commercial-grade gym equipment. The welding looks sloppy in spots, but in my opinion, it's not something to be concerned about. Unless you run a personal training business out of your home and/or want your equipment to look absolutely perfect, having some rough welds isn't a big deal.
However, I would have liked to see laser-cut numbers on the uprights. My old squat stand didn't have them, and the rigs at the CrossFit box I used to belong to didn't, either. It was annoying to have to manually count the holes to get the J-hooks aligned. Not having numbered uprights can also be frustrating if you use other attachments that you move around frequently, like safety straps.
However, I discovered a workaround for this on the home gym sub-Reddit: using painter's tape to mark the holes where you want your J-cups for different lifts. I taped the uprights on my rack to indicate where I need my J-hooks for squats and bench presses. I also have tape by the holes where I put my safety straps for squats, bench presses, and rack pulls. The tape stays in place even after moving the J-hooks around. On the rare occasion when it does come off, it doesn't leave a sticky residue behind.
Even though I've had success with this Band-Aid solution, I removed some points for the construction and only scored it 4 out of 5 stars. Other power racks at a similar price point, like the REP Fitness PR-4000, have etched numbers on their uprights.
Weight Capacity
The weight capacity of the Titan X-3 Power Rack is 1,650 pounds. Nobody will ever be able to lift anywhere near that, but the high rackable weight is nice to see in a squat rack that costs less than $800. It's the highest weight capacity I've seen in power racks designed for home gyms; some have 1,500-pound weight capacities, but most have 1,200-pound weight capacities. I gave the X-3 5 out of 5 stars for that reason.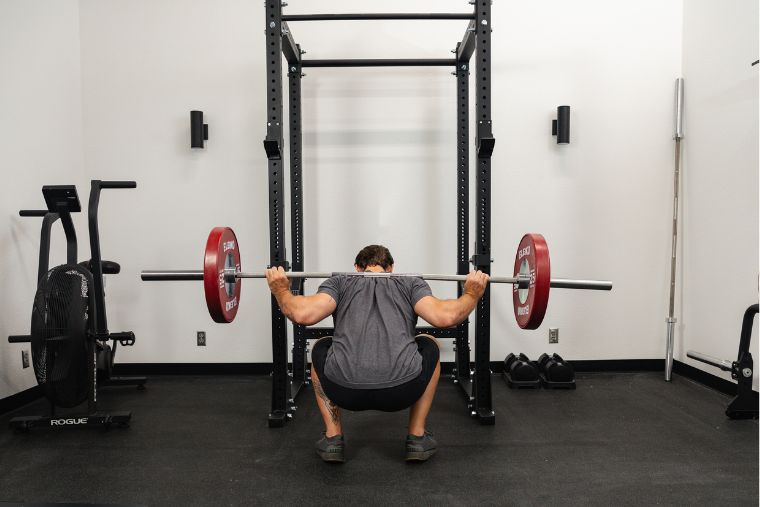 Footprint
There's no denying it — Titan X-3 is a large piece of equipment. It has a footprint of 50 inches by 48 inches, so it's not ideal for super tight gym spaces. I knocked a few points off and only scored it 3 out of 5 stars since you need a lot of space to accommodate it. In addition to the rack itself, you must also ensure that you have at least a foot of space on each side to load and unload weight plates from your barbell. And if you want to do kipping pull-ups and toes-to-bar, you'll need plenty of space in front of the rack so you have room to swing your legs.
However, I do like that you can choose between two different heights: 82 inches and 91 inches. The ceiling in my garage is about 94 inches high, so I opted for the rack with a 91-inch height. I'm 5'8 and have long arms and legs, and this height allows me to hang from the pull-up bar with my feet just barely touching the ground. The 82-inch option would be suitable for shorter individuals and/or basement gyms with lower ceilings.
The inside depth is 30 inches. It offers plenty of room for me to walk out my back squat and doesn't leave me feeling claustrophobic.
Hole Spacing
The Titan X-3 utilizes Westside hole spacing. The distance between the holes in the bench and the clean pull area is one inch; it's two inches above and below that. Westside hole spacing is common in the better-quality power racks on the market, like the Rogue RML-390F Flat Foot Monster Lite Rack and the Bells of Steel Hydra 3×3 Half Rack.
The Westside hole spacing is a major reason why I rated the power rack 5 out of 5 stars in this category. The squat stand I had previously had one-inch hole spacing throughout. Whenever I was bench pressing, I felt like the rack height was just slightly off. With the Westside hole spacing on the Titan X-3, I'm able to set my barbell to a more precise height. Since I train alone, this helps make racking and unracking the bar much easier.
RELATED: Best Adjustable Dumbbells
Durability
I scored the Titan X-3 Power Rack 4.5 out of 5 stars for durability. I live in an area that gets hot and humid in the summer and often drops into the single digits in the winter. While I have heaters and fans in my garage gym, I only run them when I'm working out. Despite the variations in temperature and the moisture that often accumulates on my equipment when it's humid, the rack hasn't shown any signs of rust thanks to the powder-coat finish.
In addition, 3×3 11-gauge steel is super sturdy. And, as discussed above, it can hold more weight than anyone can realistically lift, so you don't have to worry about it collapsing during your workout and causing disastrous accidents.
Some minor scuff marks have appeared on the uprights over time, but I didn't dock too many points because of that. After all, when you use something every day, it will show at least some signs of wear and tear. Plus, the scuff marks don't affect the stability or performance of the rack. I only point this out in case you're expecting your rack to look pristine forever.
Versatility
One of the most important factors to me when I was shopping for a new squat rack was versatility. I go through phases with my training. For the past 10 months, I've been primarily focused on CrossFit. Before that, I followed an upper/lower strength training split for years, though I still sprinkled in a couple of CrossFit WODs here and there. To that effect, I needed a rack that could handle a variety of movements — something that was lacking in the squat stand I had before, which was similar to Titan's T-3 Series Short Squat Stand.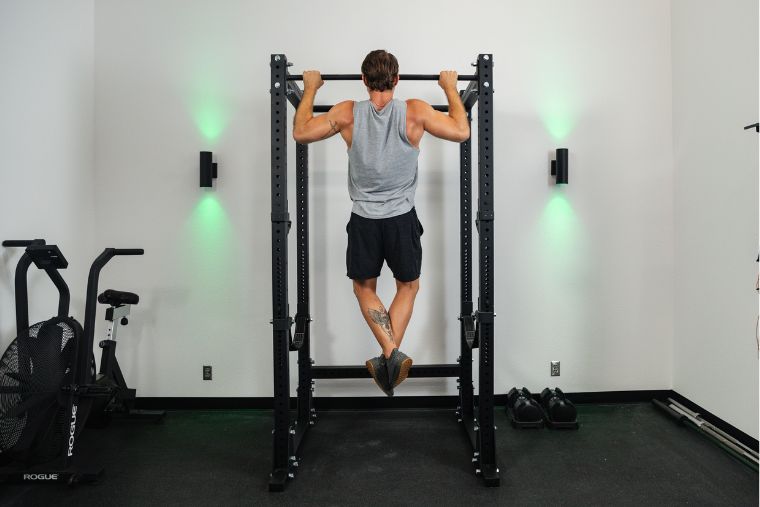 Since I've had the Titan X-3, I've done traditional exercises like squats, bench presses, and overhead presses. I've been able to do rack pulls by placing my safety straps in a low setting. For my CrossFit WODs, I've performed hanging knee raises, pull-ups, and ring rows (with a set of gymnastic rings that I had to purchase separately). I've even set my barbell to a low height to set up a makeshift back extension station.
I also like knowing that I can add attachments to the Titan X-3 Power Rack in the future. Titan sells compatible attachments like a lat pulldown, a Y-dip station, and a leg curl/leg extension. The customization options put it on par with racks like the REP PR-5000, the Force USA MyRack Modular Power Rack, and the Bells of Steel Hydra 3 X 3 Inch Flat Foot Power Rack. It scored a solid 4.5 out of 5 stars for versatility.
RELATED: Squat Stand vs. Power Rack: How to Choose Your Gym's Command Center
Attachments and Accessories
This power rack comes with two J-hooks lined with UHMW plastic (to prevent damage to your bar) and two pull-up bars: one with a 1.25-inch diameter and one with a two-inch diameter. When you order your rack, you have the option to add plate storage pegs to your purchase for about $50 to $70 more. Based on my research, though, I decided not to get the weight plate holders. I read several customer complaints about plates stored on the pegs (especially bumper plates) getting in the way during bench presses. That was a headache I knew I wouldn't want to deal with.
As mentioned, Titan also sells dozens of add-ons for the X-3 series that allow for multiple configurations of your power rack. For example, you can get a lat pulldown attachment, dip bars, spotter arms, pin pipe safeties, monolift arms, a wall ball target, and a battle rope anchor.
You can also purchase different J-hooks, such as roller J-hooks, which allow you to slide the barbell and center it on the rack without damaging the knurling. I highly recommend swapping out the J-hooks that come with the rack with a different pair. It only took a few workouts for me to realize that I hated the original J-hooks. The lip comes up pretty high, and I was constantly hitting my barbell on it when I reracked the bar after squats and bench presses. But I couldn't move the J-cups down a notch because then the bar position was too low for my liking. This is part of the reason I only gave the rack 3.5 stars in this category.
However, what's nice about the X-3 Power Rack is its compatibility with attachments from other brands. For example, I use safety straps from Rogue. I've seen several customer reviews online that questioned the quality of Titan's safety straps, and I'm already paranoid about terrible things happening when I work out alone. For extra peace of mind, I chose safety straps with much more favorable reviews.
Stability
As discussed, the Titan X-3 Power Rack features 11-gauge steel with 3×3 tubing. It also weighs nearly 300 pounds and is rock solid. Titan sells the rack in a flat-foot or bolt-down design. I chose the flat-foot version because I didn't want to worry about potentially damaging my floor. I've never once felt the rack wobble or shake, so I scored it a perfect 5 out of 5 for stability.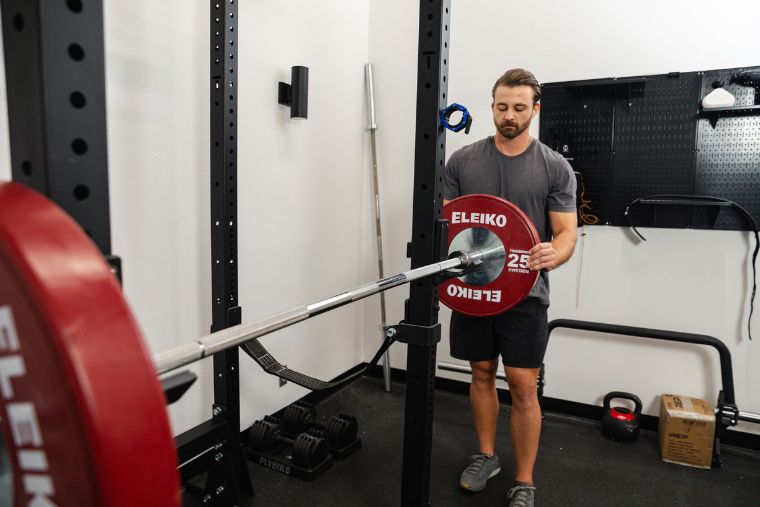 If you're concerned about it tipping but still want to go with the flat foot design, you can use heavy sandbags to weigh it down. For the record, though, I don't think this will be an issue for the majority of garage gym owners because this is such a beast of a rack.
Value
For around $700 to $800, I think you get a lot of value with the Titan X-3. The stability and durability are impressive. Plus, with all the attachments you can potentially add to it, it offers a ton of functionality.
Of course, those attachments add to the total cost of the rack. However, you don't have to buy everything all at once. You can save up to purchase add-ons one at a time until you have the ultimate power rack for your home gym.
One thing to note is that Titan's prices are reasonable partially because their products are made in China. If you'd prefer to spend more money on a US-made power rack, I recommend looking at Rogue Fitness.
Warranty
The X-3 Power Rack comes with a one-year warranty. While this is better than nothing, I only gave it 3 out of 5 stars here. Other brands offer much better warranties. REP Fitness and Rogue Fitness, for example, both offer limited lifetime warranties on their squat racks.
Titan X-3 Power Rack vs. Titan T-3 Power Rack
The T-3 Power Rack is another one of Titan's popular power racks. Like the X-3, it uses 11-gauge steel. However, while the X-3 uses 3×3 tubing, the T-3 uses 2×3 tubing. The T-3 isn't as stable and needs to be bolted down. We have the T-3 rack in our testing facility in Springfield, MO, and our product testers don't recommend doing kipping movements or loading super heavy barbells on the rack unless it's bolted.
The T-3 also has a lower rackable weight capacity of 1,100 pounds, much lower than the X-3's weight capacity of 1,650 pounds. Still, the majority of lifters will never be able to squat or bench press 1,100 pounds. The weight capacity shouldn't be an issue for most home gym owners.
You get more customization with the T-3. For instance, you can choose an interior rack depth of 24 or 36 inches. The X-3 is currently only available with an interior depth of 30 inches. If you prefer more space to walk out your squat inside your rack, the T-3 rack with the 36-inch interior depth may be a better option.
The Titan T-3 Power Rack may also be a more suitable choice for budget-conscious lifters. It starts at just under $500, compared to the starting price of just under $700 for the X-3.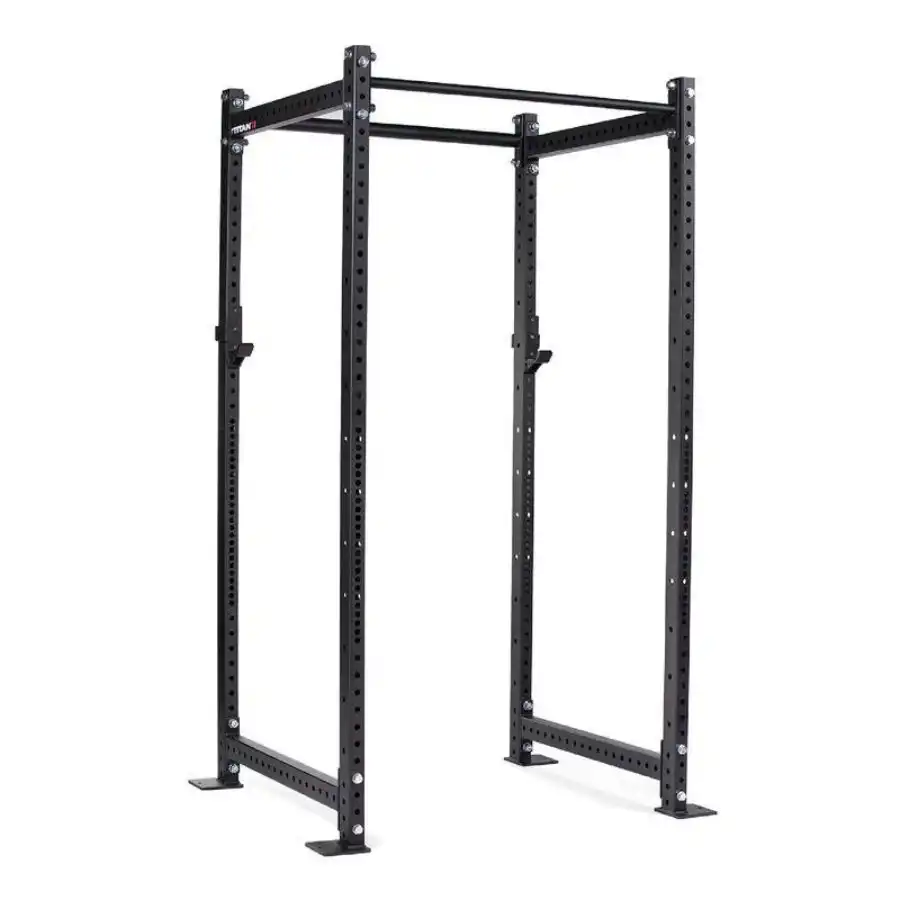 Titan T-3 Series Power Rack
Dimensions: 46" outside width; 24" or 36" inside depth; 82" or 91" height
Materials: 2x3, 11-gauge steel
Weight capacity: 1,100 pounds
Hole spacing: Westside
Check Price
Titan X-3 Power Rack vs. Rogue Monster Lite
Rogue offers several racks in their Monster Lite series, but the one closest to the Titan X-3 is the RML-390F. Like the X-3, the RML 390-F boasts a flat-foot design that doesn't require bolting to the floor. It's also made with 3×3, 11-gauge steel uprights and has Westside hole spacing.
A benefit of the RML-390F is that it comes with pin pipe safety bars. The X-3 doesn't come with any safety pins or straps, so you have to buy them separately.
On the other hand, the RML-390F only comes with one pull-up bar in the standard 1.25-inch diameter. However, I don't think this is too much of a drawback. If you want to occasionally do pull-ups on a thick bar to challenge your grip strength, you can buy fat grips online. Using these grips is a cheap way to increase the diameter of your pull-up bar — plus, you can use them on your favorite barbell or set of dumbbells, too.
The RML-390F is manufactured in Columbus, OH. Therefore, it's more expensive than the Titan X-3. It starts at around $910, compared to the starting price of around $700 for the X-3. But if you're willing to pay more for an American-made product, the RML-390F could be a solid choice.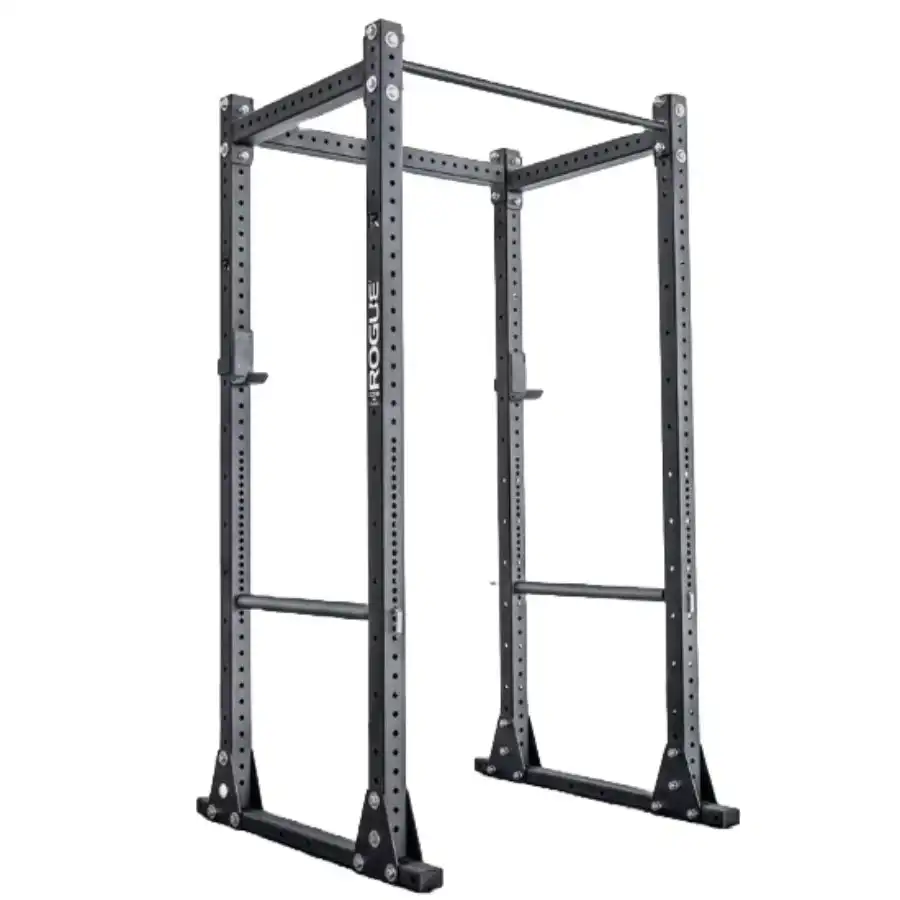 Titan X-3 Power Rack Customer Reviews
The flat-foot X-3 has 54 reviews and an average of 4.7 stars out of 5 on Titan's website. Customers are pleased with its ruggedness and love all the options for add-ons and attachments. Those who left negative reviews noted that some of the boxes were ripped upon delivery and wished that pin pipe safeties were included.
Final Verdict: Is the Titan X-3 Power Rack Worth It?
As you can probably tell from this Titan X-3 Power Rack review, I'm a big fan. I bought it when it became clear that I wouldn't be returning to a commercial gym, and I've been pleased with my purchase. The rack is well-built and rugged — you shouldn't have to worry about any tipping or wobbling. Plus, with all the attachment options available, you can turn it into a versatile piece of equipment.
Remember, though, that the X-3 is a large piece of home gym equipment. It has a footprint of 50 x 48 inches and weighs nearly 300 pounds. Before you hit that order button, measure and re-measure (and then re-measure again) to ensure you have the space for it. Otherwise, you won't be able to take advantage of all the benefits of this durable, stable, and relatively budget-friendly power rack.
FAQs
Does the Titan X-3 need to be bolted down?
The Titan X-3 flat-foot design does not need to be bolted down. However, Titan also offers the X-3 in a bolt-down version if you want extra reassurance that the rack won't tip or wobble.
What is the hole spacing on the Titan X-3?
The Titan X-3 utilizes Westside hole spacing. The holes are spaced one inch apart through the bench press and clean pull area and two inches apart above and below that zone.
Is the Titan X-3 Power Rack made of steel?
The Titan X-3 Power Rack consists of 3×3, 11-gauge steel.
Does the Titan X-3 have a pull-up bar?
The Titan X-3 comes with two pull-up bars. One bar has a 1.25-inch diameter, and the other has a two-inch diameter. You can also buy a multi-grip pull-up bar attachment separately.