Last year at a CrossFit LA challenge finale, I was partnered with my CFLA gym mate, Andrea Duran. I knew her as fun and super laid back. I also knew she was one of the top women athletes at our gym. But that's all I knew. During the challenge final, Andrea and I bonded over surviving and supporting each other through a grueling workout. A few days later, Andrea left town to get back to work, and this is when I learned that she is a professional fast pitch softball player. She plays third base for the USSSA Pride out of Orlando, Fl. I was thrilled to learn that. Then I learned she is a Nike Athlete Model. Then I learned she won a silver medal with U.S. Women's National Softball team in 2008 in Beijing!
Completely in awe with each new fact, I looked up her bio and discovered a list stuffed with awards, colligate championships, and medals. I read that she even hit a grand slam during the 2007 Pan Am Games in Rio de Janeiro, a year the women's team won gold.
I burst with pride knowing such an accomplished professional athlete – especially one so unassuming – and I couldn't wait to talk to Andrea about her career and about the impending London Olympics. After speaking with her, I learned the heartbreaking truth that women's professional sports are on loose footing. An athlete with an almanac of accomplishments like Andrea's still needs to promote the hell out of a sport with very few team owners, no budget for trainers, and yet they have a legion of wide-eyed little fans who hope that maybe one day they can be paid athletes, too.
Andrea fights for those future professionals, playing and fundraising to ensure a league will still be around for them. Equally disheartening is the fact the Olympic committee yanked women's softball from the 2012 and 2016 Olympic program. Though efforts are underway to get softball reinstated in 2020, Andrea Duran may be one of the last to have medaled in the sport.
DR: Andrea, I miss you! Where are you right now?
AD: I miss you too! The team is in Akron, Ohio, but it looks like we're getting rained out tonight.
DR: How far along are you in your season?
AD: We're about midway. We started June 7th and we go to the end of August. It's a short season, only about three months.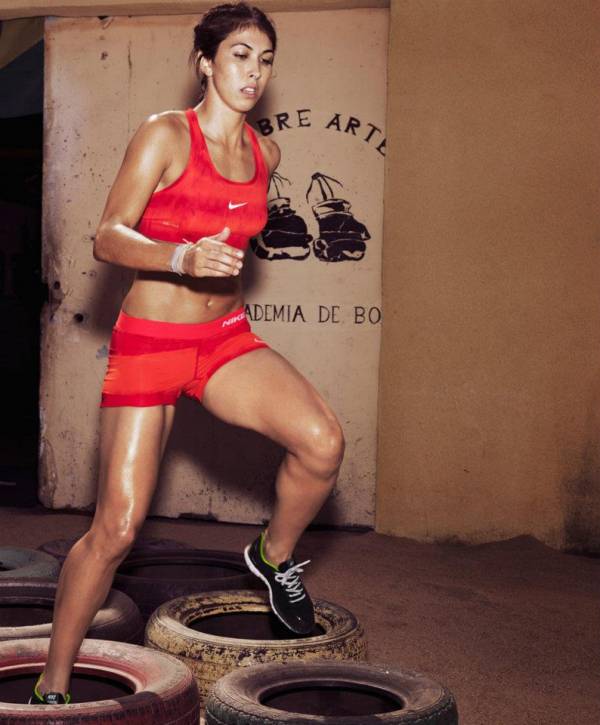 DR: How is it traveling to play?
AD: This year we've traveled a lot because we've been going to a lot of different cities to play exhibition games to spark interest in the league and hopefully attract future owners – people to buy a team and bring it to their city. The NPF [National Pro Fastpitch] league is only five years old. There have been some leagues in the past, but they've all failed. So the commissioner of our current league is trying to run things better. We only have four teams [Chicago Bandits, Akron Racers, Carolina Diamonds, and Andrea's team, the Orlando Pride]. We're constantly trying to spark interest by playing in cities that don't have teams.
DR: How long have you played for USSSA Pride?
AD: Three seasons. Out of college (UCLA '06), I played for a team out of Connecticut, but that league folded in their inaugural year.
DR: What are the best and worst parts of the season?
AD: Traveling definitely affects eating habits. You don't always eat to the standards you like. And by the end of the season, we're pretty tired. But on the good side, our team has really good chemistry so we do a lot of things together, which is fun. Definitely seeing the fans and the crowds who come out: club teams, girls who play, and their families. That's always great. Sometimes it's hard to pull a good crowd in Orlando since we're competing with Disney World, but we get a good reception when we travel.
DR: What got you into softball?
AD: My older sister played. I swam, played basketball, and ran track. I'd practice softball with my sister when I was bored, but I really didn't like it. My dad made me try out for a travel ball team and I threw a fit because I didn't want to play. I was about nine or ten. I didn't want anything to do with it, but I ended up making the team. My dad asked me to just try it out. Coming from more individual sports like swimming and track, being on a team was so different. I loved cheering in the dugout, and the team became my instant friends. Eventually I was like, "I like this sport!" Once I started getting better, I loved it.
DR: I'm looking at this laundry list of achievements. What is your most cherished accomplishment?
AD: Ah man, obviously going to the Olympics was amazing. That's something I will never forget. We were expected to win gold and when we didn't, it was disappointing. But at the end of the day, you can't take anything away from a silver medal. Most people will never be Olympians, let alone medalists. Winning in college was pretty great, too. [Andrea won two national championships with UCLA]. In softball, the two highest goals are winning a national championship and being on the national team. These are your goals when you grow up.
DR: So, the Olympics are right around the corner. As an ex-Olympian, how does this make you feel?
AD: It's really bittersweet. Of course I'm excited, it's like a holiday is coming! But in the same breath, it's sad because softball is no longer in it. I think, "I could be there. We could be going again."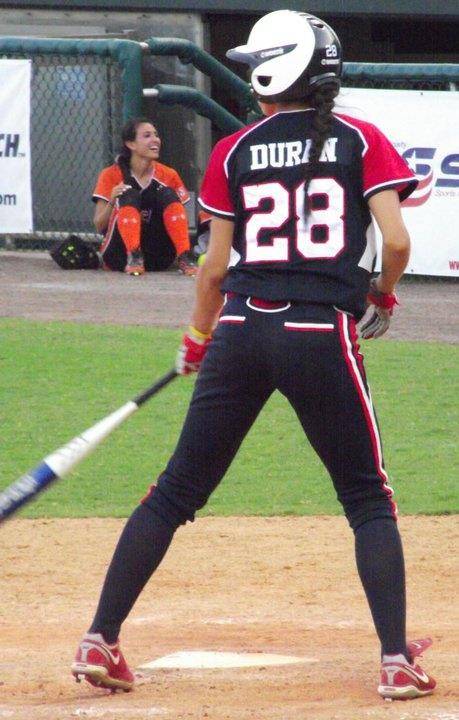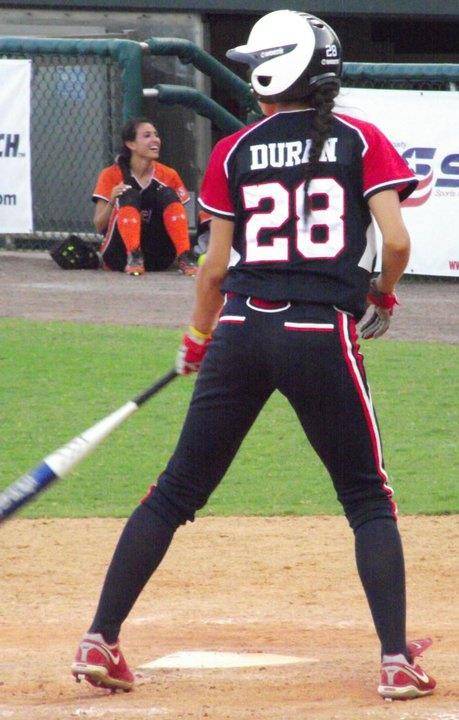 DR: Why do you think the Olympic committee pulled softball?
AD: I don't really know. It was a big surprise to us, here in the U.S and to other countries where softball is a big deal, but in Europe softball and baseball are not big and they have a lot of the vote on what sports are or aren't in the Olympics. We kind of assume since it's not popular in Europe, it got voted out.
DR: How disappointing. I'm sorry. What are the big softball playing countries other than the U.S.?
AD: Japan, China, and Australia.
DR: Can you tell me some of your favorite moments while at the Beijing Olympics?
AD: One of my favorite moments was during Opening Ceremonies, and we were standing in the tunnel about go out into the stadium. All of the American athletes started chanting "USA! USA!" And since we were in the tunnel, it was amplified. It was the craziest feeling and then we all marched out together. Just being around these amazing athletes in other sports that are superstars back home was so great. At the Olympics, they were just fellow Olympians, you know? We marched out near Kobe Bryant. Or we'd go into the eating hall and there's LeBron James just eating there with us. Or Michael Phelps walks by or we see Raphael Nadal in the village. It was crazy! Everyone was so down to earth, too. Everyone was just happy to be part of the Olympic experience.
DR: With softball gone, what other events are you looking forward to watching?
AD: I love to watch track, gymnastics, and swimming. I'll watch women's basketball, too.
DR: So, when was the last time you did a CrossFit workout?
AD: Oh man, not since April. I mainly do CrossFit in the off-season because I think it keeps my competitive edge. I love that it's new and different every day. And obviously the atmosphere at CFLA is just fun to be around.
DR: Does it differ much from training for a professional sport? What kind of things do you guys do to keep your fitness up?
AD: We do Olympic weightlifting and we'll do sport specific weight training. Usually about three times a week. Then we'll do conditioning. It's up to us. A lot of girls run. I do more interval work. I try to be more efficient with my conditioning, especially after doing CrossFit, which is more conducive to the sport.
DR: Your trainer has you do weightlifting and then leaves the conditioning up to you?
AD: We don't have a trainer on this team.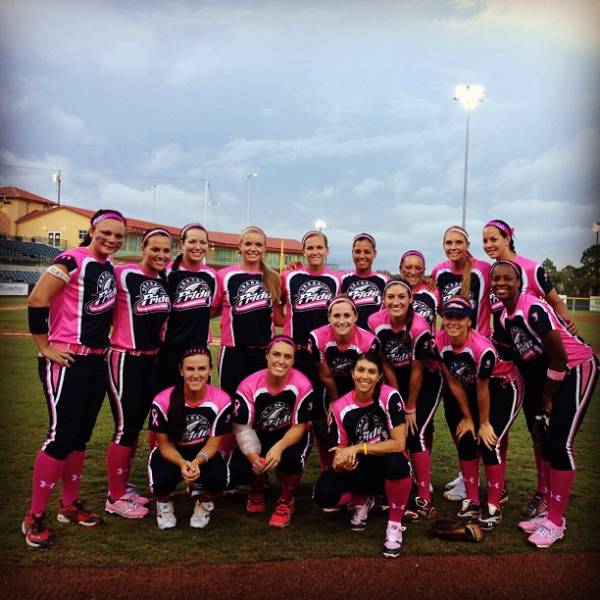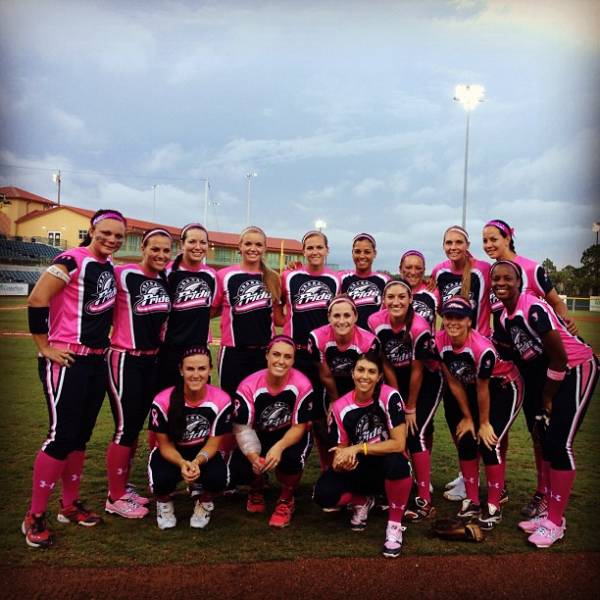 DR: Really?
AD: Yea, it's basically left up to us and what we learned in college. I think it's budgetary, and they assume we just know how to condition ourselves.
DR: Are you guys still involved in the Twenty for 20 campaign?
AD: Yea, that's definitely still going on through the NPF. It's a fundraising effort to ensure that a professional women's league will still be around for aspiring players. We want the league to grow and be thriving by the year 2020.
DR: And how do these future players inspire you?
AD: It's really so cool to see them all at the games. I could have the worst game – in my opinion – and these little girl fans come up to me and tell me how great I played. They put my life back in perspective. They look up to me because I get to do what I love for a living. And I'm just trying to make sure it's still around for them, if they choose to play one day.
You can keep up with Andrea Duran through her Facebook fan page.