Photos provided by Danette "Dizzle" Rivera.
Happy Valentine's Day! And happy wedding anniversary to me. Yes, I married on V-Day and before you think I'm a hardcore romantic you should know I married on Valentine's Day out of practicality more than romance: It's easy to remember!
Also when Valentine's Day is your anniversary, I feel the celebration of the occasion warrants more gifts of chocolate. I'm hoping for a good share of it tonight. Right, honey?
Having pared down my diet dramatically to support my athletic goals, chocolate is the only sugar treat that has survived. I eat processed chocolate every week as part of my cheat meal, and raw chocolate a little more often. Since a lot of premium dark chocolate is often vegan, I've tried many kinds.
Four years ago, while on a trip to New York, I visited a gourmet chocolate factory right in the middle of Manhattan, Vere Chocolates. Sadly, they have since closed, but what I learned on my tour of the facility is lots of high quality dark chocolate is vegan by nature, not design. Milk and fillers tend to mucky up the pureness of the process. A premium chocolate factory is meticulous about smoothness and a rich, pure taste.
The chocolatier at Vere explained the art of artisan chocolate is in the beans and the tempering, and to achieve the best taste, the fewest ingredients of the highest quality should be used. Simple and high quality always sounds like a good plan to me. I realized that with great chocolate I also don't have to eat as much to feel satisfied. I left the Vere factory a bit of a chocolate snob, which I still am today.
Do you like to use the argument that chocolate is high in antioxidants? Me too. I can't really justify the sugar, but the study that chocolate with 65% (arguably) or more cacao content has as much antioxidants as fruits and vegetables is compelling. Heidi George just wrote an article here on Breaking Muscle about raw cacao being a super food and I agree. In its raw state, there is very little processing and no added sugar. Without guilt, I often use raw cacao nibs as a topping for shakes. Nibs are hulled and chopped fermented cacao beans. It's pure chocolate; pure antioxidants, vitamins and minerals.
Here is a list of my five favorite vegan chocolates right now (Take note, honey!):
Justin's Organic Dark Chocolate Peanut Butter Cups
Man, these are good! From what I remember, this combo of dark chocolate with peanut butter tastes better than Reese's. Justin's is known more for their nut butters, but these peanut butter cups are decadent. Justin's is a conscientious company with a tab on their website recording the carbon footprint it takes to make their nut butters and information about their push for sustainable packaging.
Tonic Scene Raw Organic Chocolate
For a raw chocolate, Tonic Scene is incredibly smooth and velvety. For me, their chocolate rivals any chocolate though it is not as rich – it has a much lighter texture – but just as delicious. It's also the most nutritious and guilt-free on the list.
My favorite flavor is Coconut Nectar, which only has three ingredients: Cacao Butter, Cacao Powder, and Coconut Nectar. The plain dark chocolate, also with just three ingredients, is also really good. They've developed a few fancy flavors like Black Seed Curry and Apricot Ginger that I personally don't like as much, but you might.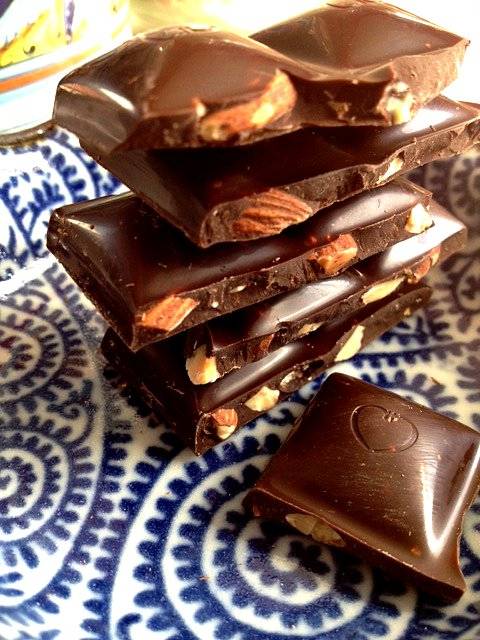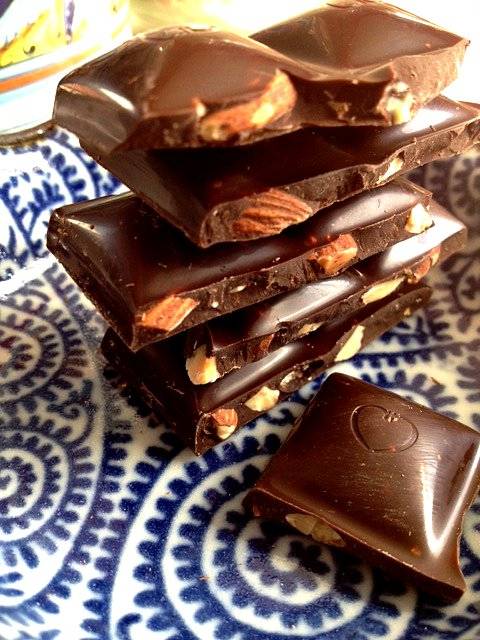 Chocolove's Almonds and Sea Salt
With a 55% cacao content, I'm not eating this chocolate as much for the antioxidants as I am for the amazing taste. It's surprisingly hard to find a quality bar with big chunks of almonds in it, which I love, but this bar has lots of them. And whatever genius invented the chocolate and salt trend needs to be praised. A lot. This bar is delicious.
Xan Confections, the Saintly Sins and Jewel Caramels Collections 
I first spotted these gorgeous chocolates lined up in the fancy candy case at Whole Foods. Xan Confections has come up with a delicious and beautiful vegan caramel line in the Jewel Collection. Coconut Pecan Caramel is my favorite, but other great ones are Ancho Chili, Espresso Almond, and Butterscotch. The Saintly Sins are fruit and chocolate. Yum.
You can order directly from their website though on the site it's hard to tell which chocolates are vegan. Whole Foods marks them clearly. I sent Xan a note and they responded immediately clarifying that the vegan lines are the Jewels and Saintly Sins.
Endangered Species Chocolate Organic Dark Chocolate Chimp Mints
These bite-sized minty squares with 70% cacao content were the first vegan chocolates I ever tried years ago, and they still hold a spot in my heart. It's hard to go wrong with dark, rich chocolate with a hint of mint. Endangered Species set the trend for ethical and environmentally conscious chocolate when they started as a small company in Oregon 19 years ago. 10% of their net profits are donated to fund species and habitat conservation efforts.
It sounds like I eat a lot of chocolate, doesn't it? I really don't. I just really enjoy the good stuff, and premium chocolate doesn't need to be scarfed down. Savoring is best. A thoughtful appreciation of anything – especially the things of high quality that you enjoy – makes an experience that much better and helps it last that much longer. Right, honey?