I write a lot about Women's Grappling Camp. I'm hoping you're not tired of it and that you see, like I do, that just as BJJ is a microcosm of life for many of us, camp can serve as a microcosm of BJJ. My business partners and I learn something new every time we host a camp, and we believe the lessons apply to grapplers generally as well.
Further, especially given the tragic events of just a couple months ago in the grappling community and some of the misguided backpedaling, escalation of commitment, and rationalizing that has taken place in its wake, I have decided to prescribe some feel-good news about my own corner of the grappling world. This news is for those of us who want to focus and build on the positive aspects of grappling, as well as for those who may be having difficulty doing so, perhaps wondering whether they should continue. I hope this story will provide a bit of optimism and a bit of raison d'grapple. Good things are afoot in women's grappling, and I believe this has positive implications for the entire grappling community.
The latest edition of camp found us back at Princeton BJJ in Princeton over Presidents' Day weekend, and it was another wonderful, eye-opening experience. We were happy to welcome back Hannette Staack – we think she likes us, she really likes us! In addition to giving us access to a wealth of competition, technical, and lifestyle experience, Hannette's involvement has provided a reality check that what we are trying to do is worthwhile to others whom we respect and admire, and that it is possible. And what we are trying to do is help women use grappling as a mechanism for self-actualization.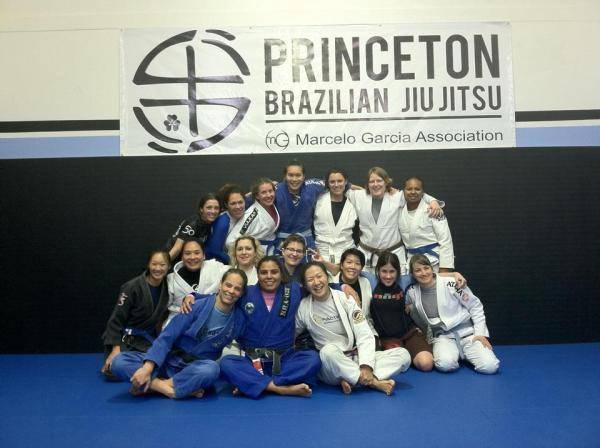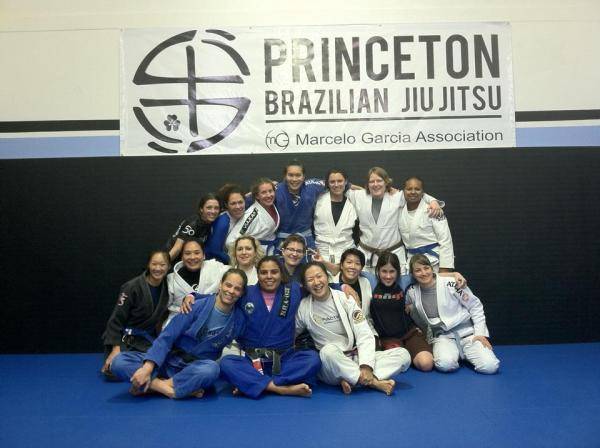 We want this for all grapplers, actually. For now, we're content with doing our best to equip women with confidence, perspective, and tools to go back to their home academies and be forces for good. But eventually, we want to build upon the many positive relationships we have developed with men who value what we do and want to be part of it. From here, we want to put more effort behind helping men benefit from what we are learning about how we can best survive and thrive in BJJ. Each camp brings us closer and closer.
We do have work to do. Historically, grappling has been consistent with the reality Simone de Beauvior describes about the world in her landmark book The Second Sex. She writes, "[I]f I wish to define myself, I must first of all say: 'I am a woman;' on this truth must be based all further discussion. A man never begins by presenting himself as an individual of a certain sex; it goes without saying that he is a man." Similarly, men are rarely if ever described as "male grapplers," while women are described all the time as "female grapplers." There are women's classes, women's open mats, and women's camps. Co-ed or male-only versions are just "classes", "open mats", and "camps." We women who train are always defined first and foremost by our gender.
Given this reality, I wouldn't have been quite as confident about our ability to make meaningful inroads even several months ago. But recent events seem to have stirred the pot such that upstanding grappling women are becoming more vocal and visible (we're here, we're in a brassiere, get used to it), and upstanding grappling men are redoubling their efforts to understand how to coexist on the mat with the fairer sex. Not everyone is on board, of course, because change is scary for some. But many people seem to want to understand better how to play nicely with each other.
Before anyone gets their boxer briefs in an uproar, however, let me specify that at least at WGC, nobody is trying to take the teeth out of grappling or vilify men. First, the camps wouldn't even be possible without the help of many wonderful men who have continuously supported us on our grappling journeys. Second, we're not endorsing the idea that a female student/teammate's every whim should be indulged, or that grappling should be watered down.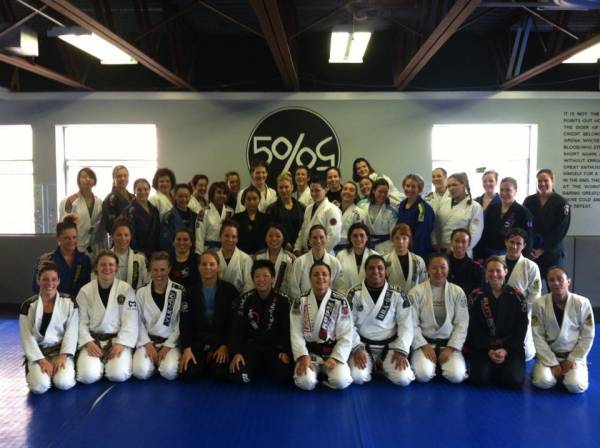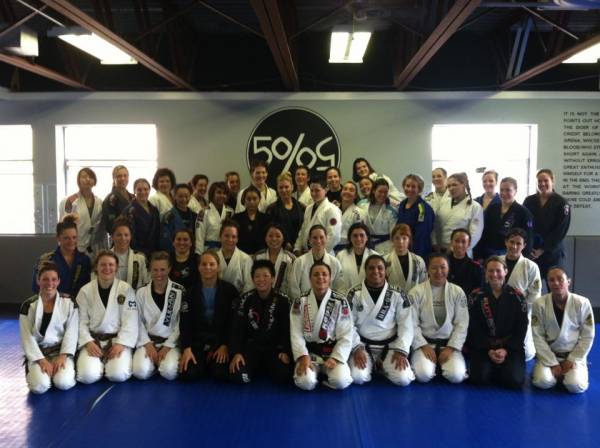 Rather, given that women are entering grappling in larger numbers, and given our belief that everyone can benefit from training and that everyone has something to learn from everyone, it seems we're all trying to develop a common language so we can communicate effectively instead of talking past each other. And ideally, we will use that common language to arrive at some shared beliefs about what constitutes appropriate and adaptive behavior, understanding that this may differ over time and by group/individual. Men and women have a responsibility both to understand their gender counterparts and to learn how to explain who they themselves are and what they need. We are proposing that men and women work together to make sure no one has to feel like a member of the second sex. This will take negotiation, consideration, and self-awareness, on individual, academy, and overall community levels.
But it will be worth it. At this camp alone, I had discussions with multiple different people about cultural relativism, Tilda Swinton, pushups, and pork roll. I shored up my personal zombie defense program and ate snacks prepared by a spunky grandma who started training when she was 58. (Who doesn't have something to learn from her about persistence, belief in yourself, and the power of a supportive community?) And if that doesn't float your boat, I also had the opportunity to work meaningfully on my own training, pulling off a (sloppy) berimbolo in one roll and feeling the pressure and smooth movement of an 8-time world champion in another. Not everyone has the same goals in BJJ, but there is room for all of these goals, and the people pursuing them, to co-exist and to inform each other.
An increase in the influence women bring to BJJ doesn't have to be negative, and it doesn't have to result in watered-down practices. BJJ is a martial art, at its core about combat and domination. It is also about self-knowledge, mutual trust, and The Golden Rule. And we believe all of it can reside comfortably together. So hang onto your twigs and berries, guys: The ladies are on the case. And if we at Women's Grappling Camp have anything to say about it, we come in peace.