Chicken and turkey are popular for being high in protein and low in saturated fats making a mealtime staple for athletes as well as in many healthy eating households. Falling back on the same old recipes starts to become mundane and a little too routine. Finding new ways to cook up the standard bird and keep it interesting (and keep your taste buds dancing) is time consuming but in this series of recipes, I will highlight many different ways to prepare your poultry so your meal rotation is anything but boring. So whaddya say? Let's play chicken!
Awesome as an appetizer and fabulous as a fun mini meal, chicken potstickers are made with the traditional flavors found in the more common pork based potstickers. These can be made with a purchased potsticker or wonton wrapper but I have not yet found a good gluten-free variety commonly available. If you prefer to keep it gluten-free, making the wrappers isn't terribly hard but it is a little time consuming and you'll want to work quickly so the dough doesn't dry out before you're ready to fill them. I found it easiest to work with the dough divided into two halves and then roll out and fill 2-3 wrappers at a time. After filling the circles of dough, they may look a little rugged. Feel free to leave them this way or you can trim the edges as you seal them by pressing into the edge of the semi-circle with a fork and then cutting away the excess "fringe" with the side of the fork or a knife.
The housemade dipping sauce is also a savory combination of traditional ingredients. The end result is a balance of perfectly crispy, perfectly chewy potsticker with just the right touch of savory goodness to dip into and enhance the flavor of the filling. These were a hit in my household with everyone asking for seconds!
Chicken Potstickers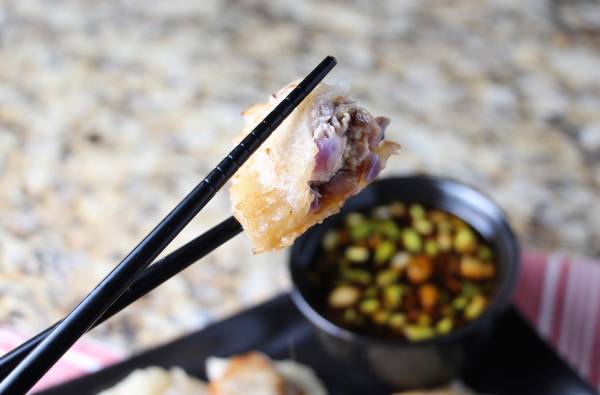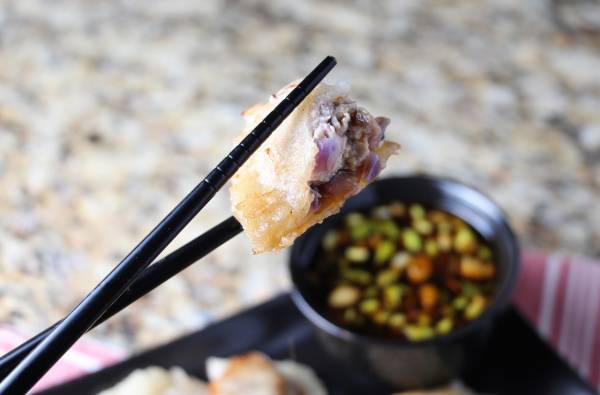 Calories 346, Protein 25g, Carbs 46g, Fat 6g
Prep time: 30 min
Cook time: 20 min
Makes: about 40-45 potstickers (6 servings of 7-8 each)
Filling Ingredients:
3 cups shredded red or napa cabbage
1 teaspoon salt
1 pound ground chicken or turkey
1 tablespoon arrowroot powder (or any other starch)
¼ teaspoon ground black pepper
2 scallions, finely chopped
2 tablespoons chives
2 cloves garlic, minced
1 tablespoon ginger, minced
2 tablespoons tamari soy sauce (or coconut aminos)
1 tablespoon sesame oil
1 tablespoon rice wine vinegar or sake
Dough Ingredients:
1 ¼ cups gluten free all purpose flour
½ cup tapioca starch/flour
Pinch of salt
¾ cup boiling water
Olive or coconut oil for frying
Chili Dipping Sauce Ingredients:
½ cup tamari soy sauce (or coconut aminos)
1 teaspoon chili paste (sambal oelek)
1 tablespoon sesame oil
2 tablespoons mirin
1 scallion, finely chopped
Preparation Instructions:
Toss cabbage with the salt and let stand about 10 minutes. Drain and squeeze dry.
Mix cabbage with all remaining filling ingredients. Cover and refrigerate until ready to use.
Prep the dipping sauce by whisking together all dipping sauce ingredients. If you wish to remove the scallion bits, strain the liquid into a separate dish after 15 minutes. Set aside until ready to serve.
Make the dough. Place all dry ingredients into a food processor and pulse to blend together.
With the processor on lowest speed, slowly pour in the boiling water until a dough forms.
Divide dough into two pieces and set one portion into a sealed container to keep it moist while you prepare the other half.
Roll out the first half of the dough into a long rope about ¾ inch thick.
Cut rope into pieces about ¾ inch wide and place into sealed container. Repeat with other half of dough.
Fill the potstickers. Take out one to three pieces at a time and use your hands and a floured rolling pin (use same flour as the recipe) to flatten into a circular disk about 1/16 inch thick. You may need to add more flour to your hands or rolling pin to keep from sticking.
Once you have a thin circle, scoop about 1 tablespoon of the chicken filling into the center.
Fold dough over to form a half moon and pinch to seal or use a fork to seal the edges. You can also trim off any uneven edges at this point.
Place finished dumplings on a parchment lined baking sheet until ready to cook.
To cook, heat oil in a large frying pan with a tight fitting lid. Add about half of the potstickers in a single layer and fry until crunchy and golden in color flipping once.
Carefully pour about ⅓ cup water into the pan and cover immediately.
Steam over medium low heat until cooked through, about 10-12 minutes.
Remove lid and continue cooking until water evaporates. Repeat with remaining potstickers.
Serve with dipping sauce.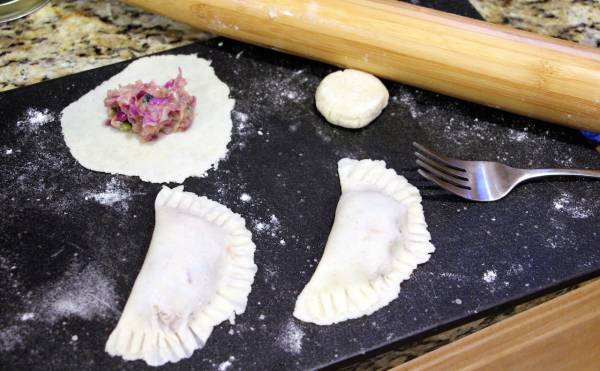 If you want to kickstart your clean eating campaign, there is no better way than to start Kari's 28 Day Clean Eating Challenge now. It's designed for ordinary people who are busy and have a lot of demands on their time. The objective is to commit to Kari's process and meal planning in such a way that after 28 days you are armed both with a keen awareness of what you eat and have acquired the skills and imagination to prepare clean eating meals on your own. It's a great way to kickstart a new approach to real food and real results.