Grass-fed gound beef is one of my favorite kitchen staples to use for quick and easy meals. Although some grass-fed cuts are much pricier than their grain-fed counterparts, ground beef tends to be much more affordable.
The following three recipes were created with the grass-fed ground beef from TX Bar Organics. They were designed to meet each of my requirements for a "quick and easy" meal.
They have less than ten ingredients.
They take less than thirty minutes to prep.
They are ready in about one hour.
I included a recipe for breakfast, lunch, and dinner. All the recipes are gluten-free, and although some call for goat or feta cheese, these are optional ingredients, so feel free to omit them. They are definitely not gourmet recipes, but there are some days when inspiration and time are on the lower end of the spectrum. On those days, simple and straightforward are life-saving qualities.
High-Protein Breakfast Tacos
These "tacos" are basically omelets with a twist – you precook the filling and put it in a freshly-made egg "tortilla." My children love tacos, but we avoid grain products in our family, so I made these to get them excited about breakfast. Mission accomplished – they loved them!
Serves 4 – 6
Ingredients
1lb. grass-fed ground beef
2 Tbsp. lime juice
1 Tbsp. cumin
1 tsp. coriander
1 tsp. paprika
½ tsp. salt
¼ cup salsa (plus additional for serving)
8 eggs
Goat cheese (optional for topping)
Directions
Cook the ground beef in a skillet over medium-high heat.
Add the lime juice, cumin, coriander, paprika, and salt.
Stir in the salsa and remove the mixture from the skillet.
In a separate bowl, whisk together two eggs.
Pour the eggs into the skillet, turning to coat the entire skillet with eggs.
Let the eggs cook until they start to bubble on the top, then flip for about 10 seconds or until fully cooked.
Repeat steps 4 – 7 until you have all the "tortillas" you need.
Fill the egg tortillas with beef mixture. Top one half of a tortilla with lettuce, additional salsa, and goat cheese. Fold the other half over.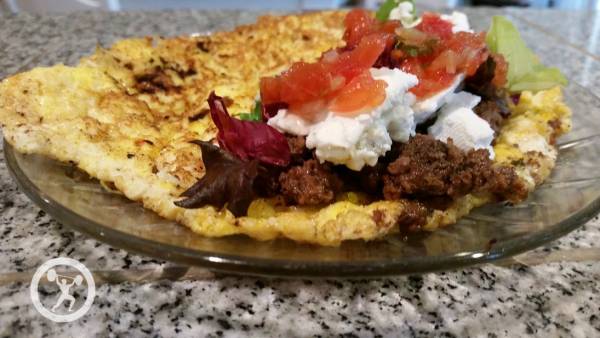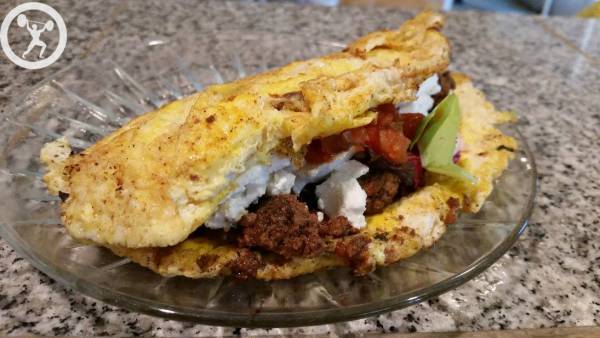 Mediterranean Stuffed Bell Peppers
These stuffed bell peppers require minimal prep work, and the rest of the time is spent in the oven. The feta cheese is optional but provides good flavor. I usually slice the peppers in half to make smaller portions for my kids, but the stuffing stays inside much better if you just scoop out the top and leave the pepper whole.
Serves 6
Ingredients
1lb grass-fed ground beef
Handful of spinach
1 tsp. garlic powder
1 tsp. cumin
½ tsp. paprika
1 tsp. salt
1 Tbsp. tomato paste
5 slices bacon
¼ cup chopped kalamata olives
6 bell peppers
½ cup feta or goat cheese (optional)
Directions
Preheat the oven to 375.
Brown the beef in a skillet on medium-high heat.
Add the spinach, garlic powder, cumin, paprika, salt, tomato paste, and olives. Stir to combine.
When the meat is cooked, remove the mixture from the skillet.
Cook the bacon.
While the bacon cooks, cut the tops off of the bell peppers. Remove the seeds.
Stuff the peppers with the meat mixture and top with bacon and goat or feta cheese, if desired.
Bake the peppers for 30 minutes.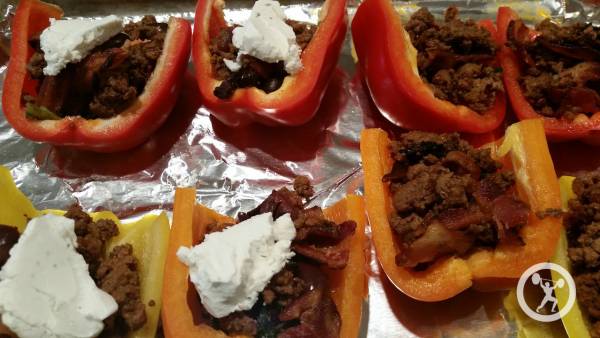 Simple Beef and Veggie Stir Fry
Once again, this recipe is so simple I hesitate to call it a recipe. Really, it's just a flexible template. You can throw in whatever vegetables you have, and they can be either fresh or frozen. Serve with a side of white rice, cauliflower rice, or over salad to make it stretch.
Serves 4 – 6
Ingredients
1lb ground beef
3 cups broccoli florets
1 bag frozen veggies of your choice – I used a "Fajita" mix with bell peppers and onions
1 Tbsp coconut aminos or soy sauce
1 Tbsp lime juice
1 tsp. Chinese five spice mix
1 tsp. cumin
1 tsp. chopped fresh mint
½ cup crushed cashews and ¼ cup fresh chopped basil (optional for topping)
Rice, cauliflower rice, or salad mix to serve
Directions
Brown the ground beef in a skillet over medium-high heat.
Add the broccoli, veggies, coconut aminos, lime juice, five spice mix, cumin, and fresh mint. Stir to combine and cook over medium heat for at least five minutes.
Serve the beef mixture over rice, cauliflower rice, or salad. Top with crushed cashews and fresh basil.