The ketogenic diet is on a roll and there's really no question why it's gained so much momentum. Dubbed the keto diet for short, this low carb, high fat diet supplies the body with a plethora of healthy fats which are used as energy for our body instead of carbohydrates. This way of eating provides a nutritionally dense vegetable and protein base with high fat energy for us to perform our best while maintaining a slim physique. A keto meal in its most simple form combines a protein, paired with a green vegetable (or other low carb veg), and fats. This series of ketonic diet will provide a more inspired approach to these combinations that you can mix and match for a unique ketogenic eating experience.
I tend to eat a lot of eggs for breakfast so mixing up my egg prep repertoire is necessary to keep things interesting. Making a basted egg is very simple with results that are similar to a poached egg but with less hassle and less time. To make a basted egg, simmer it in a shallow pan of water and lightly spoon the hot water overtop the egg until it's cooked to your preferred level of doneness. Pair this with a fiber and nutrient rich sauté of kale and a creamy complement of lemon ricotta for an energizing boost to your morning.
In this quick and easy dish, kale gets a quick sauté just until it's warmed through to be an ideal tangy breakfast or lunch. Adding acidity to sturdy greens, like kale, gives them a refreshing taste to enliven your taste buds. Lemon is known for its health benefits in aiding digestion and boosting metabolism. Using the lemon juice as well as its zest provides a semi-sweet flavor without adding sugar to your meal. Pairing lemon with savory ricotta feels like an exercise in decadence for breakfast but you can also use this pillowy soft lemon ricotta as a simple satisfying dessert, too.
 Basted Egg with Lemon Ricotta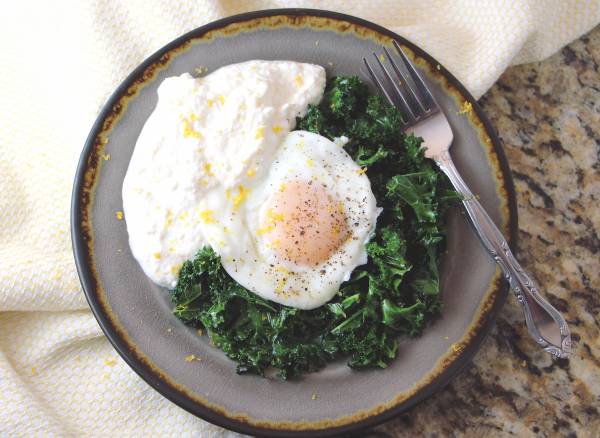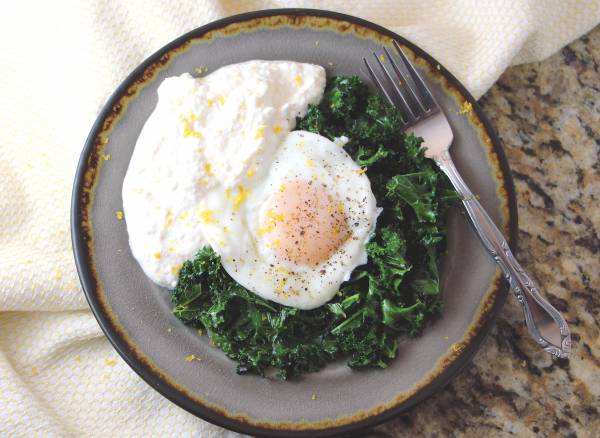 Calories 397, Protein 14g, Total Carbs 7g, Net Carbs 6g, Fat 35g
Prep time: 5 min
Cook time: 10 min
Serves: 1
Ingredients:
¼ cup whole milk ricotta
1 lemon, juiced and zested
2 tablespoons butter or olive oil
2 stems kale, stem removed and leaves chopped
1 egg (or more if you wish)
Salt and pepper to taste
Preparation Instructions:
In a small bowl, stir together the ricotta with 2 tablespoons of the lemon juice and all of the zest.
Spoon ricotta onto a serving plate.
Heat a sauté pan with the butter or olive oil.
Add the kale and cook until it has wilted.
Season with salt, pepper and a few tablespoons of lemon juice to taste.
Remove kale from the pan onto the serving plate with the ricotta.
Carefully add water to the pan about ½" deep and heat to simmering.
Crack the egg into the water and let simmer while gently spooning the hot water over top until it is cooked to your desired doneness.
Lift egg out of the pan with a slotted spoon or fish spatula and place overtop the kale.
Season with salt and pepper as desired.
Download the full keto recipe book.