We all know meal preparation, grocery shopping, and cooking ahead are necessary evils in order to stay on track. They can seem like such overwhelming and time-consuming tasks.
The Job's a Game
I used to loathe the idea of having to spend all that time in the grocery store and kitchen on a perfectly good weekend. But once I realized how much time and money I save during the hectic work week by not stopping at the grocery store every couple days and cooking every night, my perception changed.
Even better, our family of nine has now turned the whole event into a game. We spend our Sunday morning coffee time making the meal plan into a grocery list, itemized by store and department.
"[O]nce I realized how much time and money I save during the hectic work week by not stopping at the grocery store every couple days and cooking every night, my perception changed."
Then we go to the store and do our WOD – "Costco for time." We've learned to weave in and out of the shopping carts pushed by moms with toddlers and local "snowbirds" (seasonal residents) in record time. We are the crazies who go long and throw spiral passes with Kerrygold butter.
Our crazy butter-throwing family
Meal-Prep Sunday
I am absolutely in love with everything about fall, so today's meal-prep Sunday was especially rewarding. Cool days like today are a rarity in south Florida where we live, so we opened the windows, turned on the muted football game (Go Lions! Yeah, I said it. Don't judge me), blared some Dave Matthews on Pandora, unloaded the groceries, and got to business. Chili was started on the stove, and dancing, chopping, sealing, and baking ensued.
Grocery shopping start to final meal in the fridge: 4.5 hours
Memories made: lifetime
Some of the things we did this week:
Baked, chopped, and sealed chicken for stir fry later this week
Prepared homemade fruit and nut bars (like Lara Bars)
Made pico de gallo and tortillas for taco night
Baked gluten-free banana bread muffins for grab-and-go breakfasts
Shredded sweet potatoes
Pre-made chicken salad and deviled eggs for lunches
Baked chocolate chocolate chip cookies for a low-sugar, gluten-free kids desert option
Weekly Meal Plan
Click Here to Download a Copy of the Weekly Meal Plan
Meatball Monday:
Breakfast: Banana muffins with almond butter – I use this recipe, only switch to a muffin pan and cook for 25 min.
Lunch: Adults- leftover chili. Kids – Boar's Head Blazin' Buffalo chicken, carrot and celery sticks with Tessemae's ranch dip, organic sliced apples, and cheese
Dinner: Aidells Meatballs – carmelized onion variety with zucchini noodles ("zoodles," as we call them). You can find a spiralizer to make zoodles here. I guess you could say this is cheating, but a huge box of meatballs that will feed my huge family is only $13.39 at my Costco, and the ingredients are pretty great. We get two boxes to ensure leftovers. The entire meal was less than $30.00, which inclues tomorrow's lunch.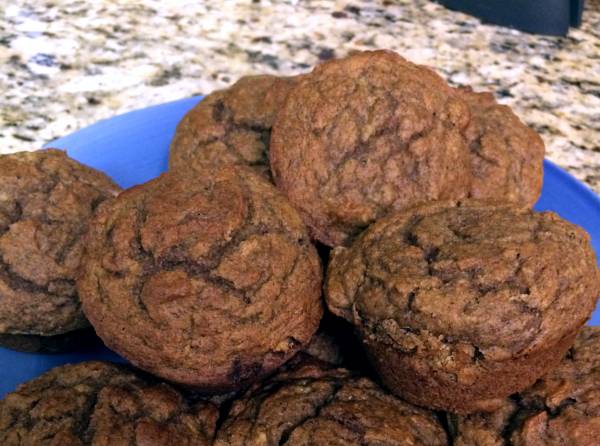 Banana nut muffins
Taco Tuesday:
Breakfast: Deviled eggs and homemade fruit and nut bars – there are so many varieties, you could make these bars for weeks!
Lunch: Leftover meatballs, sliced apples, small salad
Dinner: Soft tacos on homemade tortillas (holy moly, these are amazing) with pre-made pico de gallo
Wacky Wednesday:
Wednesdays are a madhouse due to extracurricular and church activities.
Breakfast: Sweet potato hash with scrambled eggs
Lunch: Chicken salad stuffed bell peppers and grapes
Dinner: Crockpot beef roast with small red potatoes, onions, and carrots. (Hooray for crockpots on crazy days!)
Thai Thursday:
Breakfast: NO-Oat oatmeal and bacon
Lunch: Leftover beef roast and mixed veggies, side of grapes
Dinner: Coconut curried chicken stir fry (with chicken pre-cooked and refrigerated Sunday)
Freaky Fingers Friday:
Breakfast: Kids' choice. Egg cooked to order, fruit and nut bars, banana
Lunch: Lettuce wraps with buffalo chicken and cheese, celery and apples with almond butter
Dinner: Chicken fingers coated with egg and almond meal, roasted sweet potato spears
Saturday
Breakfast: Banana pancakes and bacon
Lunch: Leftovers and kids' choice
Dinner: Burgers on the grill
Sunday:
Brunch: Sweet potato sausage hash topped with fried egg
The rest of the day, we eat up all the leftovers and clean the fridge out for oncoming week.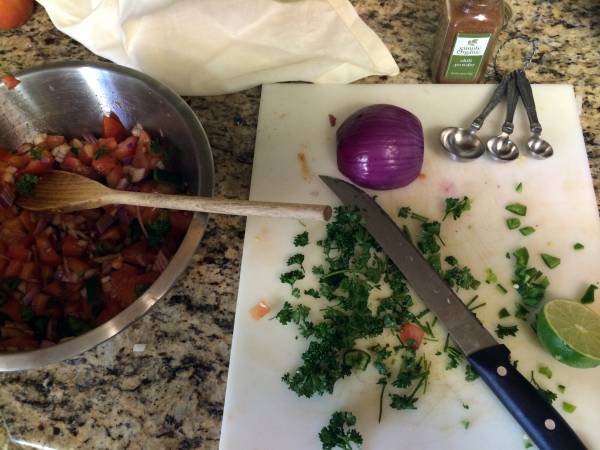 Homemade pico de gallo
Weekly Grocery List
Click Here to Download a Copy of the Weekly Grocery List
Staples: 
Coconut flour
Almond meal (can be made by crushing almonds in a food processor)
Arrowroot powder
Cinnamon, ginger, nutmeg
Vanilla
Coconut oil
Chili powder
Flaxseed
Almond butter
Organic, grassfed butter
Coconut milk- full fat, in can, preferably only coconut and water, no guar gum/fillers/preservatives
Meat: 
Large packs of Aidells Meatballs – flavor of choice
Nitrate free/filler free/gluten free lunchmeats such as Boar's Head or Applegate
Grassfed ground beef (we would use 4lb)
Free range organic chicken breasts
One beef rump roast (or two if you're a family of nine)
Breakfast sausage
Produce:
Carrots
Celery
Zucchini
Romaine lettuce
Bell peppers (we prefer red)
Tomatoes for pico de gallo
Poblano pepper
One jalapeno
One red onion
White onion
Sweet potatoes
Small red potatoes
Frozen organic stir-fry veggies
Organic apples
Medjool dates
Organic grapes or seasonal fruit of choice
Almonds/pecans/walnuts
Other:
Eggs
Cheese
Tessemae's ranch dressing (or make your own)
Pick your day of the week, print this list, get your music going, and chop and boogey your way to a super productive week. Bon Apetit!