We have had some warm days recently and it's been great to get out for some longer rides on the bike. Which brings me to the subject of nutrition and energy bars.
This week I am sharing with you a recipe for homemade energy bars that's easy to make and can be customized to your favorite tastes. This recipe includes nuts, so if that is an issue for you, dried banana chips or different seeds, such as linseed, could be used as substitutes.
Homemade Energy Bars
Typical Nutrition for This Recipe (Makes Twelve Portions):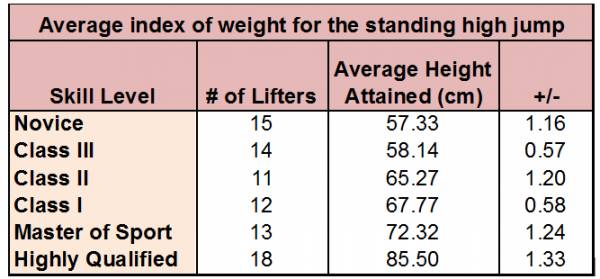 *I used dried cranberries in this batch.
Ingredients:
In addition to the ingredients listed above, there is a place in the recipe (*) for you to add favorite or seasonal flavor. For example, I sometimes use dried or strawberries or blueberries in summer and ginger or figs in winter. Carrot or even beetroot might make an interesting variation for a slightly savory variation, too.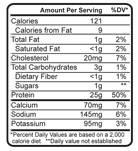 Directions:
Preheat your oven to 190°C/374° (Gas 5) and line a 20cm round (or square) baking tin with greaseproof baking paper and thinly grease the inside of it.
In a large saucepan, melt the butter, honey, and sugar together on a low heat, stirring until dissolved. Then bring it to the boil and cook for two minutes so that the sugar caramelizes, making it a sticky sauce. You can check this by allowing a drop of the mixture to cool on a cold plate and check the stickiness. Do not boil the sugar too much or you will end up with a hard crunchy bar. In wintertime this can be a real problem, so I find it best to err on the slightly softer side.
Add the oats and mix well, while still warm, and add all of the other fruits, nuts, and seeds. Give this a really good mix.
Tip the mixture into the greased and lined cake tin and press down firmly with the back of a cold metal spoon. Make sure that the thickness is even and the mixture is pressed into the sides and corners well.
Place in the middle of the preheated oven and cook for 15-20 minutes until set. If it starts to burn, cover with foil. Again, it is best to err on the shorter side and have a chewy bar rather than hard crunchy one.
Once ready, take out of the oven and leave to cool in the tin for about 15 minutes, until still slightly warm and soft.
Using a metal knife or spatula dipped in cold water, mark out on the surface where you are going to cut up the slab. Then allow to completely cool.
Turn out on a chopping board and cut the pieces from the slab. I find using a bread knife with a slight sawing action works best.
Wrap each piece in a fold of greaseproof paper and take a few on your next long ride.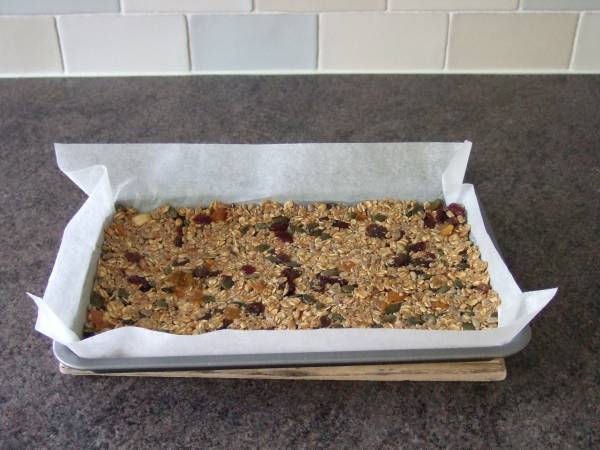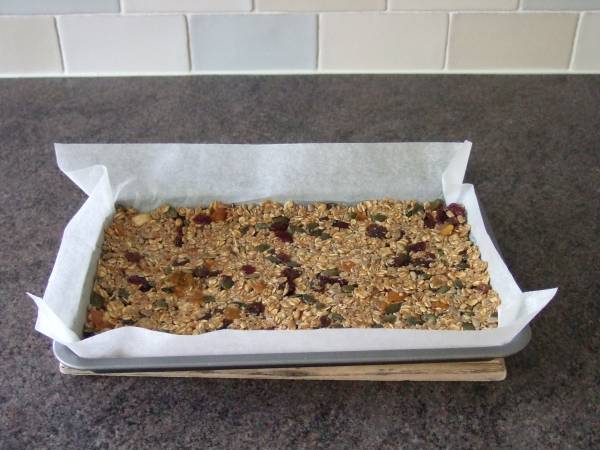 You may need to tweak the cooking times and temperatures depending upon the wetness of your ingredients and oven characteristics. The aim is to have a bar that is solid enough to stay together and does not crumble, yet not so hard that you cannot bite pieces off.
Each piece contains about one hundred calories of sugars, so you may wish to have two bars every hour if you are doing a long ride. The bars also contain fiber that will help moderate the rate of energy release, fats to help longer-term energy provision, and a small amount of protein.
References:
1. Calorie Count. Nutritional information. Accessed on 17 June, 2014.