It's the start of week three of training and our trainee, "Dave," feels great. He's noticing the work he put in during week one and week two has done a lot, not only for his conditioning, but for his mood and overall outlook on life as well. Who knew?!
This week Eric and I are going to push him just a tad further to get him ready for next Monday's trip to the mountains. Our training this week will be focused more on simulating his runs down the slopes and should leave him ready to tear things up next week.
Since Dave is going to a ski resort and not a back country trip, we're banking on the fact that his actual ski runs will only be about 5 – 10 minutes, with breaks while the gondola takes him back up the mountain.
Here is what his week is going to look like:
WEEK THREE
Monday:
3 Rounds For Time (4 Minutes Rest In Between Rounds):
30 Push Ups
50 Mountain Climbers
30 Second Side Plank (Left)
30 Second Side Plank (Right)
50 Squats
Since there is a long rest between rounds, these exercises are to be done at sprint speed.
To perform a mountain climber start in the plank position. Alternating legs, step your foot as close to your hands as possible. Left + right = 1 rep.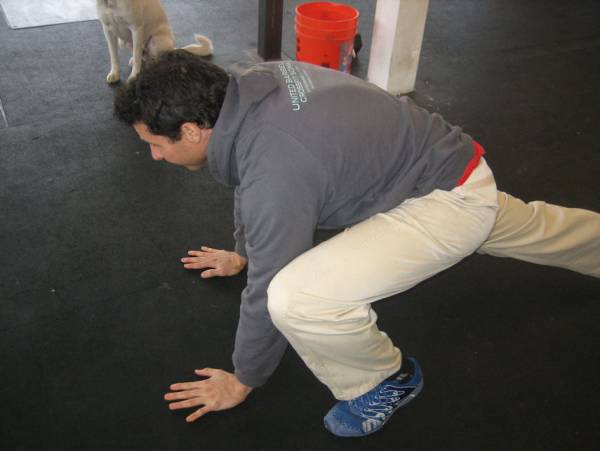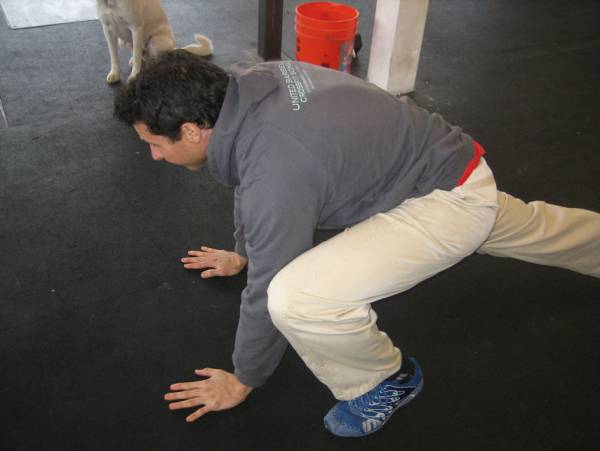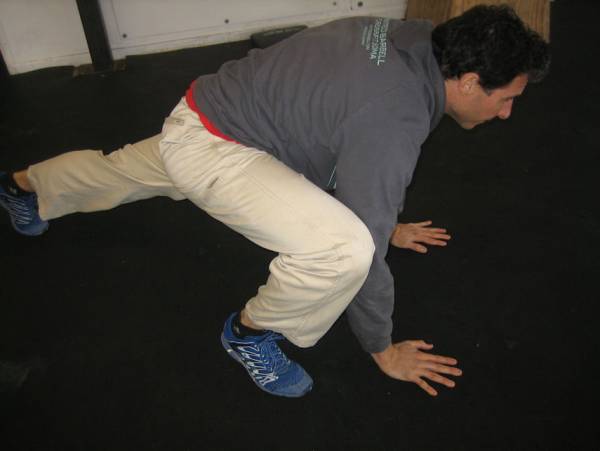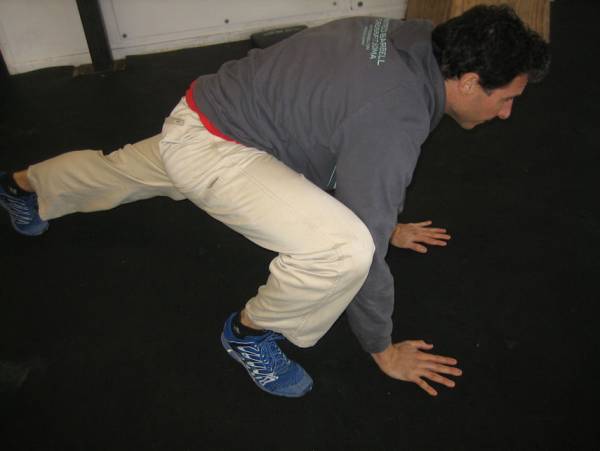 Tuesday:
Rest Day
Wednesday:
2 Times Through:
1 Mile Run asTabata Intervals (20 Seconds at 90%, 10 Seconds at 60%)
5 Minutes Rest
2 Minutes of Max Squats
5 Minutes of Rest
Tabata intervals split a workout into 20-second intervals of work followed by 10-second intervals of rest and can be applied to any movement. In this case we are applying the Tabata aspect to the amount of effort Dave is expending on his runs.
Thursday:
Rest Day
Friday:
5 Rounds:
1 Minute Max Speed Skaters
30sec V-Hold
2 min rest
See week one for a description and photographs of Speed Skaters.
V-Hold is as is pictured below: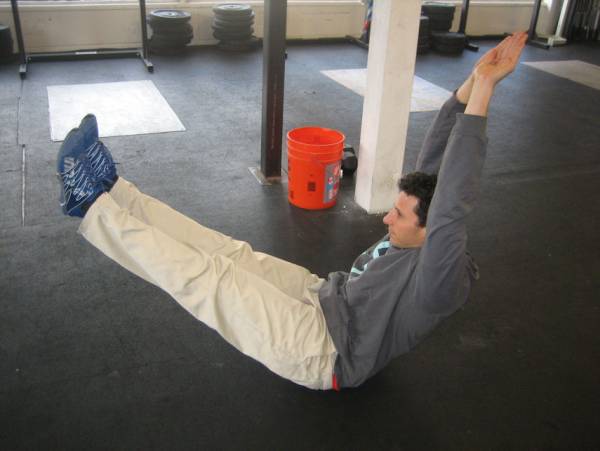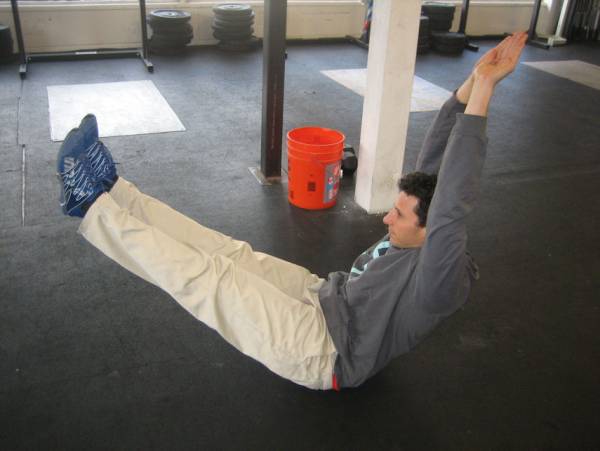 Saturday:
15 Minute AMRAP (As Many Rounds As Possible)
10 Lateral Burpee Box Jumps
10 Lunges
10 Medicine Ball V-Twists (Left & Right combined = 1 Twist)
See week one for a description and photographs of V-Twists.
Lateral Burpee Box Jumps are done in the sequence pictured below – begin on one side of the box as normal, getting down into your pushup position, then jump up to your feet, jump sideways onto the box, sideways off the other side of the box and back down into the plank position.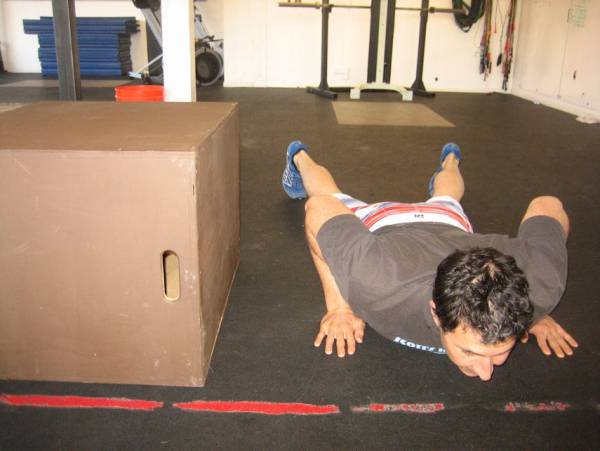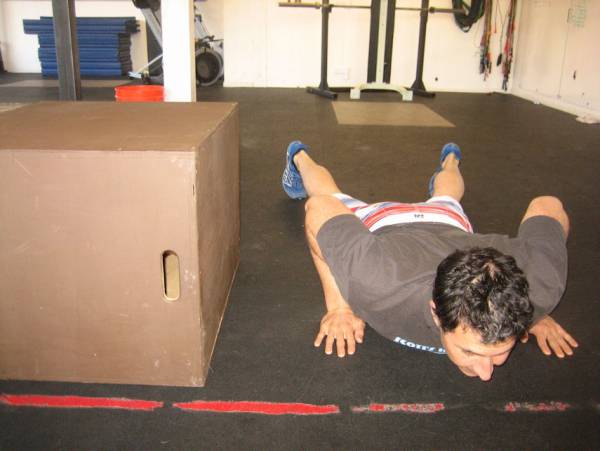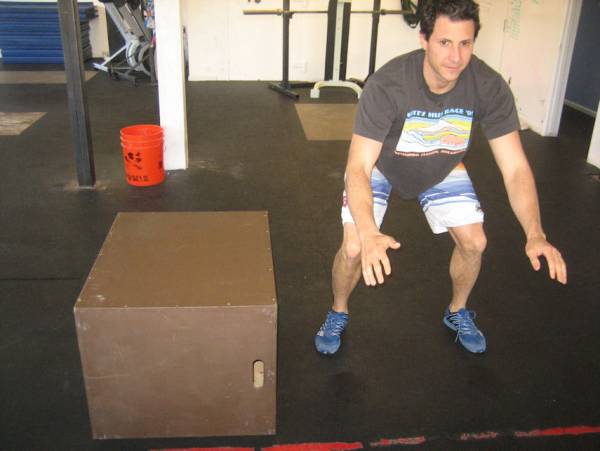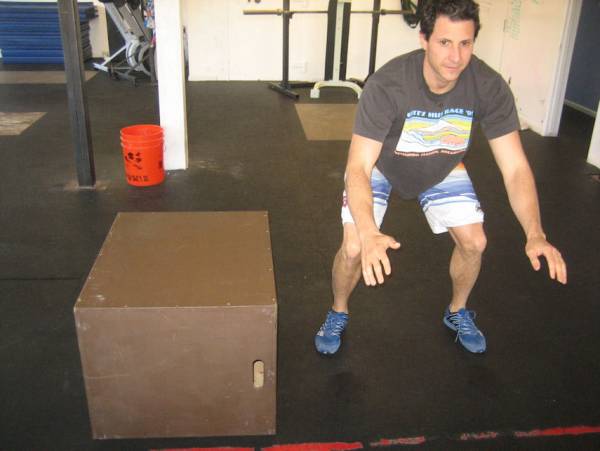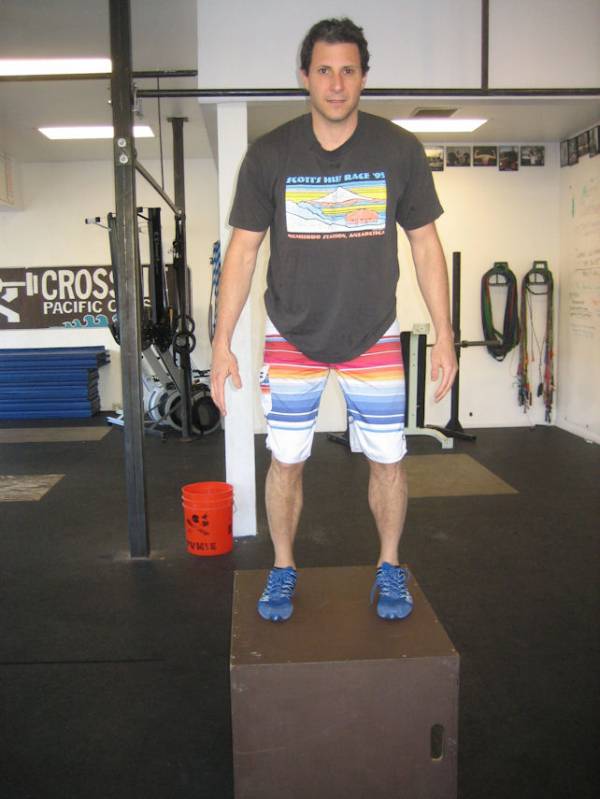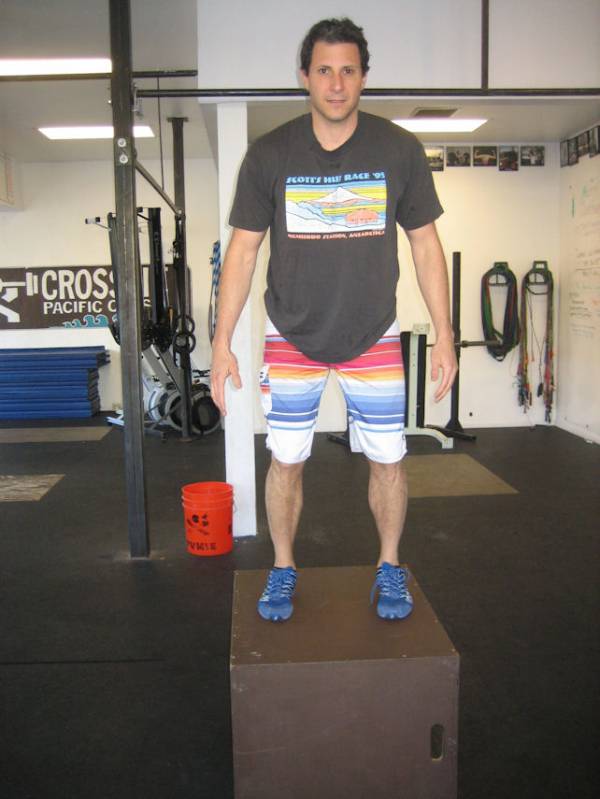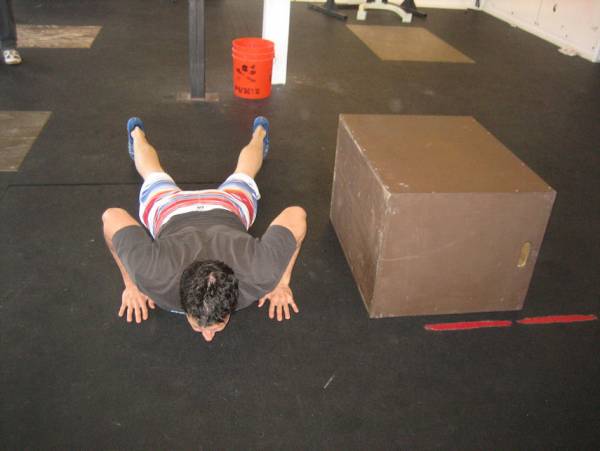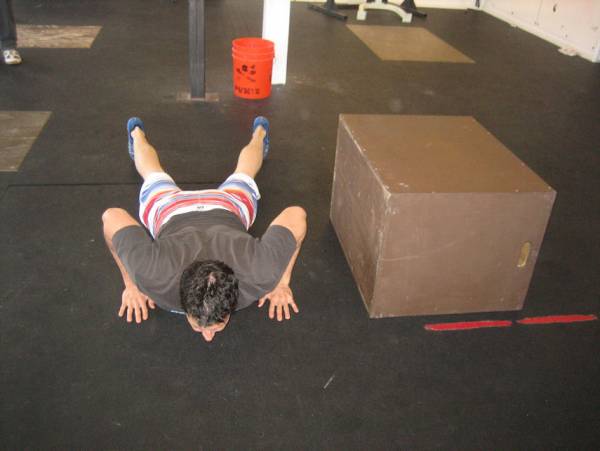 Mobility:
Couch Stretch – 4 Minutes each leg.
Couch Stretch is as is pictured below. Get your knee as close to the wall as possible. Keep your back straight and tall – do not let your lower back arch excessively. Try to maintain a "hollow" position by keeping your belly tight and tailbone tucked under. You should feel this stretch in your hip flexors and quadriceps. Use a mat or towel to cushion your knee.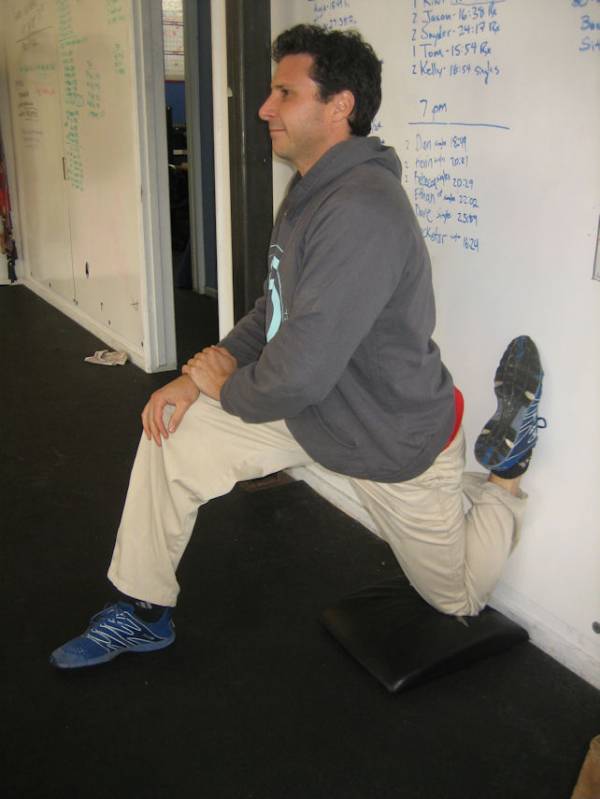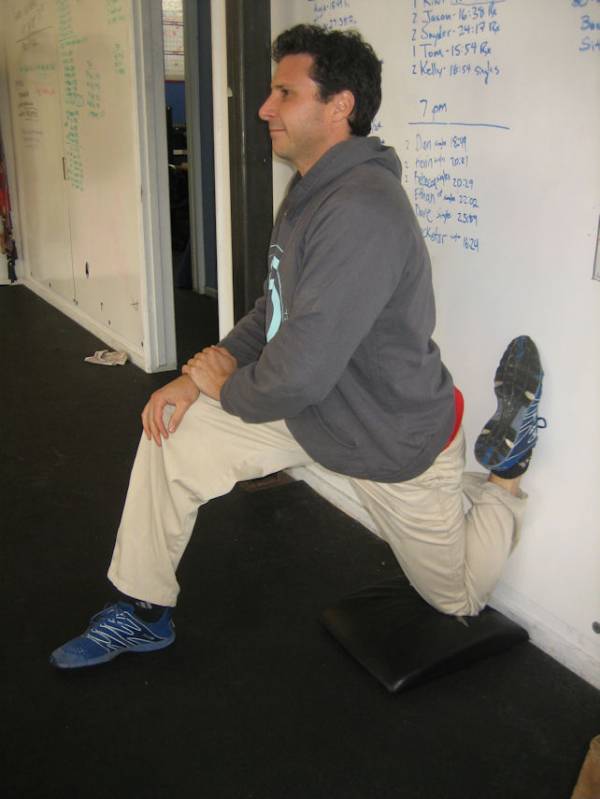 This should give Dave a solid foundation for his ski trip. We've strengthened his legs considerably, and worked on his abdominal and oblique muscles as well as his low back. All in all Dave should be facing his trip in a much healthier manner: his recovery time has been increased, his chances of getting an injury are significantly lower and most importantly, he should have one heck of a good time.
If you missed out, here are weeks one and two of our 3 Weeks to Ski program:
3 Weeks to Ski: Week 1 – From Couch To Potato to the Slopes in 3 Weeks
3 Weeks to Ski: Week 2 – Almost Ready for the Slopes
Did you try these workouts? How was your ski trip? Leave your thoughts in the comments below.