There was a time when Lindsey Valenzuela was not a household name in the world of functional fitness. Now, she dominates both CrossFit and the NPFL (not to mention the world of weightlifting where she snatches 200lbs). But in 2011, she was simply "one to watch."
In 2014 dozens of athletes are emerging as ones to watch, prepared to make their mark in the sports of CrossFit, the National Pro Fitness League, or both. These five athletes represent my prediction for future stars of functional fitness.
Emily Pale
Snatch: 180lbs
Consecutive Muscle Ups: 13
A trainer at CrossFit Explode in West Chester, Pennsylvania, Emily is taking both CrossFit and the NPFL by storm. Her team, CrossFit Explode, came in first in the mid-Atlantic regionals and has their eye on a podium finish at this year's CrossFit Games. On the NPFL side, she earned a spot in the final combine match in Las Vegas where a win would have guaranteed a contract. Although her team lost by a fraction of a second, there is little doubt that Emily will be drafted by an NPFL team in July's draft.
Two things are striking about Emily – her athleticism and her personality. Catch a glimpse of her here at 53 seconds. She was all smiles and constantly engaging even after three days of grueling competition.
Emily is as comfortable with a barbell as she is on the gymnastics side, but her coaches in the NPFL combine clearly recognized her bodyweight wizardry and used it to their advantage. She lives in West Chester with her two dogs, Moxen and Sully.
Andrew Rape
Snatch: 255lbs
Consecutive Muscle Ups: 19
Front Squat: 435lbs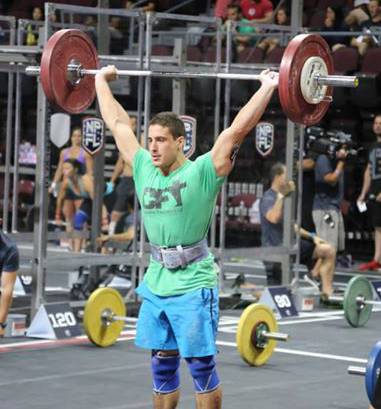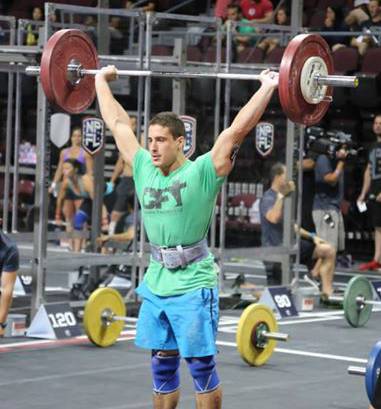 Andrew Rape stormed the castle at the NPFL Vegas Combine this year. At 5'11, 215lbs, Andrew was poised to be the strongman, anchoring his respective teams by moving heavy weight quickly. He surprised the crowd and his teammates (but not himself) when he completed the first backward roll to support in the final competition in Vegas, showing off gymnastics prowess typical of a much smaller athlete.
Owner of CrossFit Trussville in Trussville, Alabama, Andrew finished thirteenth in his regional in the 2012 CrossFit Games season, so he has had his eye on advancing his competitive career for a while now. At the NPFL Vegas combine, he dominated nearly every event in which he participated.
Andrew secured a guaranteed contract with an NPFL team to be named soon, so standby to watch him name a name for himself in the league. He lives in Trussville, Alabama with his new bride, Candace.
Abby Graham
Snatch: 175lbs
Consecutive Muscle Ups: 10
Front Squat: 240lbs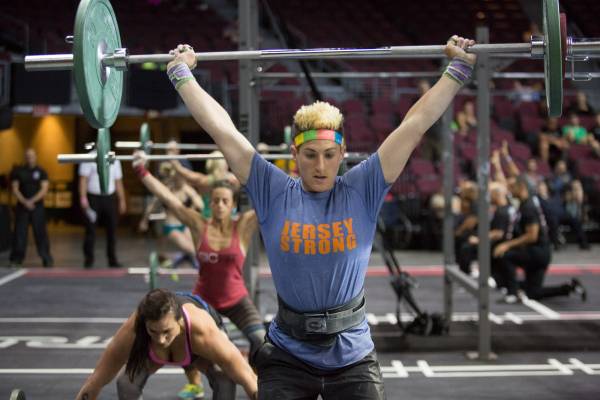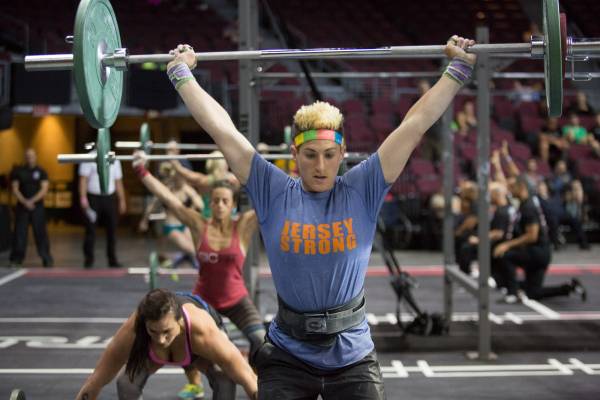 One only needs to skim Abby Graham's 2014 CrossFit Open scores to see where she shines. Yes, she scored 353 on 14.1, but her real strength was tapped in 14.3, the deadlift box jump workout, where she hit 175 reps – good for sixth in her region and 59th worldwide.
As an NPFL hopeful during the combine, she continued to make each day's cut and made the final team, frequently being referred to in the broadcast booth as the MVP. Whenever her team needed a clutch player, Abby was there. While teammates busted through pull ups, Abby would casually walk to the end of the grid where the heavy weights were, and wait for the signal to finish the job, which she always did.
A member of CrossFit 1Force's regionals team (which took sixth and seventeenth places in the Northeast in '13 and '14 respectively), Abby's athleticism is rooted in her years as a college soccer player. Her ability to catapult her CrossFit teams to solid finishes at the regional level will translate well into teamwork in the NPFL. Abby lives in West Deptfort, New Jersey with her girlfriend and two dogs, Duke and Rambo.
Tina Angelotti
Snatch: 165
Consecutive Muscle Ups: 12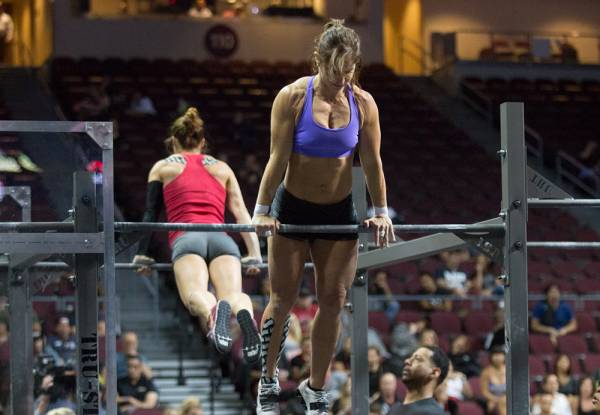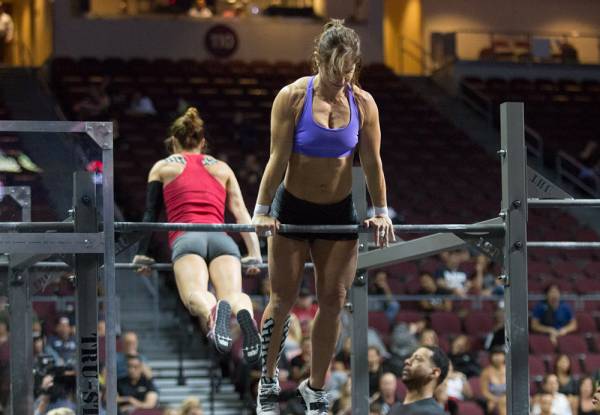 Tina Angelotti is like a grenade. On the outside a compact, unassuming package but once the pin is pulled, she explodes and the shock wave levels everything in her path. As a plus-forty athlete in the Las Vegas NPFL combine, she made all of the cuts, all the way down to the finals where she competed for a guaranteed contract.
Tina showed her skill in the gymnastics portions of the races, trading off bar muscle ups with Bjork Odinsdottir and banging out handstand pushups with tremendous ease – and all of this coming after having given birth to her daughter Maddie just eight months prior. Tina coaches at West LA CrossFit and DogTown CrossFit, both in the Los Angeles area, and provides gymnastics coaching for names like Becca Voigt, Lindsey Valenzuela, and more.
Look for Tina to be drafted in some of the earlier rounds in the NPFL July Draft. Her ability and athleticism will elevate any team that is in need of a gymnast, irrespective of being forty.
Nick DelGrande
Consecutive Muscle Ups: 21
Front Squat: 240lbs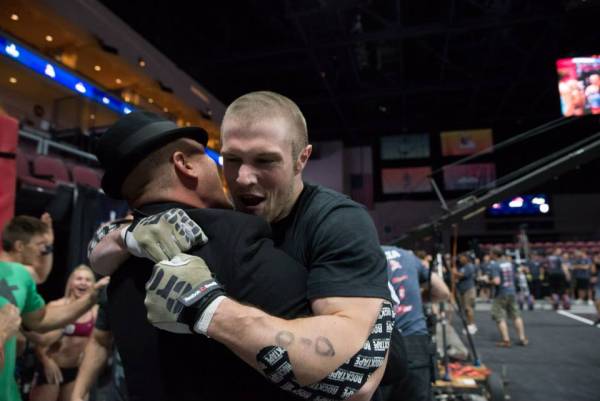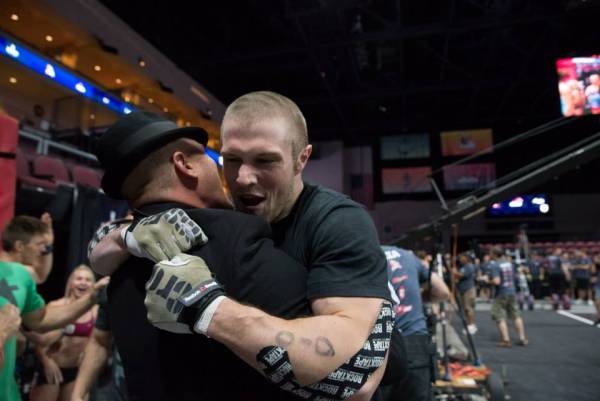 22-year-old Nick DelGrande has already achieved what most CrossFitters dream of – consecutive spots at Northeast regionals, where he placed 23rd in 2012, thirteenth in 2013, and twelfth in 2014. Not one to settle, Nick has his sights set squarely on the Northeast podium and the CrossFit Games.
At the same time, Nick made a huge impact at the NPFL Vegas combine, where he was the final athlete in the final match upon whose shoulders it squarely rested to get his team a win. In what was one of the most exciting finishes in sports, Nick busted out 25 thrusters at 100lbs in record fashion and brought home the win, thus assuring his teammates each a contract for an NPFL team.
Nick proved himself a solid utility player – handing heavy snatches with the same ease as he handled muscle ups and the other gymnastics movements. Where some gridders were focused on specialty moves, Nick was everywhere, helping carry each of his teams to victory.
Without a doubt you'll see Nick on the NPFL grid this fall, and keep an eye out for him in Carson in the future.
Photos 1,3,4,5 courtesy of the NPFL.
Photo 2 courtesy of Candace Brooke Photography.