We receive free products and receive commissions through our links. See
disclosures page
.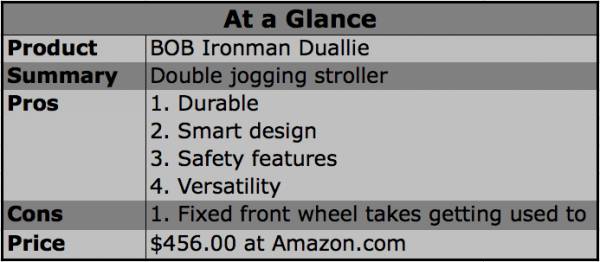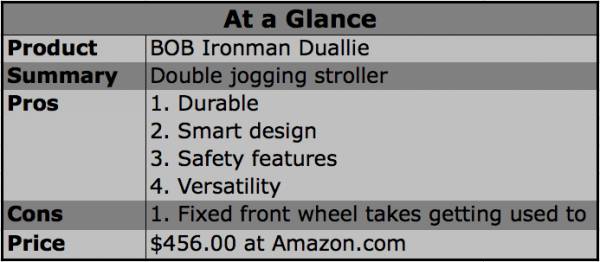 For a long time I didn't think I needed a jogging stroller. It seemed overly indulgent and unnecessary. Then one day I woke up to find myself with three small children, and my opinion quickly changed.
But I didn't want just any jogging stroller. The right one would fit the following criteria:
Versatility: Something I could use anywhere – on trails, at the zoo, in my subdivision – and at any speed, from slow walks to fast-paced downhill runs.
Two Seats: I needed a double stroller because I work from home with a one-year-old and four-year-old.
Idiotproof: I have a history of breaking vacuum cleaners and putting together baby items the wrong way. I needed a stroller I could unfold and fold up without providing a comedy act in the Target parking lot.
Good Value: I was going to say "affordability," but let's just face it: a good jogging stroller will require a decent initial investment. What's important is whether or not it's worth the money.
The BOB Ironman Duallie
Recently, BOB strollers let me try out their Ironman Duallie. It exceeded my expectations and easily converted my stroller skepticism. I use it almost every day, and my life is better because of it.
That sounds dramatic, I know. But it's true. If you have young children and are home with them, you know how claustrophobic the house can get. And hopping in the car isn't much of a relief.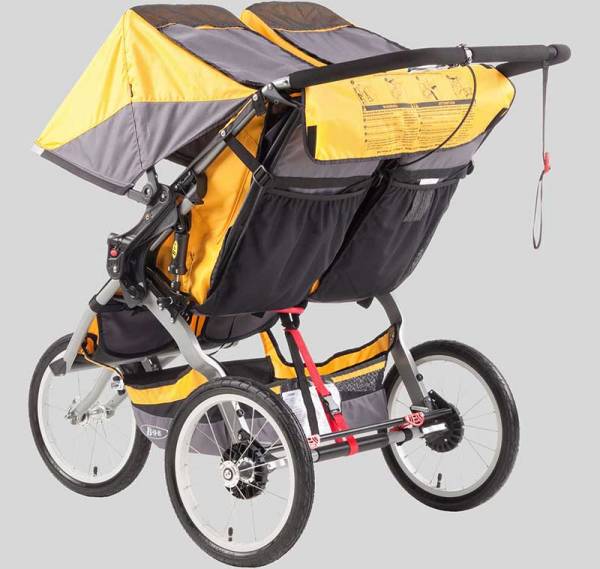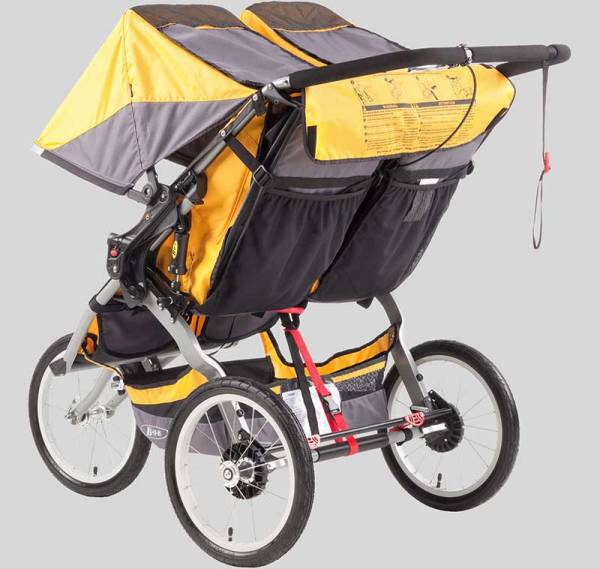 There are a lot of different jogging strollers out there, but I recommend this one if you're looking for something tough and durable. The Ironman Duallie goes the extra mile in the following ways:
Design: This stroller is a beast. There's a reason it's the official stroller of the Ironman triathlons. But it's also lightweight. My husband and I took it on a long hike and managed to lift it over several tree branches that were blocking the path, as well as carry it up several steep inclines (this was not a good path for a jogging stroller). It's also a smooth ride. The suspension system is amazing and works equally well on pavement and rugged trails.
Thoughtful Features: There were several times I found myself commenting on how thoughtful many of the features were. Some that come to mind: the cup holders in the seats, the comfortable handle, easily adjustable seats, the canopy window that allows you to see your kids, and the ample storage space on the bottom.
Ease of Transport and Care: This stroller is big, but it folds down easily and only weighs 34lb. That's not bad considering it can carry up to 100lb. It wipes down easily with a wet towel and the material repels water well, so if it starts raining you don't have to worry about the kids sitting in pools of water.
Safety: When you're running downhill at a steep incline and your kids are screaming in delight and excitement, it's a fun moment. But you also want to be confident they won't fall out of their seats. The five-point padded safety harnesses are easy to adjust to keep your kids safe and prevent excess wiggling during potentially dangerous moments. I also appreciated the quality of the hand brakes and the parking brake.
Downsides
I couldn't think of any downsides for this stroller, except that if you're not used to a fixed front wheel, it might take some practice.
The wheel doesn't have a swivel option, which means it's not the stroller to take into a small grocery store.
But when you're using the stroller the way it's intended to be used, you'll be thankful for the fixed wheel since it provides a lot of control.
"I probably run and hike twice as much as I used to since I got this stroller. So you're not only investing in the stroller, but also in your own wellbeing."
If you're new to jogging strollers, the price point might seem high. But if you run a lot, it's totally worth the money.
I probably run and hike twice as much as I used to since I got this stroller. So you're not only investing in the stroller, but also in your own wellbeing. And as you can see in the photo below, the kids love it, too.
If you only need a stroller for walks and social activities, this isn't the most appropriate option. But if you want a double stroller to use for running and trails, look no further.
The BOB Ironman Duallie is available for $456.00 at Amazon.com.
You'll Also Enjoy: