Thanksgiving is a beautiful time to get together with family and friends, express gratitude for everything we have in our lives – and overeat.
As athletes, we generally eat to improve performance in our sport. But when the Thanksgiving holiday rolls around, all of a sudden eating becomes our sport. Mom's delicious roasted turkey calls out to you, grandma's pumpkin pie fills the room with that haunting aroma, and candied yams and butter-soaked green beans turn into your only viable options for vegetables.
Holiday Ingredients to Fuel Performance
These three healthier Thanksgiving dish options are geared toward the athlete. Each dish is gluten-free and has no refined sugar (only natural sugars). The ingredients are fresh, in-season, and high in vitamins. The higher protein content keeps you fuller longer and the perfect blend of carbohydrates, proteins, and fats keeps you right on track with your macros. The recipes create a complete three-course meal and will not leave you craving more. You'll be ready for a workout by Friday morning without the turkey hangover.
These notable ingredients make these recipes stand out for athletes:
Butternut squash: This winter squash is high in fiber and packed with vitamins (457 percent Daily Value of Vitamin A!). It provides a good serving of carbs without the heavy glycemic load of other Thanksgiving dinner options. The carbohydrates will help to fuel your post-turkey day workout, and the high levels of potassium will reduce post-workout muscle cramps and dehydration.
Grapeseed oil: Used as an alternative to olive oil, grapeseed oil provides polyunsaturated fat (the good stuff) and omega-6 fatty acids to your daily macronutrient count. This oil is almost tasteless, so will not affect the flavors of the dish.
Pepitas/Pumpkin seeds: These seeds are filled with the mineral magnesium, which plays an essential role in ATP production and is essential to hundreds of chemical processes in the body. During strenuous exercise, energy is used and needs to be replenished. Intake of magnesium allows the body to generate and release the proper amount of energy needed for the athlete's best performance.
Festive Fall Butternut Squash Salad
Yield: 5-6 servings
Prep time: 10 minutes
Cook time: 25-30 minutes
Ingredients:
Butternut Squash:
1 bag of chopped butternut squash (I like to get the pre-cut butternut squash at Trader Joe's) OR
1 whole butternut squash, peeled, chopped in 1-inch cubes
2 Tablespoons grapeseed oil
1 teaspoon garlic powder
Salt and pepper to taste
Salad:
1 bag Trader Joe's Power Greens (or your favorite salad greens mixture)
2oz dried cranberries
3 Tablespoons roasted and salted pepitas (pumpkin seeds)
3 large carrots, chopped
¼ cup chopped green onions
3 Tablespoons crumbled goat cheese (or feta cheese)
Method:
Butternut Squash:
Preheat oven to 400 degrees Fahrenheit.
Line a large baking sheet with tin foil.
In a large bowl, place chopped butternut squash, grapeseed oil, garlic powder, salt, and pepper. Mix until squash is evenly coated.
Pour contents of bowl onto lined baking sheet. Spread evenly into one layer.
Bake for 25-30 minutes or until squash is fork tender.
Remove and let cool.
Salad:
In a large bowl, combine greens, cranberries, pepitas, carrots, green onion, and goat cheese. Mix ingredients.
Pour cooled butternut squash over salad mixture and toss.
Apple Sausage Acorn Squash Dressing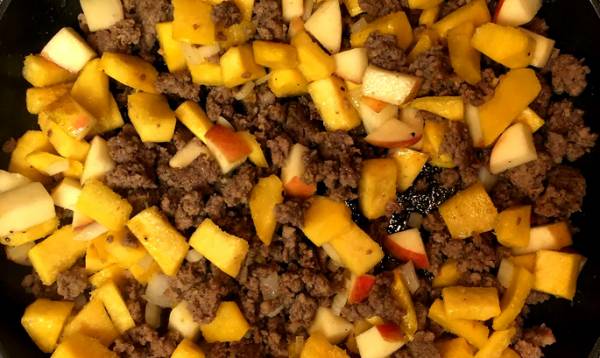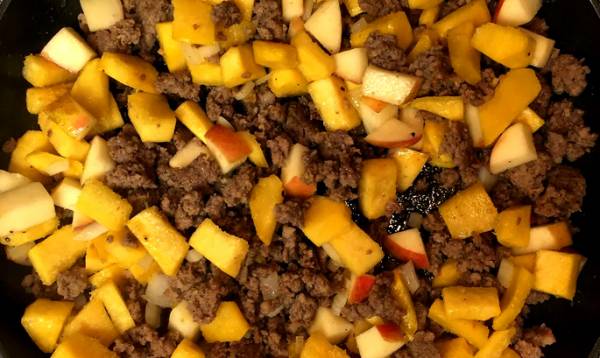 Yield: 6-8 servings
Prep: 10 minutes
Cook time: 10 minutes
Ingredients:
1 16oz package of all-natural pork sausage (optional to substitute with ground turkey)
1 large honeycrisp apple, chopped in ½-inch cubes
½ cup chopped sweet onion
1 acorn squash, chopped in 1-inch cubes
2 Tablespoons grapeseed oil
½ teaspoon garlic powder
Salt and pepper to taste
Method:
Squash:
Preheat oven to 400 degrees Fahrenheit. Line baking sheet with foil.
In a bowl, combine squash cubes, grapeseed oil, garlic powder, and salt and pepper. Mix until squash is evenly coated with oil and seasoning.
Place squash evenly on baking sheet in one layer.
Bake at 400 degrees for 20-25 minutes, turning squash occasionally. Squash should be fork tender and slightly browned around edges.
Remove from oven and set aside.
Dressing:
In a large pan, cook sausage on medium heat until browned.
Add onion, apple, and acorn squash and stir to evenly distribute ingredients.
Bring stove to low heat and gently stir ingredients for 3-5 minutes until onions become slightly translucent.
Remove from heat and cover with foil. Let the mixture sit for 5-10 minutes to let flavors mix.
Serve as a side to turkey, green beans, and salad for a complete Thanksgiving dinner.
 Pecan Pie "Ice Cream"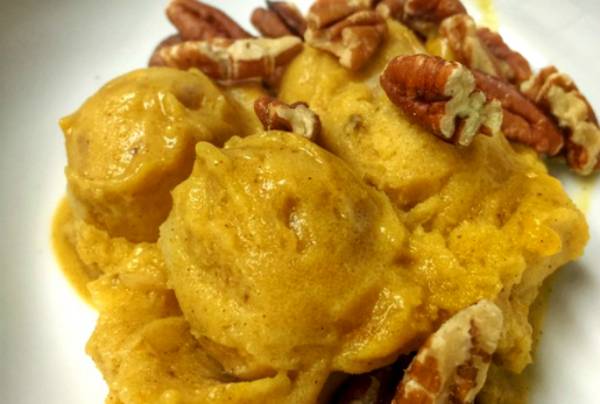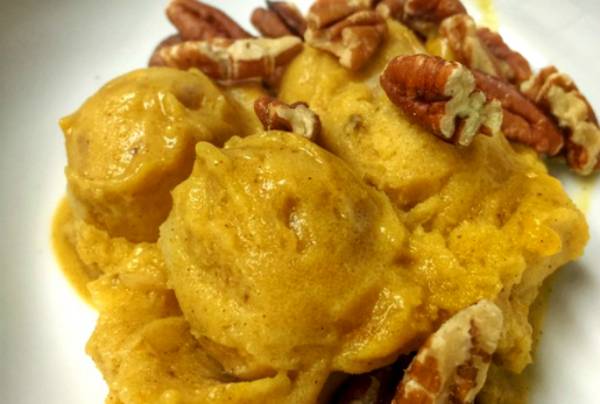 Yield: 3-4 servings
Cook time: 3 minutes
Ingredients:
3-4 large frozen bananas
1 Tablespoon pumpkin spice seasoning (I use Trader Joe's)
1 Tablespoon honey
2 Tablespoons pumpkin puree (feel free to add more for extra pumpkin flavor!)
Method:
In a food processor or blender, combine all ingredients. Blend until smooth.
Serve immediately with pecans or leave in the freezer if you would like to enjoy later.
You'll Also Enjoy:
New on Breaking Muscle Today
Photos courtesy of Kristina Goldman.
Teaser photo courtesy of Shutterstock.