Eggs are one of the healthiest proteins on the planet. They are easy to make and super portable when cooked. If you are an athlete following a paleo lifestyle, eggs are probably a huge part of your diet. It's not uncommon for paleo athletes to average three dozen eggs per week per household of two adults.
Quick, nutritious, one-pan recipes are key for any athlete when cooking. Being 100 percent Italian, I grew up eating a classic Italian dish that meets all three criteria: frittatas. My maternal grandmother was the queen of the cast iron frittata, and I have always loved this dish. She made them in a hot heirloom cast iron pan filled with a bounty of different veggies, meats, and the fluffiest eggs that would melt in your mouth.
Any combination of leftover vegetables can be turned into a delicious frittata.
Eggs Aren't Just for Breakfast
Most of us limit our egg consumption to hot in the morning and hard-boiled any other time of day. There's nothing wrong with this, but whoever said eggs are limited to daytime eating only? I was raised differently. In my family, eggs have always been an elegant dinner menu item.
Over the last few years I have had non-breakfast gatherings where a frittata was the main event. Each time people were surprised this dish could hold a place of honor beyond the breakfast plate.
Beyond their flavor and versatility, frittatas are simple to make. Just grab your eggs and whatever ingredients you have on hand to create a nutritious masterpiece. This method is great for decreasing waste in your household. You will be surprised at what a delicious meal you can create by combining random flavors.
What follows isn't so much a set recipe as a strategy. Be flexible with your frittata creations. Design and create a mixture of herbs, veggies, and fruits to make your perfect meal. Add a side salad for a rainbow packed with protein.
Here are some preparation tips and ideas for ingredients:
No-Fuss Personalized Frittata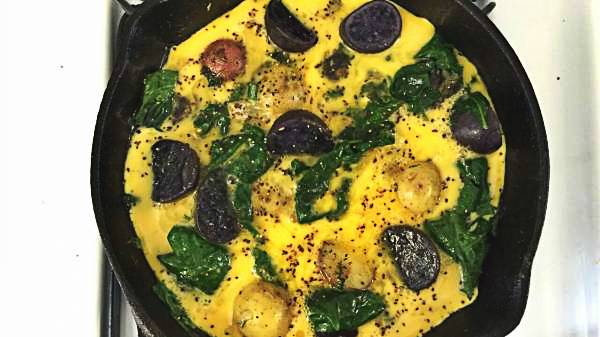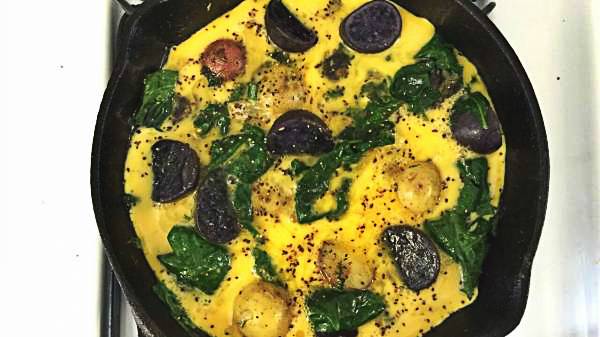 Yield: Serves 1 to 2
Ingredients:
3 pasture-raised eggs
⅓ cup coconut milk
Recommended veggies: zucchini, onion, cherry tomato, asparagus, heirloom potatoes
Recommended herb: rosemary, basil, tarragon
Recommended oils: bacon fat, ghee, coconut oil
Method:
Add eggs and coconut milk to a bowl and whisk for about 1 minute.
Preheat oven to broil.
Heat a small single-sized pan, preferably cast iron.
Add oil once the pan is heated to medium and add desired veggies, cooking for about 7 minutes. Turn several times to assure even cooking.
Add eggs and cover with lid. Set timer for 5 minutes.
After 5 minutes, place pan in oven uncovered with timer set for 3 minutes.
Check dish after 3 minutes and continue this until cooked to desired doneness.
Let frittata sit for a few minutes and then slice like a pie and serve. A side salad and/or fruit make a complete meal.
If no broiler is available, you can do this on the stove top. Just cook the frittata for a bit longer covered with a lid. Or if you're feeling brave, give it a flip to lightly brown the top.
You'll Also Enjoy:
New on Breaking Muscle Right Now
Photos courtesy of V. Capaldi.