Did you celebrate National Donut Day on June 5? I know I did!
I practice flexible dieting, and in honor of this wonderful holiday, I decided I would most definitely be fitting a donut into my macros. So, I went to the Dunkin Donuts online nutritional calculator to see what I would be working with. I was craving a donut with some kind of peanut butter flavor when I spotted the peanut butter creme donut.
I was not surprised to see that the macros were crazy for one measly donut. One donut had 320 calories, 19g fat, 36g carbs, and 3g protein. I was not about to try to fit that nonsense into my macros, so I decided to make my own version.


The nutrition info for the Dunkin' Donuts version.
I call the result Vanilla Peanut Butter Protein Donuts, and here's the nutritional info.
Macros for one donut:
95 calories
2.5g fat
9.5g carbs
9.25g protein
Not too shabby! Especially when you look at the whole batch that this recipe makes.
Macros for all eight donuts:
765 calories
20g fat
76g carbs
74 protein
So, you could eat eight donuts for the same amount of calories as two of those donuts from Dunkin. That sounds great to me! Okay, so how do you make these beautiful bad boys?
Vanilla Peanut Butter Protein Donuts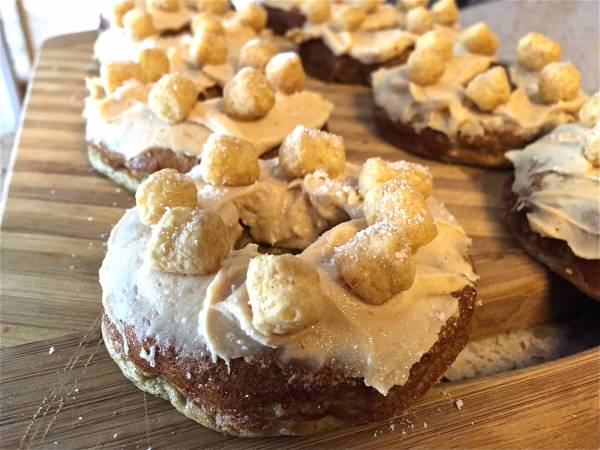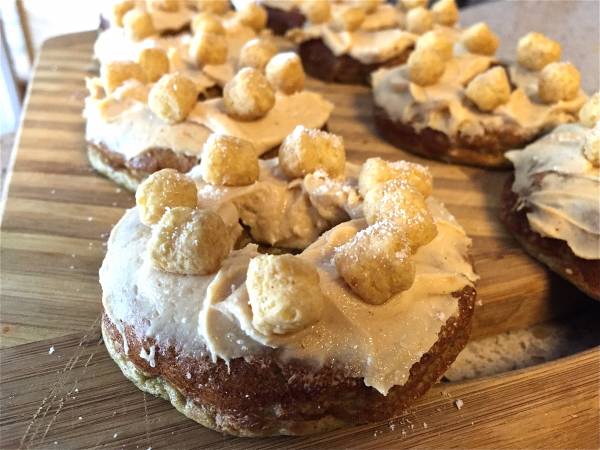 Ingredients:
Donuts:
1.5 oz avocado
0.5 cup (123g) unsweetened applesauce
0.5 cup quick oats
1 large egg
92g egg whites
1 scoop vanilla protein powder
Nonstick butter spray
1 teaspoon ground cinnamon
¼ teaspoon baking soda
1 ½ teaspoon baking powder
Stevia to taste
Icing and toppings:
Method:
Donuts:
Preheat oven to 350 degrees.
Throw all of your donut ingredients into a food processor or blender. You are going to blend until it's a smooth batter-like consistency.
Take your donut pan and coat your individual donut molds with the spray. Since this recipe makes eight donuts, you should use an eight-donut mold. (I know, right?)
Pour your batter into each donut mold and make sure you do not cover up the hole. If you do this, you will not have a hole in the middle and it won't look like a donut! Thus, defeating the purpose.
Put them into the oven for 10-12 minutes.
Once they've risen and have baked for that 10-12 minutes, take them out and let them cool for about 15 minutes.
Icing:
Take a ½ scoop of the vanilla protein powder and 18g PB2 and put them into a bowl.
Add water slowly and mix until you get an icing-like consistency.
Add the fat free cream cheese and mix until the cream cheese is no longer visible.
Top the donut with the icing and then add your Cap'n Crunch to the top of each one!
Now it's game time! You can have four donuts for the price of one. I'll take those numbers any day of the week. And you are getting 36g of protein for those four, instead of a measly 3g of protein from the Dunkin Donuts version. Enjoy!
More Like This:
New on Breaking Muscle Today
Photo 1 courtesy of Shutterstock.