We receive free products and receive commissions through our links. See
disclosures page
.
Ask any competitive runner, and they'll tell you to never bring a brand-new shoe to a race. But when Inov-8 sent me a fresh pair of Trail Talon 250s a few days before my running team went to tackle the Ragnar Trail Buckeye Country, I couldn't resist bringing them along. After all, what better proving ground than the rigors of an overnight trail relay race?
The Inov-8 Trail Talon 250
Inov-8 has spent the last 13 years developing footwear that bucks the trend in all-terrain shoe design. Rather than creating shoes meant to protect you from the trail, Inov-8 set about finding ways to help your feet work with the trail. Their footbeds are thin and flexible, and their chassis are light and airy; a far cry from the barely-disguised hiking boots offered by some other companies. If you want to go fast (or far) on dirt, Inov-8 should be on your list of shoes to try.
The Trail Talon 250 was designed to be especially light and fast. The 250 in the name is the weight of the shoe in grams, although my canoe-esque feet require size 13s, which weighed 280 apiece. The footbed is a mere 6mm of foam with a 4mm heel-toe drop, while the upper is a thin, ultra-breathable mesh construction. There is leather reinforcement around the front of the toe box for protection, and a gusset reaching from the midfoot around the heel to keep the heel cup nice and firm.
The Trail Talon series features Inov-8s "Standard Fit," which is typified by a snug heel cup with a wider forefoot to allow toe splay. My feet are long and narrow, and I found the fit in the heel and through the arch to be perfect, and the forefoot to be narrow enough to keep my foot from slipping around on technical terrain. The sizing itself was in line with the several other brands of running and CrossFit shoes that I use.
[Photo credit: Pete Hitzeman]
Baptism by Dirt
My crew arrived at Dillon Lake well after dark, the night before race day. The next morning, while the rest of our hung-over crew went to breakfast, I decided to take my fancy new Trail Talons (and X-Talons, to be reviewed in a future article) for a quick shakedown jog. I was already breaking the "don't race in a new shoe" rule, so I didn't want any surprises when I was three miles into the woods.
The trails at Dillon Lake are nothing like you picture in your mind when you think of Ohio. They are a surprising challenge, with climbs that smack you in the face like a brick wall, and descents that test the strength of your quads, as much as the traction from your shoes. Roots and rock gardens abound, and the trail system as a whole offers an experience much more like the West Virginia backcountry than the Ohio flatlands.
Did I mention how fast and light these shoes are?
As I strode up the road toward the trailhead for my one-mile test loop, I was concerned that they were so light and fast that they wouldn't be substantial enough to run on actual trails. But my concerns were proved unfounded a few hundred yards into the woods. The multi-directional studs dug into the hardpacked trails and bit into the roots, providing a surefootedness I didn't expect from my visual inspection. The shoes let me fly up the trail, and felt so natural on my foot that I soon forgot I was testing a brand-new shoe.
As my first leg of the race was the shortest and fastest, I opted to use the Trail Talon 250s, rather than the trusty pair from another brand I had brought along, just in case. As my start wave tore up the road and into the forest to start our overnight adventure, I was trying to figure out how these shoes felt so familiar. Then it hit me: they felt like my track spikes, only less rigid. Sure, they're not actually as light as a true racing flat, but the feel of the upper combines with the design of the sole to fool your feet into thinking they're in thoroughbred racers.
These shoes want to do one thing, and that's go fast. That you happen to be on a trail is only a happy circumstance.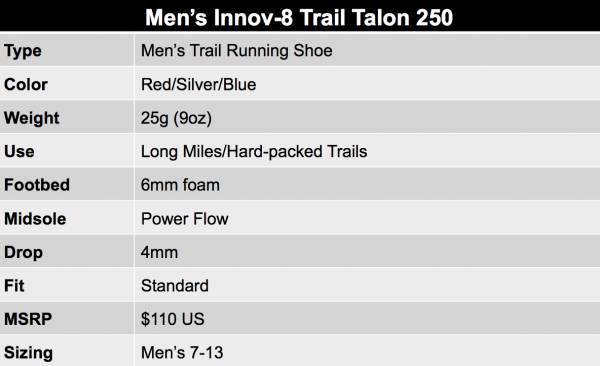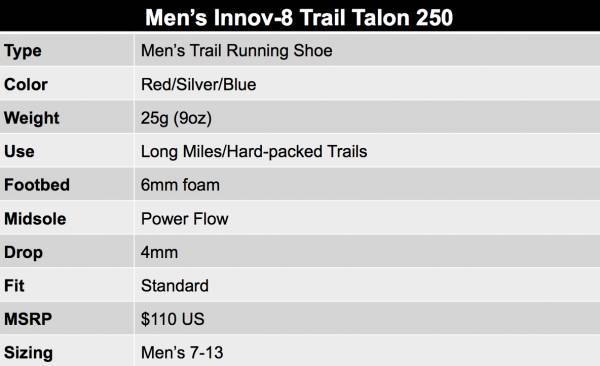 The Right Tool for a Dirty Job
Soaking rains through the night combined with hundreds of runners to turn the trails at Dillon Lake into a soupy mess. I decided that the prudent thing was to switch to a more aggressive shoe for my second and third legs of the race, but that didn't mean I was done with the Trail Talons. After the race weekend, I tried them on literally every other kind of run, from jaunts around the block with my dog, to speed work on the local cinder track. They excelled at every challenge I threw at them, and after about 40 miles of hard use, show almost no wear at all.
To be sure, these shoes are a very focused tool. They are meant to go fast on dirt, which means that as the trails get sloppy, you're going to run out of lug depth to handle the mud. The footbed is light and ultra-responsive, which on the friendly trails of the Midwest, means you get something akin to a foot massage as you run over rocks and roots. But in harsher terrain, you may find yourself wishing for a bit more protection between your foot and sharp or hard objects. And while the toe box worked for my relatively narrow foot, those with a wider forefoot may find themselves feeling a little cramped.
But if your desire is to go fast on dirt, or even to find an ultra-light shoe for shorter road races or speed work on the track, the Trail Talon 250 is more than worthy of your consideration.
Another tool for your run: