We receive free products and receive commissions through our links. See
disclosures page
.
Google's smartwatch operating system, Android Wear, is making its way into the fitness smartwatch market.
The Polar M600 is the first enthusiast device that uses Google's operating system to turn the watch into much more than just a fitness tracker. Is the M600 ready for prime time?
I've had my eyes on the M600 for some time with the intention to replace my everyday fitness tracker. There wasn't a particular fitness feature I was looking for—the whole of my curiosity was based on the fact that Polar had chosen to design this watch around Android Wear.
If Google's promises hold true, Android Wear smartwatches will deliver greatly improved interactions with smartphones and much more intuitive user interfaces.
What Is Android Wear?
Even if the software platform carries the 'Android' name, it's unrealistic to expect these smartwatches to replicate the functionality of a smartphone. The smartwatch segment deals with significant form and hardware restrictions, such as much smaller screens, less computing horsepower, less battery capacity, and less storage space that force product designers to make compromises that, in the end, limit what a smartwatch can do.
The core functionality of Android Wear is focused on data collection and data transfer, but not so much on analysis and comprehensive visualization: Android Wear truly excels as a support layer for a range of wireless technologies such as Bluetooth and Wi-Fi, as well as a platform for a few key Google applications, such as Google Now, that enable hardware and software designers to create an ecosystem of cohesive application scenarios. At the center of Android Wear is a capability to download apps from Google Play, which allows users to build the app features of their smartwatch over time, much like we're used to doing with our smartphones.
I am told that there are several thousand Android Wear-compatible apps available, but I have to admit that I had a tough time finding them and mostly did so by accident. I only discovered a handful of interesting third-party apps that I ended up using—for example Strava and Microsoft Outlook. In reality, the offering of Android Wear apps beyond watch faces is rather thin and needs some time to develop and become a reason to purchase an Android Wear device.
The M600 isn't the first Android Wear fitness smartwatch and follows the Moto 360 Sport and the Sony SmartWatch 3. However, it is a showcase example of an industry that is evolving quickly. There's no denying that Polar has made a big step forward and created a product that isn't just raising questions for products within Polar's own portfolio, but is setting trends that others will have to follow.
M600 Characteristics
Polar has positioned the M600 at the high-end of its mid-range "sport" offering, providing a bridge between watches for aspiring and competitive athletes. At $330, it isn't cheap, but it includes the full complement of hardware features we expect from a serious fitness smartwatch today, as well as access to a good chunk of Polar's most popular fitness tracking features—save for a few high-end training functions that are reserved for the V800 watch that caters to competitive athletes. Polar itself describes the device as a "smartwatch designed to suit an active lifestyle without compromises."
Polar's Chief Strategy Officer, Marco Suvilaakso, told us that the company sees the potential for the M600 to combine Polar's training software with the every day functionality that Android Wear can deliver today. This includes "voice control, the ability to customize watch faces, receive calendar notifications, read and reply to texts when using an Android phone, scroll through social media feeds, and access more than 4,000 third party apps via Google Play."
Suvilaakso indicated that the M600 will not remain the only Polar Android Wear device and will be an "important factor" in its product category going forward. However, he also noted that Android Wear is a young software platform that comes with a number of quirks, such as interoperability limitations for iPhone users. The software also tends to be less power efficient than what proprietary software fitness smartwatch vendors are relying on today, giving Google room for improvement to cater to the fitness segment.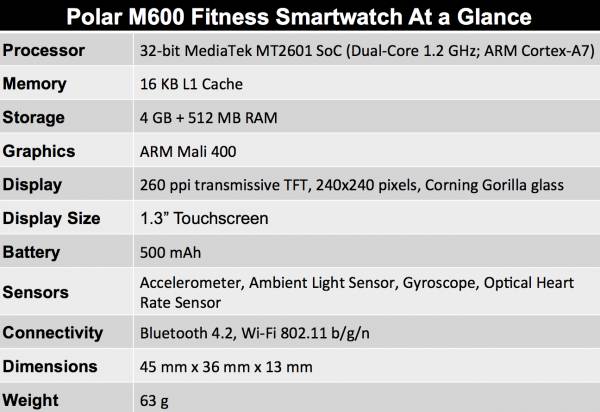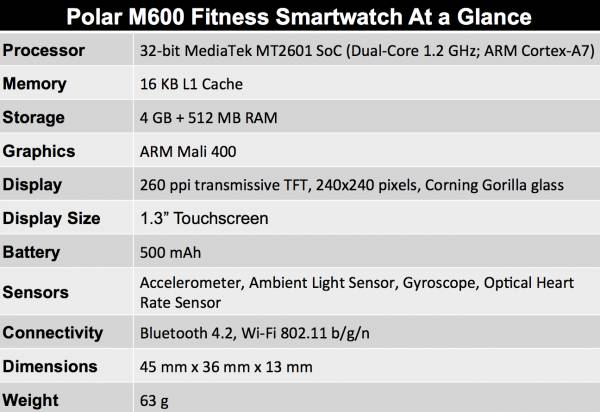 The operating system for the M600 is Andriod Wear 2.0 and requires smartphones running Android 4.3 or higher, or iPhone 5 or later running iOS 8.2 or higher for access to full feature set.
The on-device tracking activity includes: elapsed time, automatic lap time, heart rate, max heart rate, average heart rate, automatic lap heart rate max, automatic lap heart rate average, calories, distance, automatic lap distance, speed, pace, automatic lap speed, automatic lap pace, automatic lap max speed, automatic lap max pace, automatic lap speed average, and automatic lap pace average.
What We Like
Installation and Setup
Getting the M600 up and running isn't rocket science, especially if you use an Android phone,. All you need is the Android Wear up and you can pair it with the watch. Depending on the applications installed on your smartphone that are compatible with Android Wear, the initial sync with the watch can take from a few minutes to more than half an hour. Once synced, the M600 is ready to go.
User Interface and Usability
Fitness smartwatches typically rely on purpose-built software platforms that prioritize function over form. In many cases, we are confronted with rather crude user interfaces and clumsy navigation structures that look and feel as if they were designed by software developers, not by user interface designers. The M600 is a gigantic leap away from that scenario and takes a much more graphics-based approach. Instead of overloading the watch with several physical buttons, the M600 has only two buttons: one to restart the watch, and the other as a shortcut to launching a workout via the Polar Flow app.
Every other feature is accessed either via the touchscreen or voice control. For example, Google Now is deeply integrated as digital assistant and allows users to seamlessly connect to the smartphone to send text messages and email entirely via voice input, search for general information, show the current heart rate, launch applications, receive the current weather report, and even display simplified navigation information via Google Maps.
The M600 includes its own GPS chip and was surprisingly useful as a navigation device that does not require a user to view the phone screen to find a desired destination.
Granted, using a 1.3-inch screen can be challenging, and the Android Wear interface is not as fleshed out as the smartphone operating system. However, the user interface feels at least one generation ahead of everything else that I have seen in this segment. The screen size may not be ideal yet, and there may be a good reason for Polar to experiment with slightly larger screens as soon as it can reduce the height of the watch. The sweet spot for sports watches may be closer to 1.5-1.7-inches.
Polar Flow Integration
If there is one application that defines the core of the M600, it is Polar's Flow web service, which is an integral part of all Polar tracking devices. Most of the Flow features are available on all Polar devices as well, yet they feel much more naturally integrated in the M600 interface due to the configurability of the watch's tracking abilities.
Like most of its competitors, Flow integrates an activity diary with a wealth of analysis and training feedback features, recovery and training progress reports, a community, as well as tight watch integration that enables the user to adjust activity tracking based on the characteristics of a workout, as well as the information that is displayed on the watch during a workout. For those who enjoy spiced up visualization of their workouts, there's a feature to create videos of activities on-the-fly.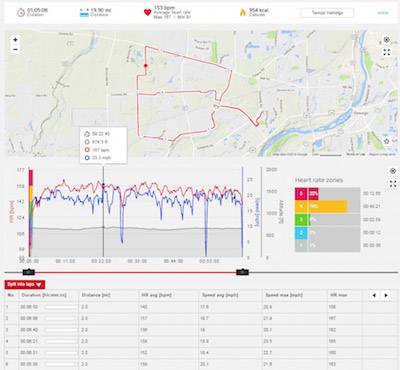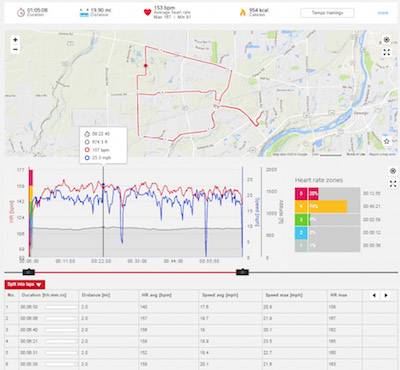 Flow example detail.
Much like the M600 is positioned within the product portfolio of Polar, there's an overwhelming amount of information that hardly can be digested and interpreted by the casual user, but is very useful for those with serious fitness ambitions. Over time, the M600 reveals itself as a training coach that teaches its owner how to reach higher fitness and performance levels using general training session feedback and nicely integrated visual heart rate indicators that make it easy to adjust the workout effort during a session. Users can set up more than 100 specific activities that the M600 can track in detail—including swimming, as the watch is waterproof up to 10 meters.
The benefit of the M600's features end as its user moves into competition training. It lacks features to describe running efficiency, orthostatics, and to compare training results directly. This limits its ability to communicate training and fitness improvements.
Heart Rate Sensor
Polar has made a name for itself to use heart rate measurement as a key indicator for fitness level analysis. The M600 also has a strong focus in this area. However, other than its previously released devices, it does not use a chest strap, but uses optical heart rate measurement that is based on six LEDs on the bottom of the watch. Often, we trade accuracy for convenience, and there has been plenty of doubt around the optical approach to measure heart rates. However, the M600 was consistently within a single beat that was shown via a chest strap I used as benchmark, indicating that Polar has found a comfortable and reliable way to provide heart rate information via a user's wrist.
Polar's Flow app measures a user's heart rate only during workouts. At all other times, the heart rate feature is accessible via the Google Fit app.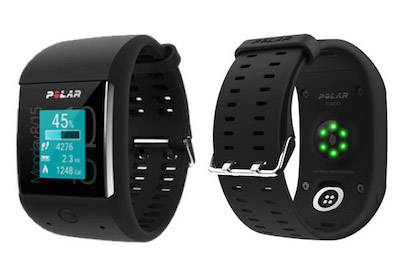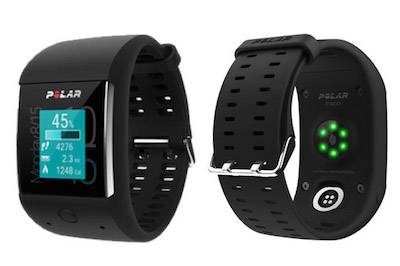 Solid Hardware Choices
The M600 doesn't offer any surprises in terms of computing hardware. There is enough horsepower to run the software it has today, and there's additional performance room for applications with demanding features such as video playback. The watch's MediaTek MT2601 processor isn't based on the newest chip technology, but uses a feature-integrated design that primarily achieves three goals: It's cheap to produce, decreases overall power consumption, and enables product designers to cram a lot of features in a small package that has the footprint of a postage stamp. It integrates all wireless features, has 4 GB of storage space that can, for example, be used for apps or music files to be played from the watch.
Noteworthy is also a 500 mAh battery, which has about one fourth the capacity of a smartphone battery and easily achieved a running time of two days during our test with about three hours of training activities per day. Continued use of GPS will drop the battery time to just above eight hours. A full recharge of the M600 battery from 0 to 100% takes about 100 minutes.
We We Don't Like
Material Choices
Smartwatches and especially fitness smartwatches aren't exactly stylish. The M600 is no exception and it certainly isn't a looker. I've heard plenty of complaints that the watch looks somewhat clumsy and is simply too thick. Considering the hardware that has been crammed into the small space, as well as the added Gorilla glass on top of the screen, this isn't necessarily surprising and it's really a matter of the size of your wrist whether the watch looks out of place or not.
While the size of watch isn't something product designers can change at this time, they can focus on the choice of materials. There are some great choices Polar has made—such as the Gorilla glass that can take a great deal of abuse and doesn't show any scratches after I've hit walls and a few steel railings. Unfortunately, the silicone band shows substantial wear after just six weeks of use. Expect discoloration and scrapes to impact the look of the band, which doesn't make it a product you'd want to show on your wrist when going out. There's clearly an opportunity for Polar to provide a higher quality material.
Connectivity and Third-Party App Integration
The M600's greatest weakness is the way how it connects to other applications and leverages available data that it does not record by itself. While Android and Android Wear are designed to build an ecosystem of data and applications that caters very much to fitness enthusiasts as a rather social bunch of people, Polar's application and integration approach is too isolated and should be more open, which is the case for products within the Polar product range, as well as third-party products.
This isn't necessarily an issue that is limited to Polar but is challenging an entire hardware and software industry that still has to figure out how it can leverage technologies that change and evolve at a breakneck speed. However, this issue struck me with the M600 in a few distinct ways that left me scratching my head how Polar could have left obvious opportunities sitting on the table.
In some cases, Polar's own software clashes with the feature set of other applications, for example Google Fit. On one hand, Polar provides workout data such as heart rate information to Fit, but it does not use information that is provided by Fit on the other. Google has found a way to automatically recognize the start and end of basic workouts and records data automatically, while Flow still needs and manual start and stop of a workout. It also appeared that Google was more accurate in recording step counts, which were consistently within 5% of the actual number of steps, while Flow mysteriously counted steps during bike rides and tended to be more optimistic with its step count than Google otherwise. Polar's step count was consistently 8 and 10% above the actual count. If bike rides took place, the step count was rendered almost meaningless. Obviously, there is functionality and data that Flow could use from Fit to the benefit of the M600 user.
In other ways, there seem to be some strange app limitations in Flow that should be a priority for developers to add. For example, there's no convenient way to upload cycling data to Strava, unless the Strava app is launched for a bike ride as well. Polar also has missed out on connecting with apps such as MyFitnessPal to the Android version of Flow, which has been a request in its user forums for several years, and has been promised by the company for years as well. With the release of an Android Wear watch, Polar needs to catch up and integrate key applications and access to existing community platforms quickly.
Perhaps most surprising are some obvious feature integration misses across Polar's own product line that do not allow multiple Polar products to be used in conjunction with each other. For example, the optical heart rate measurement of the M600 could replace the rather uncomfortable chest strap requirement to provide heart rate data to the V650 cycling computer. There are good reasons why cyclists would want to use the larger screen V650 for their bike rides, as well as a M600 for all other activities, yet there is no gateway between the two devices that enables a wireless and convenient exchange of data.
Conceivably, there's an unprecedented opportunity for companies such as Polar to tap into a vast pool of data, connectivity and integration that can tell the story of health and fitness development of a user in new and even more useful ways. It's an opportunity that's waiting to be exploited; the hardware and software capabilities to do so exist today. To Polar's credit, the company sends frequent feature updates to M600 users via Polar Flow updates, which may already provide a hint that the company is working on additional features.
Lack of Forced Data Sync
The M600 is designed to deliver on its promise to be a fitness smartwatch out of the box that just works. It delivers that promise in virtually any scenario that lets users simply focus on activities and not worry about whether they are tracked correctly and in their entirety. The automation goal also includes the function of syncing data between the watch, the smartphone, and the web service. Syncing happens frequently—for example when the Flow app is launched on a phone. Occasionally, however, data only partially synced and the full data set wasn't readily available to me. A forced data-syncing feature would be welcome addition to the M600 to complete data sets when they're needed on all platforms.
The Bottom Line: A Look Into the Future
Whether you will enjoy the M600 and find it useful or not depends on your expectations. If this is the first smartwatch you're considering, don't expect this watch to replace your smartphone. It acts as an extension of your phone and isn't a replacement device to view pictures and listen to music, even if it is capable of storing and playing music and connecting to wireless headphones via Bluetooth.
In many ways, Polar is splitting market segments to create a new category within the smartwatch segment that doesn't exist at this time. From the view of sports smartwatches, the M600 is much more capable than your average running watch, but less capable than what you'd get from the high-end crop of training watches on sale today.
From the simple view of the common Android Wear smartwatch, there are better general smartwatch choices out there today, but none that also deliver comprehensive activity tracking and analysis at a similar level.
In the end, the compromises Polar has made with the M600 are thoroughly convincing. At the very least, this device is the most obvious sign so far that health and fitness applications on watches will become even more important as more data sources become available and vendors understand how to use and present this information.
Android users, especially, have a good reason to take a closer look at the M600. There is no Android Wear watch available today that surpasses the M600 in combining everyday usability with fitness tracking and analysis.
More on training gear: