We receive free products and receive commissions through our links. See
disclosures page
.
Give your back a break, stop stressing out your posture, and avoid pain in your back, neck, and shoulders. Travelers, mothers, and gym goers will rave at this functional, durable, all-in-one bag that is essential to an active lifestyle. The Healthy Back Bag by Ameribags is made to to be comfortable and functional. Healthy Back Bags are available in different style and size options from sporty to classic, and they are made in materials ranging from nylon or microfiber to leather.
Healthy Back Bag Testing
We tested the Outdoors Atlantic bag in size medium. The bag was used primary gym and yoga bag, but crossed over well as a diaper bag, and a travel purse. The bag was very lightweight and had a durable and wipeable outer nylon shell. The lining is a unique reflective silver lining that creates an easy view on small items in organized pockets. The structure of the bag includes a cleverly designed main zipper located against your back for security.
One feature of the bag that sets it apart from typical gym bags and backpacks was the multiple small organized and zippered areas to store and organize items securely. However, the best feature of this bad was the ergonomic style and back friendly design. The padded shoulder strap will save your back and neck from the pulling and tugging of the typical uneven shoulder bags.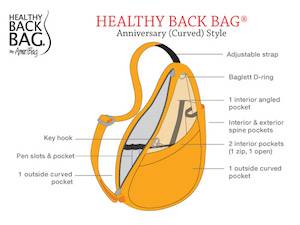 Our Recommendation: Excellent Choice
The bag was easily able to hold an iPhone, headphones, three diapers, a pack of wipes, a medium sized hand sanitizer, a large 32 ounce water bottle, as set of keys, a small wallet, a snack bag filled with an apple and trail mix, a timer, sunglasses, socks, and lip gloss.
We found the bag to be super versatile and the perfect go-to bag for trips and for running to the gym, shopping, travel, and use as a diaper bag on the fly. The comfort and quality of this bag make it a must have for practical style and comfort.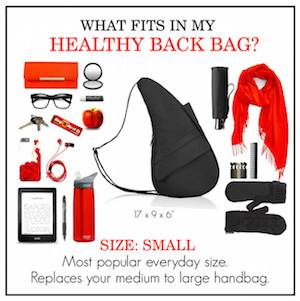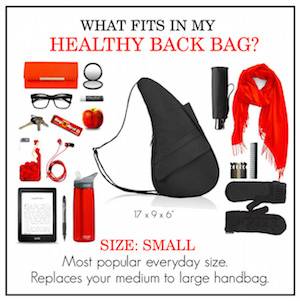 Pros:
Quality, lightweight, high quality outer shell, multiple zippers, and a reflective silver lining.
Comfortable shape molds to your spine, minimizing the strain on your back, neck, and shoulders.
Organized, secure, hands-free, easy to organize and access items; the main zipper is always against your back for security.
Multiple sizes, styles, and material options.
Cons:
Some bags are not machine washable.


More gear for a healthy lifestyle: