Click here to read other journal entries and articles by Andrew Read, and look for his new journals as he trains for not one but TWO back-to-back Spartan Races – the Spartan Beast and the Spartan Ultra Beast. 
Athlete Journal: Andrew Read – Spartan Race Training, Entry 2
One of my endurance heroes, Chris McCormack, has a saying about embracing the suck. Basically, you just need to dig in and get the job done. And that's where I'm at now. After Ironman I took a few weeks off running and let my Achilles problems settle down. Things were looking good when I signed up for this Beast and Ultra Beast double – I'd had a few runs and was pain free. These runs were all short. I'd do a short 2km warm up then run a bunch of intervals at better than race pace, then cool down and be done. The short distances of the intervals and decent rests were allowing me to run and not flair up the injury again.
But, feeling good I went out the door for my first unbroken run since Ironman, and 5km later I was sore again. It hasn't been all bad because I'm learning so much about the nature of Achilles inflammation it's bordering on ridiculous. For starters, there are two kinds of Achilles problems – tendon issues or problems with the sheath the tendon runs through. Both need to be treated differently, so step one is getting that diagnosed.
From that point what I've found out is that my particular issue is not inflammation at all, just some kind of weird feedback loop that makes me think my Achilles is inflamed. The treatment in my case is counterintuitive to what you'd think. I need to work the hell out of my calves to take the strain off the tendon. So rather than lay off them and take it easy I am doing daily calf work as well as stability training standing on one leg, which is more calf training. The therapists I'm working with, who are world leaders in these cases, have told me that as long as my pain isn't getting worse then I'm clear to keep running too, so that's good.
Interestingly on my way to the United States for my current training trip I bought a book called The Cool Impossible by Eric Orton, who coached the author of Born to Run from a never-was runner to an ultra-running stud after years of pain. The basis of his system is that we need to get stronger to run and it centers on some static calf work done on slant boards and stability discs. So I added them into my daily routine along with the calf work I was already doing.
The focus of this trip has been attending training courses. I've been to Dragon Door's Progressive Calisthenics Certification and I'm attending Gym Jones' Fundamentals course this weekend. The PCC course was fantastic. The high-powered strength movements shown can easily replace weight training without adding weight to my frame. I'm already on the big side as far as distance running goes so my weight is always at the front of my mind. The work with Gym Jones is proving useful just in terms of my mindset. The main focus has been on deliberately doing sessions designed to make me quit. That's exactly as bad as it sounds, but at some point during an ultra endurance event things will go bad and you'll want to just chuck it all in. Learning to hang tough in the gym has a great carryover to all sports, but particularly to events where embracing the suck is so vital.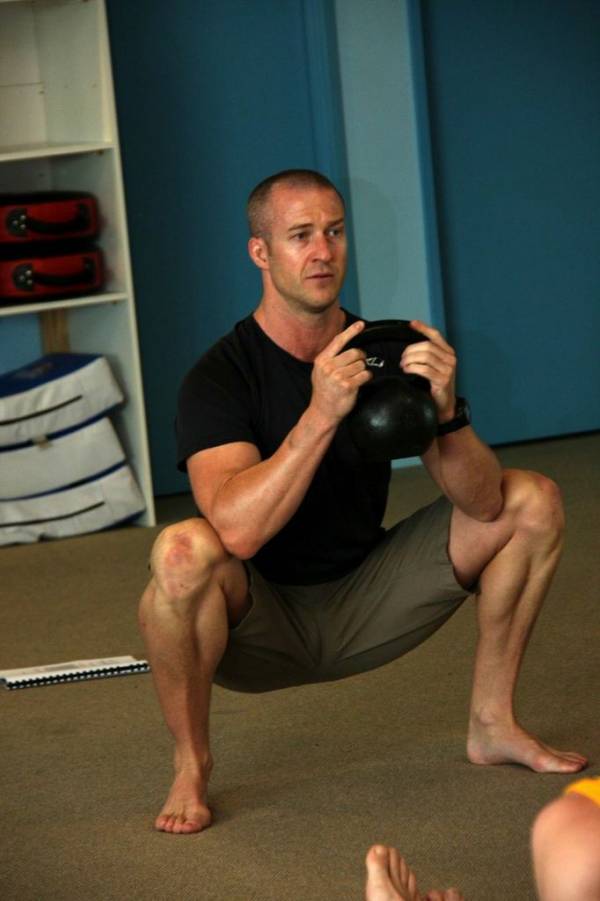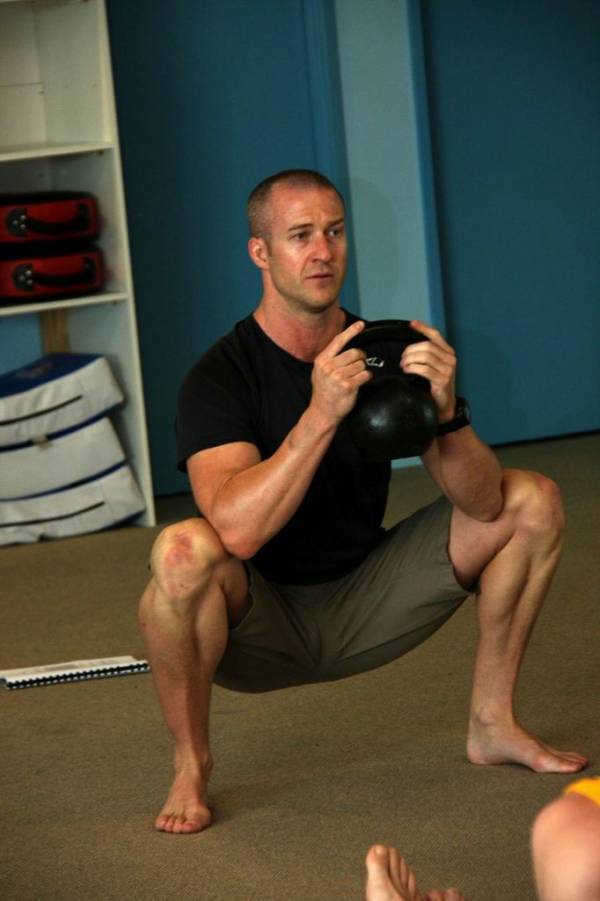 One of the things that has really stood out for me on this trip is how easy it really is to stay in shape while traveling. Between my TP Therapy Calf Roller, my dog ball and my new Mobility WOD toys from Rogue (the Gemini and the Super Nova) I've got all I need to help me stay supple. On top of that I bridge, Brettzel, and stretch every day. I've also been able to get in eight training session in fourteen days, along with three runs – two treadmill and one on the beach at Santa Monica – and all this while still keeping my deadlines and working remotely.
I hit a GNC as soon as I could on this trip and bought some protein powder and a shaker. (And what the hell is up with GNC prices? Holy cow are they ridiculous.) Between that, some fruit daily, and some almonds I bought, my diet has been the best it's ever been on a trip to the U.S., because finding good food here is difficult. I have had a few burgers since being here – because Americans really get how to make some tasty burgers – but mostly I've been able to eat well thanks to some planning.
So I'm going to keep embracing the suck this week and get in a few more sessions with Gym Jones plus a couple of recovery runs on a treadmill. Hopefully a few more weeks of running on the soft surface of a treadmill and doing my rehab work will clear up the Achilles issues. Until then it's just grit my teeth and keep doing what I've been told to do.