It's not every day you meet a world-class athlete who is also a jewelry designer and metalwork expert. I'm always impressed by people who can pursue multiple passions with excellence. Sarah Wilson definitely fits into this category. Not only is she a world-class athlete, but she also has her own jewelry and apparel brand called Fashletics. Sarah has really gone above and beyond the usual expectations of running a company, and Fashletics is really an athletic community as much as it is a brand. On top of all that, Sarah is also a CrossFit coach. Recently I had the privilege of interviewing her, and the biggest question on my mind was definitely, "How do you do it all?"
But of course, behind that 'big picture' question lie all the little details that make Sarah's story great. Sarah's two passions have always gone together. "Ever since I was younger, those were my two main interests, hobby wise and even in school…Art was something I always did quietly, by myself. It was a more solitary experience, whereas athletics was the social part of my life. Art just kind of existed quietly on the side, whereas athletics was more part of my social and active life in school. So they didn't really conflict at all."
By the time she was in high school, Sarah had been exposed to several types of art, including metalwork. "When I was in high school, I took basically every art class that they offered, just because I liked everything and I didn't really know what I wanted to do specifically at that age. But when I took my first metal class, it was called Jewelry Design and Metalwork, and I just fell in love with it. I loved working in three dimensions; I liked the idea of creating a physical object out of nothing, essentially…" Along the way, she had several mentors that set her up with apprenticeships, and these opportunities helped her gain more experience. Sarah went on to study at the University of Michigan School of Art and Design, where she learned the art of jewelry design while also training for marathons on the side.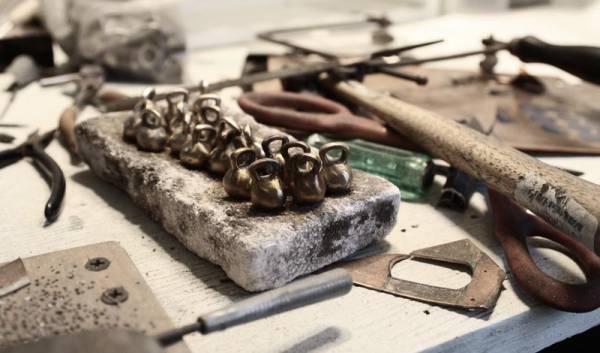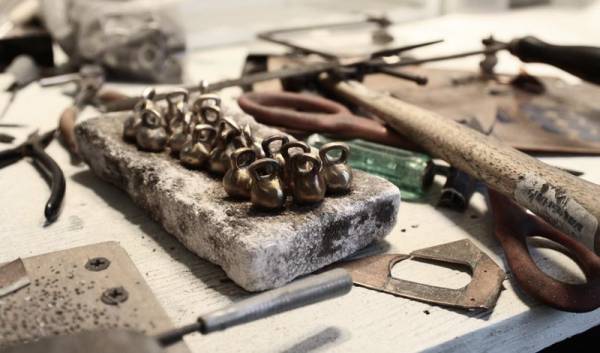 Although athletics were never something Sarah wanted to pursue as a career, she has quite an athletic background. One of the highlights of Sarah's athletic career was competing in the 2010 Duathlon World Championship. "Athletically it was definitely one of the coolest things that I've ever done, not just because of the level of competition, but just the whole journey and the process to attain a goal like that – it doesn't happen quickly, it's a lot of hard work, but once you're there, every day of training is worth it, every sacrifice you've made is totally worth it."
Competing in the World Championships also led to a new development in her own training. When she qualified for the Worlds, Sarah's training took a new turn. "I realized at that point that in strict endurance training I had kind of reached my limit, and I could tell I wasn't strong. I felt very frail, and although I had great endurance and could run fast, I just felt very weak." Sarah's coach had just opened a CrossFit gym, and at his encouragement, she started with CrossFit. "I was ready for it. I knew I was weak, and I can't even tell you how much stronger I've become in the last few years as a result of adding CrossFit into my workout."
Sarah incorporates CrossFit training into her training for endurance sports, and continues to do CrossFit when she's not training for an event. In 2010, Sarah became a CrossFit coach, which has added a new dimension to her athletic training. "When you're an athlete and a coach, you're kind of aware that you're looked at by the people that you coach…it definitely keeps me motivated to stick to the lifestyle I promote, which is healthy and strong." Sarah also loves the sense of community and sharing that comes with being a coach. "I love having those moments with other people and sharing the excitement of their success…being a coach allows you to see so many people accomplish great things. It's exciting and inspiring, and just a really cool thing to be a part of."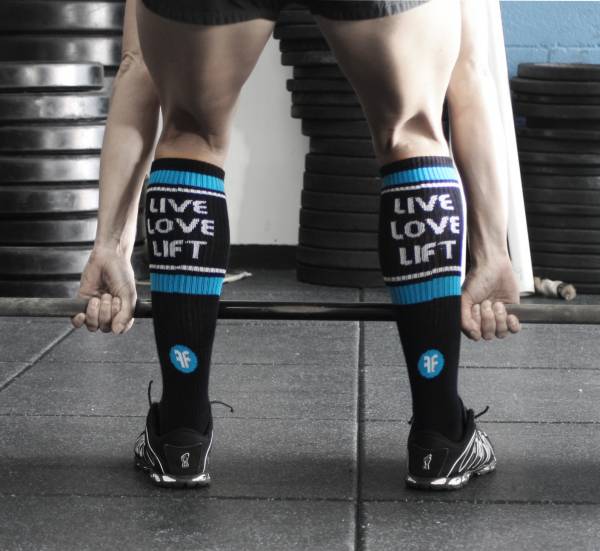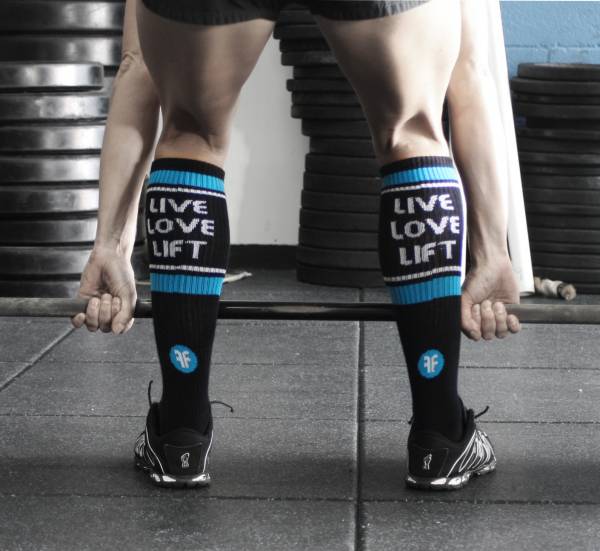 Of course, as all of this was happening, Sarah was still designing jewelry. And then, as she said in our interview, "it all sort of merged together." Fashletics started off as a jewelry line, with four original pieces: the kettlebells, RX charm, a running shoe, and ten commandments dog tag. To this day, the kettlebells are Sarah's most popular products. "Those were one of the first pieces that I made, so that's kind of cool."
The company continued to expand, and eventually Sarah made shirts and socks featuring the company slogan, "Live, Love, Lift." The shirts and socks really took off, and became a part of the brand as well. "It was originally more to help promote the message, and then after that, the demand required that I make more….jewelry is always first, and that's my focus, but I'm really having fun developing the apparel brand as well."
Sarah's enthusiasm for fitness and athleticism shines through in her work. Her inventory has expanded to include inspirational charms, dog tags, customized necklaces, keychains, and custom products. And as if her jewelry and apparel weren't motivational and inspiring enough, Sarah has also integrated an original feature into the Fashletics project that doesn't cost a cent. If you visit her website, be sure to check out the Fashlete of the Month, which features a new woman athlete every month. Sarah started Fashlete of the Month in November 2010, and she has done a fantastic job of featuring amazing women from all over the country. Fashletics also organizes the annual Heraean Games, a CrossFit competition for women named after the ancient Greek competition in honor of the goddess Hera.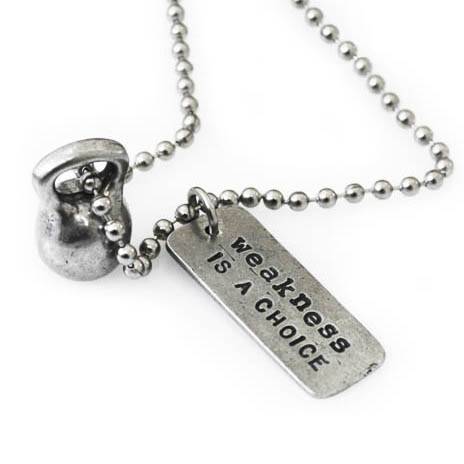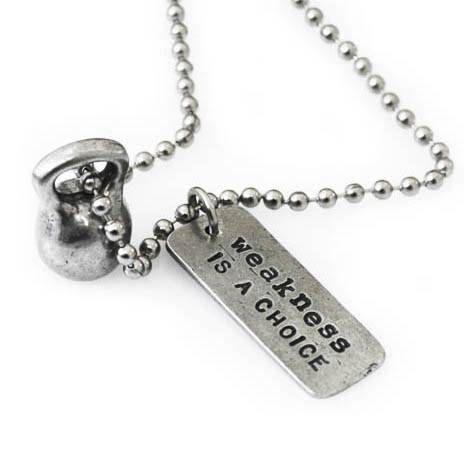 Sarah's brand is a unique line of really cool handcrafted products, but it's also a source of inspiration and motivation for female athletes. Sarah believes that women in particular need to know that they can achieve their goals, and that fitness can improve all aspects of life:
I think that confidence is very important, whether it's a job, a career goal, or a physical goal…always aim high, because if you set a goal and sell yourself short, you really are cheating yourself. I think that being afraid of failure is very detrimental to success. It's okay to set a goal that you think is outside your reach. Maybe you won't get it. If you do, that's amazing. If you don't, chances are you've already gotten further than if you had set a smaller goal. I think that people are afraid of setting big goals because they're afraid of failing. I don't think there's anything wrong with failing whatsoever; in fact, sometimes it's necessary and inevitable if you want to have any kind of success. So aim big, and if you don't get it, try again, because you're going to be stronger for trying, and one day you actually will get there.
So those are the little details, but the question remains: how does she do it all? Stay tuned next week to hear how Sarah handles work, training, and all the bumps along the way.