A hearty chili is one of my favorite meals for the chilliest months of the year. Filled with winter squash, roots, and protein, it's the perfect meal to ground your roots – a much-needed calm when it seems everyone is running around like a headless chicken.
Slow Down This Winter
Isn't this the time of year, evolutionarily speaking, that we should be devoting to hibernation? Even if we aren't able to disappear into a cave to await the arrival of spring, winter should be a time to slow down and reassess the picture we've painted throughout the year.
Cook from home. Disappear into the slows sips of a warm cup of herbal tea. Take deep breaths, filling your lungs with the scents around you: roasted chestnuts, rosemary, pine trees, cinnamon.
"Instead of losing our heads in unnecessary stress, we can celebrate the winter for what it is: a winding down of our systems, so that we can focus on our inner selves and our personal journey of healing."
But with the increasingly commercialized holiday season, winter puts many of us in quite the opposite mindset. We feel frazzled, irritated, rushed, and ready to hit the "escape" key – if only we could find it in this mess.
READ: 4 Commitments You Can Make to Have Happy, Healthy Holidays
Instead of losing our heads in unnecessary stress, let's celebrate the winter for what it is: a winding down of our systems, so we can focus on our inner selves and our personal journey of healing. A time to release what we once were, tearing down past expectations and pressures, so we can build new dreams and desires for the coming year.
Even though modern life doesn't fully accommodate a winter hibernation, embracing slowness in one form or another will leave you feeling refreshed and ready to take on new ideas and dreams when spring finally does arrive.
Paleo Cave(wo)man Chili
This chili is special because I made it and submitted it to the Ames (Iowa) Famers Market Chili Contest in October – and it won first place for the Peoples' Choice Award! It seems pretty significant that a paleo chili won the heart (stomach?) of a small town in Iowa.
The recipe has a hefty dose of meat in it, so if you feel guilty for missing out on your vegetables, you can use the chili as a topping over spinach or your favorite leafy greens. Not only does this recipe bring you back to your roots, encouraging balance in your muladhara chakra, but the spices also warm you from within. It's a great boost for your blood circulation, too!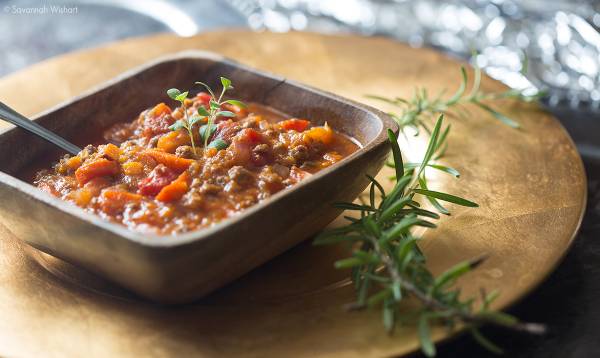 Yield: Serves 16
Prep Time: 60 minutes
Cooking Time: 2-8 hours
Ingredients:
3lb grass-fed ground beef
4 large sweet potatoes
16 slices bacon
2 parsnips
4 purple carrots
2 red onion
2 red peppers
4 cloves of garlic
4 Tablespoons tomato paste
2 28oz. cans whole peeled plum tomato
4 cups beef broth
1 Tablespoons chili powder
1 teaspoon chipotle chili powder
1 teaspoon cayenne pepper
2 teaspoon cumin
2 Tablespoon raw unsweetened cocoa powder
2 cups butternut squash soup
Salt and pepper to taste
Note: This is a sweet chili. I don't like too much spice, so if you do, add more chili!
Method:
Preheat the oven to 425 degrees Fahrenheit. Bake two sweet potatoes in the oven until soft (about 45 minutes). Set aside until cool enough to peel.
Chop the vegetables, remaining sweet potatoes, tomato paste, and garlic. Fry in a pan until the vegetables are soft (note: the parsnip takes a bit longer to soften. You can chop it into smaller pieces to shorten the time). Pierce with a fork to check the tenderness.
In a separate pan or cast iron skillet, fry the ground beef until browned.
In another skillet, or after frying the ground beef, fry the bacon. Cut it into small pieces before or after cooking – whichever you find easier.
In a large pot, add the sweet potato from the oven with 1-2 cups of broth. Mash or puree the sweet potato until it reaches a creamy consistency. Alternatively, you can blend the sweet potato and broth in a blender to make it smoother.
Add the cooked vegetables, bacon, and ground beef to the large pot. Heat the large pot on medium-high.
Add the spices and tomatoes.
Cook until the flavors have saturated and the beef is fully cooked. If using a crockpot, this takes 4-8 hours. If using the stovetop, this takes 1-2 hours, depending how strong you want the flavors.
In the last hour of cooking, add the butternut squash soup. This makes for a better consistency. You can add more or less, depending how thick you want your chili.
Photos courtesy of Savannah Wishart.