We receive free products and receive commissions through our links. See
disclosures page
.


Somehow before reading this book I never really understood how different those who eat paleo and those who eat gluten free really are. I came to eating gluten free from a paleo perspective. And while I know that my guts are healthier and my body less inflamed when I eat paleo, and I know that if I do eat gluten I will have to endure hours of stomach gurgling, I do have the option to make bad choices and eat gluten. People who suffer from celiac disease, gluten ataxia, or simply have a high intolerance of gluten don't have this choice. For me, gluten might cause me to have discernable symptoms like achy joints, but for someone who truly must live gluten free, it can have a much more dire impact, like irreversible brain damage.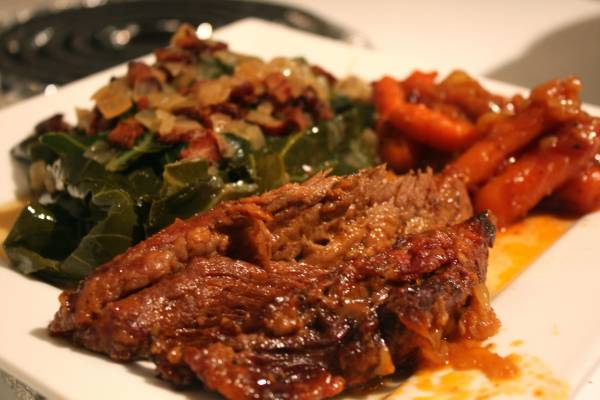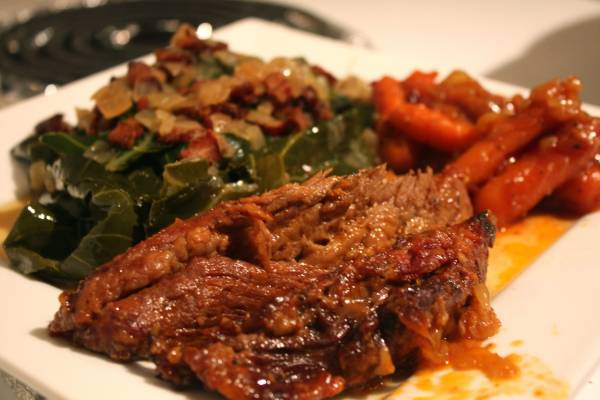 This delineation is something that became clear to me while reading the book Gluten Is My Bitchby April Peveteaux. April originally launched a blog with the same title and through it she has detailed her ups and downs as a celiac, her discovery of her mother's gluten ataxia, and the further discovery of her own daughter's celiac diagnosis. It is from navigating all these experiences that April has put together this book.
In Gluten Is My Bitch you'll find a wealth of information on every scenario you could encounter as a newly gluten-free individual. Like how to get properly tested for celiac, how to restock your kitchen, how to eat out safely, how to travel in foreign countries, and how to feed your gluten-free children without losing your mind. This is literally a handbook to living gluten free, and although there's a lot of information to absorb, it's all delivered via April's unique sense of humor. She manages to combine an East Coast attitude with her Southern roots all into one entertaining (and highly scatological) read.
What also became clear to me in reading this book is that eating gluten free does not necessarily mean eating healthy. I know paleo eaters love their paleo desserts, but there is still a general adherence to the overall idea of wholesome, real, natural foods. While all the recipes I tried from this book were darn tasty, they were definitely in the "treat" category for me, and I wouldn't recommend anyone eat this way on a regular basis. But what this book is about is consoling the newly diagnosed, who mostly want to know, "What the heck can I still eat?" And in that sense, these types of rich recipes make sense.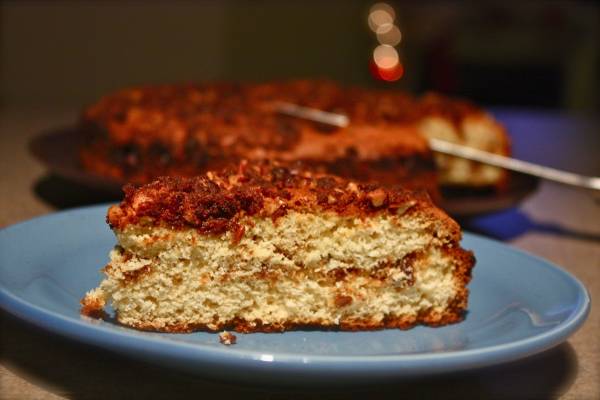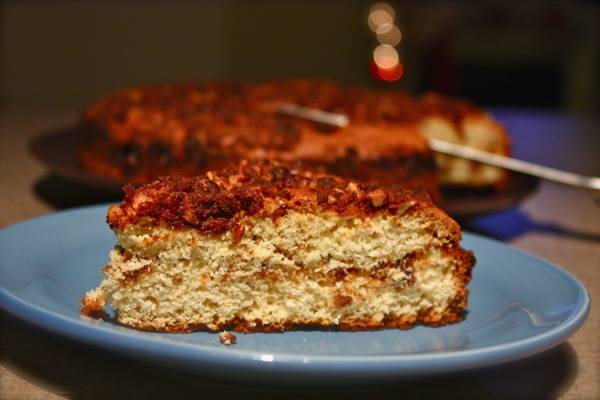 There are fifty recipes in the book, most all of which could be classified as comfort foods, but there are distinct sections for breakfast, snacks and appetizers, sides, main courses, desserts, and cocktails. There are also additional recipes for vegans, paleo eaters, and kids. Since I do remain quite paleo when it comes to the food I prepare in our house, I couldn't make a whole lot of the recipes in the book without going off the rails of my own personal nutritional needs, but the recipes I did make were delicious. Those recipes included:
Prize Coffee Cake With Streusel Filling
Beef Stroganoff
Italian Meat Loaf
Brisket
Double Chocolate Oatmeal Cookies
The book also does briefly address both veganism and paleo eating. This is important because even though all three eating regimens come from disparate places, they have some common ground. As a paleo eater, I find there are many raw vegan desserts that fit my requirements. And when I feel like having a cheat day, but still don't want to deal with a day of gluten-induced stomach grumbles, I often turn to gluten-free treats that lack wheat products, but still contain other grains, dairy, or processed sugar.
For someone who's been recently diagnosed with celiac, gluten ataxia, or any number of diseases that require a gluten-free lifestyle, this book could be a welcome relief. I remember when I was diagnosed with a milk allergy as a child. I was pissed! I wanted milkand I wanted my eating habits and treats to remain the same. It sucked being told I couldn't have anything. If I were an adult being told something similar, I'd want a book that could somehow make light of the topic, empathize with me, and educate me all at the same time. For those of you new to a gluten-free way of living, this book may do just that for you, and you may want to have your friends and family members read it as well.
April says herself best in the introduction to the book. "I'm guessing you're looking for a little guidance, maybe some crazy delicious recipes, and whole lot of poop jokes. You've come to the right place. But wait, there's more! I'm also here to offer you hope."
"Gluten Is My Bitch" is available for $16.36 at Amazon.com.