We receive free products and receive commissions through our links. See
disclosures page
.


My never-ending quest for convenient and delicious protein snacks has now led me to Chomps Snack Sticks. Chomps makes meat-based snack sticks that are similar to products like Slim Jims, but without all the frightening ingredients.
Company Traits
Chomps goes beyond just making snack sticks with healthy ingredients. The company also believes in responsible business. They have a number of third-party certifications, ensuring that the meat is grass-fed, antibiotic-free, and sourced from humanely treated animals. The beef they use also comes from local, small-farm sources that support local, responsible economies.
Each Chomps Snack Stick is antibiotic-free, gluten-free, and sugar-free, with no added nitrates or nitrites and no synthetic ingredients. Although there is added salt, the sticks are paleo under some definitions of the term.
All you'll find in Chomps are 100% grass-fed beef, some spices and natural flavors (e.g. jalapeño), and a collagen casing. Collagen is a type of protein that possesses its own nutritional value.
My Experience
I tried two of the flavor offerings: Original and Hoppin' Jalapeño:
Original: The Original flavor Chomps are comparable to other grass-fed snack sticks I've had in the past. There are no big surprises on this one, but I don't mean that as a bad thing. Snack sticks, at least for me, are almost always delicious. So if you enjoy the standard flavors of meat-based snack sticks, you're going to like the Chomps Original flavor.
Hoppin' Jalapeño: This variety is in the upper echelon of flavor in the healthy meat snack department. The snack stick is juicy and spicy. It has a great balance of spices and savory flavors that get distributed across the palate by the taste-boosting fats. This is one delicious snack, especially for jalapeño fans like me.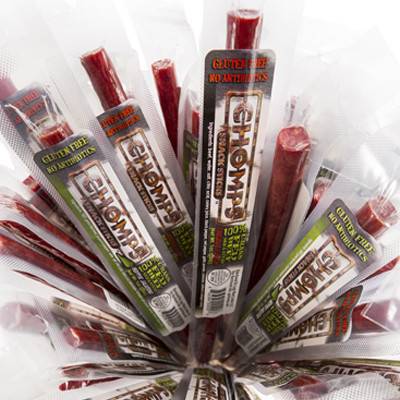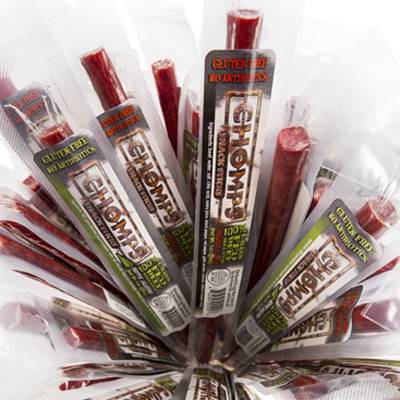 High Price Point
The only downside to Chomps is the cost per gram of protein. Notice I didn't just say total cost. As a grass-fed beef product of high quality and phenomenal taste, you should expect to pay for what you get. Without the chemical additives and low-quality ingredients of the convenience store competitors, there's going to be a tradeoff for quality, and I'm fine with that.
However, as an athlete and coach, I will view these as a protein snack for use by people looking for convenient nutrition before or after exercise. As such, athletes of even a moderate size might find the price tag per stick a little high to get any appreciable amount of protein. With a little footwork you will find cheaper high-quality protein sources, but you may have to work to get the flavor up to Chomps status. If you can spare the money to get a whole case, you will find the price to be more reasonable.
Overall, Chomps are awesome snacks for athletes. I recommend you give them a try for yourself to experience the great flavor of this product. I think you will find the price tag to be worth the flavor.
Chomps Snack Sticks are available for $49.00 for 24 sticks at GoChomps.com.