We receive free products and receive commissions through our links. See
disclosures page
.


Photos of the Combat Warrior rashguard and tights from Combat Skin were circulated on Facebook when they were in development, and I lusted after them intensely. I was extremely excited to be asked to review both items for Breaking Muscle, and I watched my mailbox like a hawk until they arrived.
I wasn't disappointed. The Combat Warrior rashguard is one of my all-time favorites and I was sure to include it in my Top 10 BJJ Rashguards for Women article. The creature featured on the rashguard and tights is called the Qilin, an ancient Chinese mythical creature created by artist Seymour Yang. Combat Skin explains the use of the Qilin:
As a heavenly creature, the Qilin is benevolent and kind, but transforms to a fierce and powerful beast if good is threatened by evil so it is the perfect analogy of a true martial artist and represents the warrior spirit within. Let the characterer traits of the Qilin guide your battles.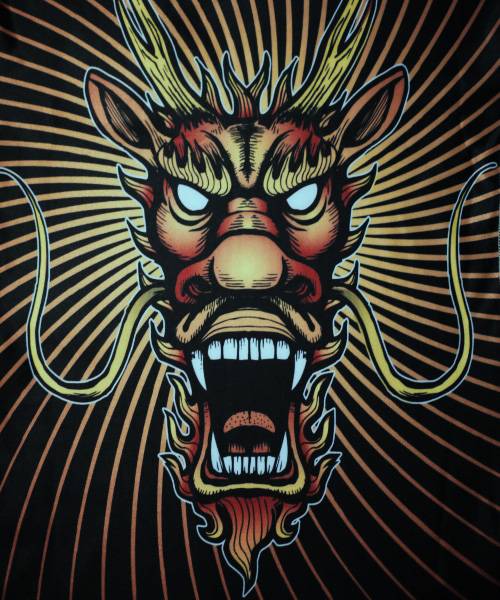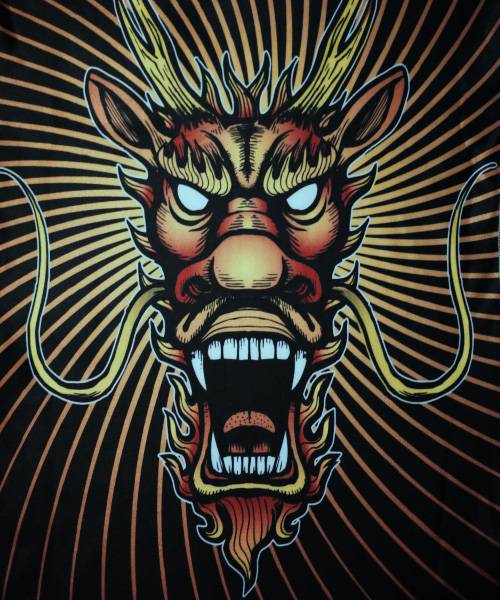 Features
Surf style rashguard construction with no armpit seam
80% polyester, 20% lycra
Sublimated graphics
Reinforced flat-lock stitching
Pre-washed
No-slip waistband and ankle bands
Quality and Style
As I've said, I love the style of this rashguard and pair of tights. Seymour Yang did an amazing job with every feature of the Qilin, and the layout of the design is perfect. The graphics are sublimated onto the fabric so they will never crack or peel. I've gotten a lot of compliments on both of these items from men and women. Because the two pieces are so flashy, though, I've never worn them together, opting instead to wear each item with something plain to tone it down a little.
I was impressed at how well the tights and rashguard have held up over the months since I've received them. I've worn the rashguard a lot more than the spats, but neither has any pilling or stitches out of place. Both of them still look brand new. To see the tights in action, check out my BJJ technique video on how to take the back using the gift wrap hold.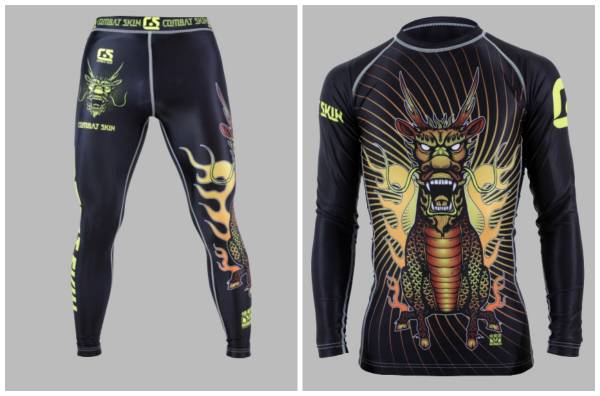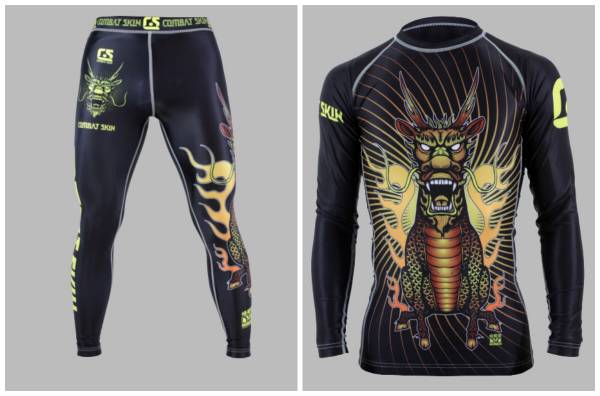 Fit and Comfort
The rashguard I reviewed was size small and fit well. The arms and waist are longer than I need and because of the length, the graphic at the front can't be fully seen when I wear it. The Qilin character extends to the waistline, and if I stretch the rashguard out fully, I look as though I'm wearing one of those dresses those girls wear to the club that covers their ass but just barely. The extra length is useful in grappling, though, because it prevents peek-a-boo belly, which I hate. I welcomed the loose, but not baggy, fit of this rashguard. I never felt self-conscious during those times I bought too much candy on sale.
A lot of the grappling spats on the market today are unisex, and most companies use a standard elastic waistband. I much prefer the lululemon-type wide waistband as I find the typical elastic waistband gives me muffin top. I only weigh 105lbs, but I carry all of my body fat right at my waist. It's annoying. Also, my digestion isn't great at the best of times so I've never been a huge fan of having an elastic around my waist.
The Combat Warrior tights feature an elastic waistband and went a step further, adding a no-slip waistband to ensure that they don't slip down and give you plumber's butt. For me, the no-slip waistband looked like torture, so I took a pair of cuticle scissors, snipped away the stitches holding it to the waistband, and removed it. For people who don't carry their weight like I do, it would probably be awesome.
The no-slip fabric is also featured at the ankles and it's quite comfortable. I don't recall the tights riding up my calf at all. These tights gave me a little bit of a muffin top at times, but not excessively, and I found the remaining elastic waistband to be mostly comfortable. It's not a high-intensity elastic, so it was cool.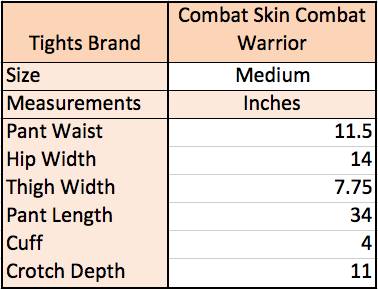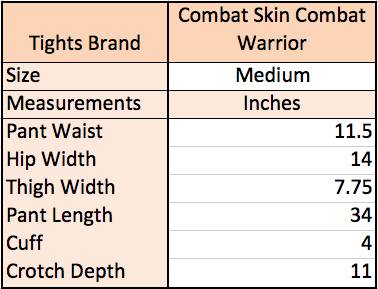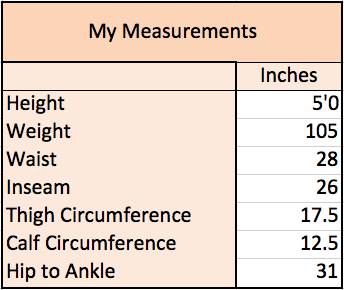 Above: Tights Measurements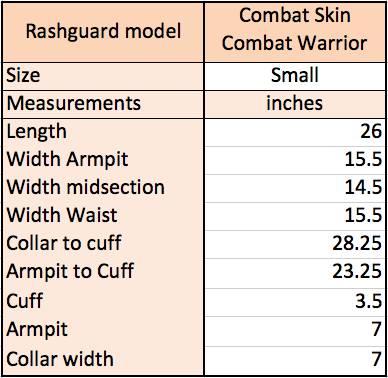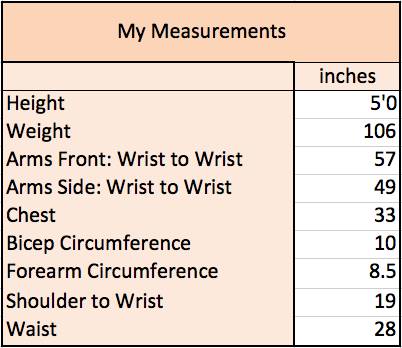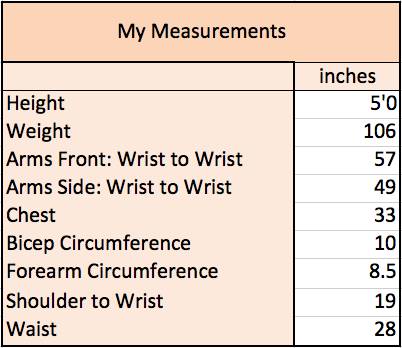 Above: Rashguard Measurements
I was initially sent a size small to review, but the sizing of these tights runs small. I ended up reviewing the medium spats, which fit great and were very comfortable. They aren't a compression fit, but they are tight, and the silky fabric allows me to slip through guards like a ninja (not really). The size medium Combat Skin fit a lot like the size small Pony Club Grappling Gear spats.
Customer Service
I was sent the rashguard and tights for review, so I didn't experience typical customer service. When I received the pair of size small tights, I tried them on and they were too small for me so I removed the no-slip waistband and vowed to lose five pounds. I contacted Steven Loi at Combat Skin to let him know they were a little tight and he sent me a size medium right away. Since I had removed the waistband and they couldn't be sold, he said to keep them and I gave them to a dedicated nine-year-old girl who trains BJJ at Titans MMA. Anytime I had questions about the rashguard or tights, Steven replied in a reasonable time frame and was always upbeat and friendly.
Combat Skin offers the following shipping rates:
United States:
$5.00 first item
$2.50 per additional item.
Free Shipping on orders over $100.00.
Free GI patch on orders over $150.00.
International:
$15.00 first item
$7.50 per additional item.
Gi's and Kimonos: $25.00 per item.
Follow Combat Skin on Facebook and Twitter and visit their website to see everything they have to offer all grapplers. When I read through their Twitter I saw a good coupon code, so make sure you take a peek for yourself when you go to buy these.
The newest product line for Combat Skin is the Samurai Warrior, and Steven told me there will be a rashguard, vale tudo shorts, and grappling tights! The rashguard is on its way for review, so come back to Breaking Muscle to check it out soon.